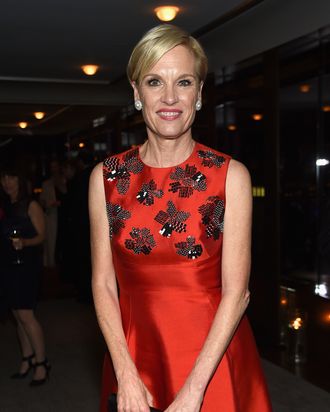 Cecile Richards.
Photo: Jamie McCarthy/Getty Images
Today at Cosmopolitan's Cosmo 100 luncheon, Planned Parenthood president Cecile Richards addressed guests, including Katie Couric, Kamala Harris, and Val Demings, and told the sobering story of her visit to Colorado Springs, where she spoke to survivors of the Planned Parenthood shooting. Read her complete moving speech here.
So, just a couple of things. First, I want to thank all of you in this room, because I think each of you in some way has been supportive of Planned Parenthood and women's rights in the last year. Although I really want to call out Katie Couric, who just did this show about [Planned Parenthood]. I just want to give you my point of view from the last couple of weeks, and I think it's not going to be surprising. I think we're at this incredibly important and precarious moment for women in the United States of America. I think we're at this crossroads … where we're going to leap forward, or we're going to roll backward 50 years. So I think for all of us who work to inform and empower women, and I think that includes everyone in this room, no one can imagine that your daughter or your granddaughter would have fewer rights than you do. But the truth is for women in Texas, they have fewer rights now than they did when I was growing up. That's exactly what I think is at stake and certainly at stake in the fight for safe and legal abortion access in America.

And I believe that women don't have full agency over their future, what they do, and their full potential unless they can make their own decisions about pregnancy. It is one of the most fundamental issues that we address as women in our lifetime. And I think if we lose that fundamental right we will lose decades of progress that women have made in America. So there's never been a more important time I think, and, to quote my good friend Senator Kirsten Gillibrand, to get off the sidelines. And frankly on the issue of abortion and abortion rights, no one in mainstream media has done more to elevate women's, and men's stories for that matter, than Joanna Coles and the hosts of Cosmo.

I think the importance of women being able to tell their stories has never been felt more poignantly than my trip to Colorado this last weekend to visit with the folks who were working in the Colorado Springs clinic — the doctors and the clinicians who were there in the most violent assault on an abortion-rights health center that we've seen in many, many years. And their commitment to just the health care they deliver is so basic and so unfailing, like a doctor on duty who literally followed his patients after he was finally released by the SWAT team, followed them to the hospital to make sure that their abortions and their care were complete. Or a health-center manager who had been working in that health center for 30 years, who stayed until every single patient and health-center employee was released and rescued. Their stories about being trapped for five hours, not knowing whether they would ever see their children again, were extraordinary.

And I guess what I took away from it, in addition to the tragedy of the three people who lost their lives, is the incredible heroism of the folks in that health center and the fact that their stories will not be told. In fact, they said to me, "I'm so glad you're here today so we can tell you what it was like, because no one talks to us." But if they had done the same thing, if they had saved dozens of patients and employees, and they worked at a fast-food restaurant or they worked at a local hospital, they would be on the nightly news all week long. That's what one of the 25-year practitioners said to me. She says, "Why aren't our stories ever told?" And I think it's a really profound question to think about.

With the stigma and shame around abortion, around reproductive health-care access, it's not only taboo now, it's actually much worse. Now we hear daily the demeaning language about women who seek abortions, doctors who provide abortions, health-care providers like Planned Parenthood who provide abortions, reproductive health-care access, folks — and this includes people who are running to be the next president of the United States of America. And so, I just think we can't let this happen. It's not that we can't let it happen to Planned Parenthood. We can't let it happen to women in America. We have a saying at Planned Parenthood, which is regardless of what happens, these doors stay open. And that's [our motto]. … I just think it's time that the rest of American women and men rally to this cause. Because if women lose our rights to our body and to make our own decisions about pregnancy, that's just the beginning. We will lose our rights to everything else in America. And I believe women can't be fully equal and they can't be fully empowered unless [they] can make the most basic decisions about our reproductive health care. So, thank you for what you do and what you will do. I appreciate it.