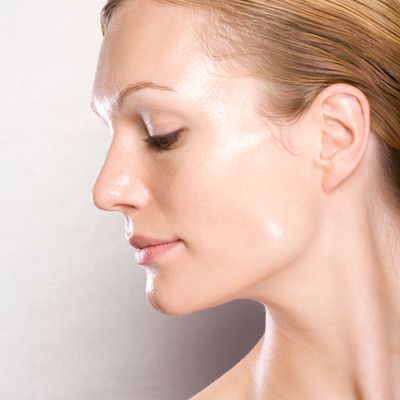 Photo: Sven Hagolani/Corbis
I have a big head, both in the sense that most hats fit snug and in the sense that today I thought to myself, Wow, you're pretty great. While I'm not complaining about the latter, the former has driven me to apply darker foundation near my hairline so that my forehead appears smaller; strategically clip bangs for minimum fivehead exposure; and constantly hunt for solutions to brow shine. And after much research, I've determined that you'd have to be slightly batty to consider anything other than Ricky's fantastic blotting papers.
I know what you're thinking: Blotting papers? Aren't they all the same? But Ricky's cost mere pennies — three, to be exact — per sheet, and they're pink and pretty, like little Kleenexes. In terms of actually stalling shine, they work like a charm and won't disturb makeup as long as you blot and don't rub them over your greasy bits. I usually use two: one for my forehead and one for around my nose, which is all I need for a few shine-free hours.
There's no fanfare surrounding these blotting papers. They aren't made from mystical rice or even scented. They just work, transforming your shiny skin into a completely matte surface. Even if your forehead doesn't reflect the light of a thousand suns like mine does, you'll want a set in your purse for long days and nights.
Ricky's Blotting Papers, $3.49 for 100 sheets at Ricky's.