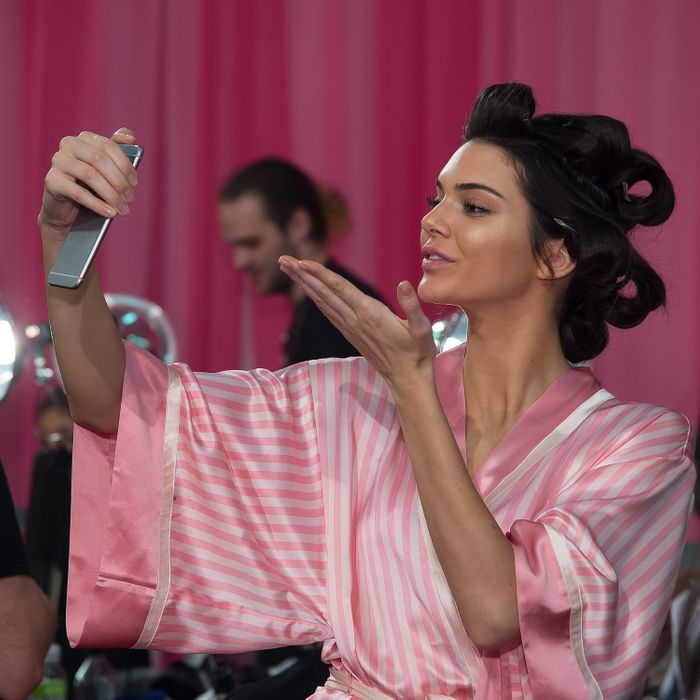 Back in June, Kendall Jenner lay down on the floor and made history. The resulting photo of a calm-looking Jenner with her hair arranged into hearts is 2015's most popular Instagram post. It has 3.2 million likes.
Taylor Swift came in second (… and third, and fourth, and sixth, and ninth). She got 2.6 million likes for posing with flowers sent by Kanye after she presented his Video Vanguard award at the MTV Music Awards.
2.5 million people liked this picture of Tay Tay with her boyfriend, Calvin Harris, celebrating the Fourth of July.
2.4 million fans liked this shot of Swift; it's safe to say that her cat Meredith wasn't one of them.
Kylie graduated from high school, resulting in 2.3 million likes and the revelation of her middle name.
Beyoncé and Blue Ivy — looking regal and adorable, respectively — also racked up 2.3 million likes.
Swift did some LARPing with one of her cats. 2.3 million people were amused enough to give it a little heart.
Selena Gomez shared her "fav" sweatshirt and what appears to be a blatant disregard for the lifesaving power of seat belts. Still, it was the seventh-most-popular Instagram post of the year with 2.3 million likes.
Taylor again! Cat again! Likes again! 2.2 million, this time.
Even though this selfie obviously needs to be rotated, 2.2 million people liked it.
Of course, there are 28 more days in December, so a really good 'gram could still shake things up. Kim Kardashian West's wedding photo was last year's most-popular post and her second baby is due before January. Now, if she could just get Kendall holding the new baby while Taylor Swift and a cat look on, that would be a winning photo.