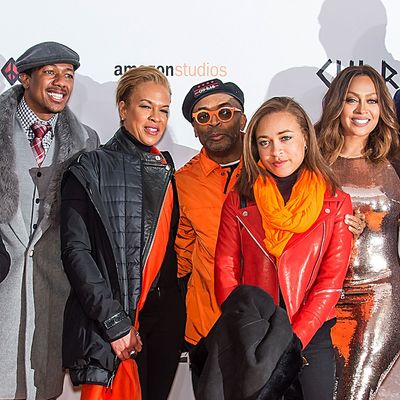 The cast of Spike Lee's Chi-Raq.
Photo: Gilbert Carrasquillo/Getty Images
In his forthcoming Amazon Original film, Chi-Raq, Spike Lee, who has never been one for mincing words or sugarcoating opinions, addresses social oppression, black-on-black crime, misogyny in hip-hop, and the effects of gun violence on inner-city communities. The film was inspired by Lysistrata, a Greek play written by Aristophanes in 411 BCE in which the heroine galvanizes women to withhold sex from their husbands in order to end the Peloponnesian War. In Lee's rendition, Lysistrata is artfully played by Mad Men alumna Teyonah Parris, and she's using the same tactic to end crime in modern-day Chicago.
So of course, when we caught up with Lee and the cast at the New York City premiere Tuesday night, we had to ask: Can the power of the vagina really put an end to warfare? Read on for their answers.
Spike Lee: Yes and yes.
Cassandra Freeman: I mean, how much power does a woman's pussy have? There was a woman who just won a Noble Peace Prize using the same tactics as Lysistrata. So there is some power in that. I also think there is some power any time a woman shows her body in general. Whether or not this could actually stop wars is another thing. It can, if women actually came together like that. Because men are hard up, aren't they?
Wesley Snipes: Absolutely. Women rule the world! Women are the empires in which princes, kings, and their minds are developed. But look, we men have to do our part too.
John Turturro: The original play was written in 411 BCE. And the guys who wrote it … well, I don't know about Aristophanes, but many of the writers of the time were people in the army. So they knew what they were talking about it. There must have been a general truth. It's a good idea; maybe it could do something for gun laws today.
La La Anthony: Absolutely. Power and more — I truly believe that. I think a lot of women don't know that we have that power and don't understand their powers. So I'm glad we talk about that in this movie. We don't realize how much power we actually have.
ASAP Ferg: Man, I would hate to even think about that. But if all the women said they were going to stop giving us the vagina unless we stop fighting, I definitely believe that the war would stop. Damn! Didn't Jay Z once say: It's all about the power of the P-U-S-S-Y.