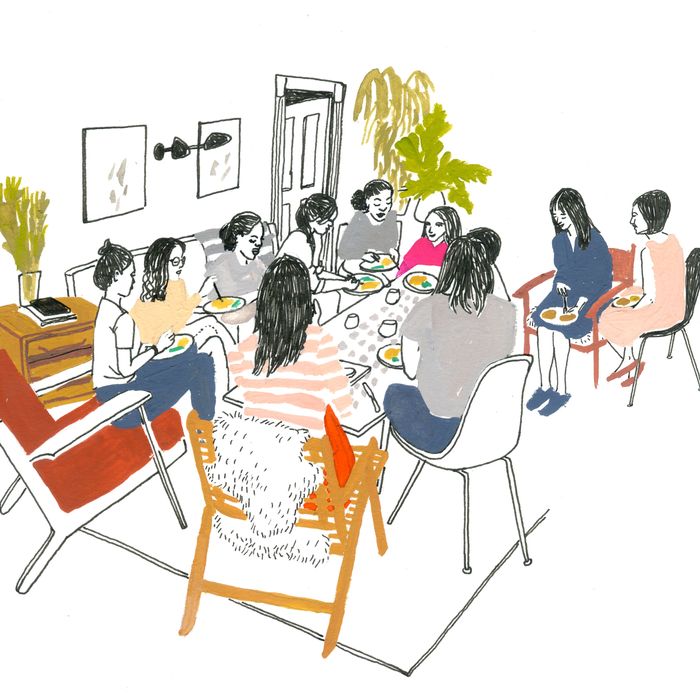 Illustration: Julia Rothman
This article was originally published in 2015.
Below, we compiled a few recipes you can make for any reason, but they taste extra delicious when enjoyed in the company of opinionated women with good shoes.
Mulled Wine 

You will need:
2 cracked cardamom pods
6 cloves
3 C apple cider
2 cinnamon sticks
1 clementine, zested and juiced
3 bottles of red wine (the cheap stuff is fine)
½–1 C brandy 

To make:

In a large pot over medium heat, add the cardamom, cloves, cider, cinnamon sticks, and the clementine zest and juice. Let it warm for a few minutes. Pour in the wine and brandy, and let simmer over low heat for about 20 minutes and serve.

—Ashley Weatherford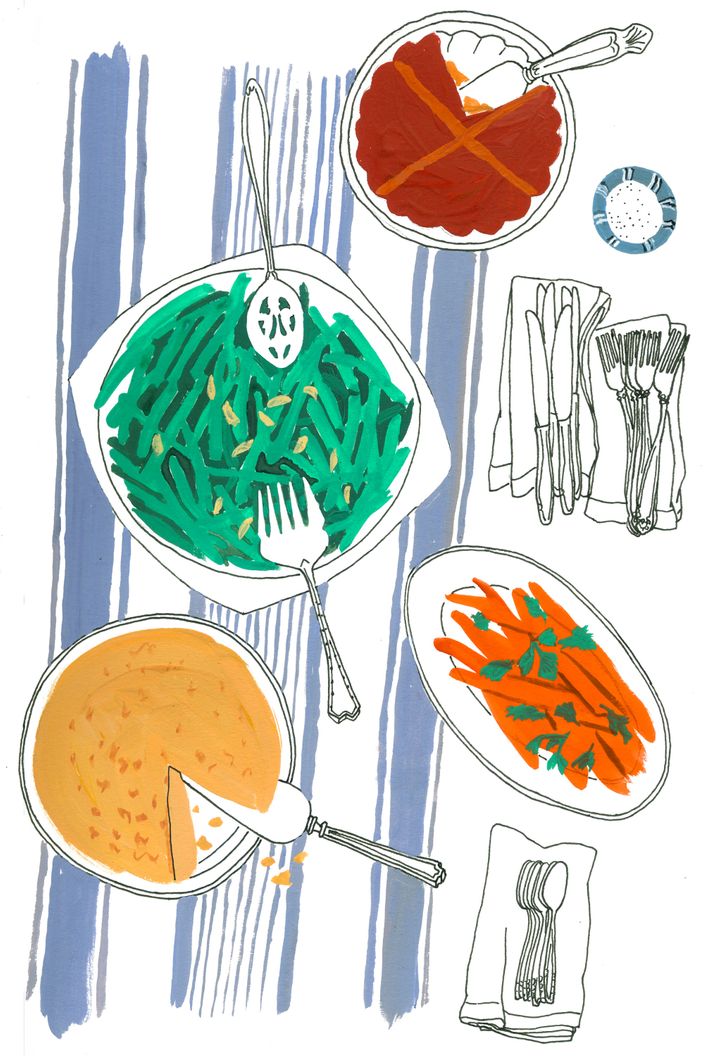 Chicken-Liver Pâté
You will need:
2 lb chicken livers, trimmed of connective tissue and veins
Whole milk (about 2 C)
2 sticks of butter cut into small piece and 3 tbs butter
4 shallots, sliced
A pinch of whole cloves (about 10?)
6 sprigs of thyme
1 tbs orange zest (about half an orange — I recommend using the other half to make a garnish of the peel)
Juice of 1/2 orange
1 tbs apple-cider vinegar
Salt and pepper to taste
4 oz bourbon (two shots)
1.5 C unsweetened cranberry juice
1 envelope unflavored gelatin
1/4 C sugar
To make:
1. Place the chicken livers in a bowl and cover with milk. Soak, refrigerated, for 2 hours up to overnight. Drain.
2. Melt 3 tablespoons butter over medium-low heat and sauté shallots with thyme and cloves until translucent and softened.
3. Raise heat to medium and add chicken livers. Cook until rosy pink in the center, about 6 to 7 minutes, flipping once. Don't overcook, or it'll get grainy. Use tongs to set the livers aside in a large bowl (or food processor, if you have it).
4. Turn the heat off and CAREFULLY pour in the bourbon, as it may flame. Scrape up any brown bits. Add orange juice and cider vinegar, and reduce for 2 minutes. Discard the thyme and pour everything else over the livers.
5. Add the orange zest and remaining butter to the livers. Purée with your method of choice (I use an immersion blender) until smooth. Season with salt and pepper. Place a fine-mesh sieve over a bowl and press the liver mixture through for a creamy texture.
6. Spread pâté into a ramekin leaving about 1 centimeter of space at the top for the gelée. Cover with plastic wrap. Chill at least 2 hours to set before adding the gelée.
7. Make the gelée. (You will likely have extra, which I save in another bowl and eat as Jello.) Pour the juice into a glass measuring cup and sprinkle gelatin over it. Let it bloom for about 5 minutes, then pour into a saucepan with the sugar. Simmer over medium-high until fully dissolved. Remove from heat and bring to room temperature, then gently pour over set liver (remove plastic wrap first!). Chill 2 to 3 hours to set. After about an hour, you can add any decorative garnishes (orange zest, a thyme sprig, etc.).
—Adapted from Serious Eats' Chicken Liver Pâté With Bourbon and Cranberry by Emily Shornick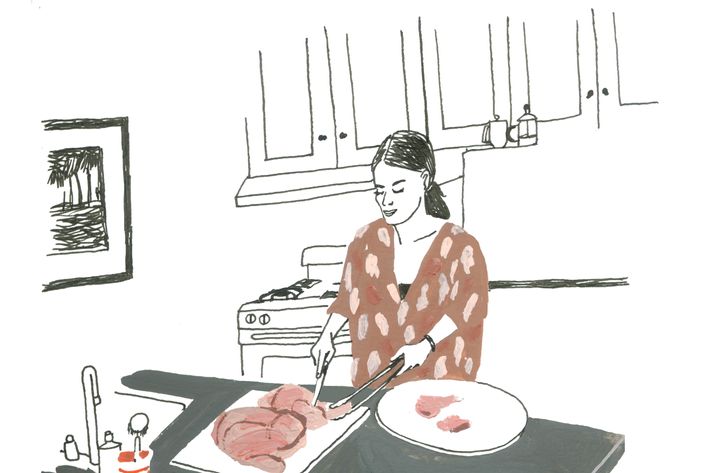 Stupid-Easy Roast Chicken
You will need:
5 lb organic bird (feeds about 6 people, and it's easy to cook 2 at a time if you have a pan or roasting rack big enough, in which case use the below ingredients for each bird)
Roasting pan with a rack (If you don't have a rack but you have small potatoes, you can rest the bird on top of those. Bonus: delicious oily potatoes at the end!)
Bunch of fresh rosemary
Bunch of fresh thyme
Salt (I like Maldon, but any sea salt will do)
3 tbs unsalted butter (I like Plugra, but use whatever you have)
To make:
1. Turn on the oven to 420 degrees. (That's hot, but it will turn the bird a lovely, crispy golden color.)
2. Unpack the bird, rinse it, pat it dry with lots of paper towels. Remove the inside stuff if there's anything in there. If it's not tied up you can tie it yourself. If you have no string you can just skip this step (it's mostly just aesthetics).
3. Place the chicken on the roasting rack in the pan, breasts up.
4. Take a paring knife and slice a 1-inch slit in the skin over each breast.
5. Shove about a tablespoon of butter in each slit, pushing it deep in there.
6. Shove a few sprigs of rosemary and thyme in each one. Take a handful of the herbs and put them in the chest cavity. Optional: Add garlic, too.
7. Rub the rest of the butter over the chicken. You can also use olive oil.
8. Salt liberally and sprinkle some thyme over the top
9. Put it into the oven and bake at 400 for about 40 minutes. If you can remember, turn the heat down for the next 20. If you forget, it will also be fine, but your chicken may be a little drier. When it's been an hour, take the chicken out of the oven and slice it by the leg joint. If the juices run clear, it's done. If they are reddish, then cook it for 10 more minutes. Remove, let it sit for 15-ish minutes, and then carve and serve on a platter, using the remaining rosemary and thyme on their stalks as garnish.
—Stella Bugbee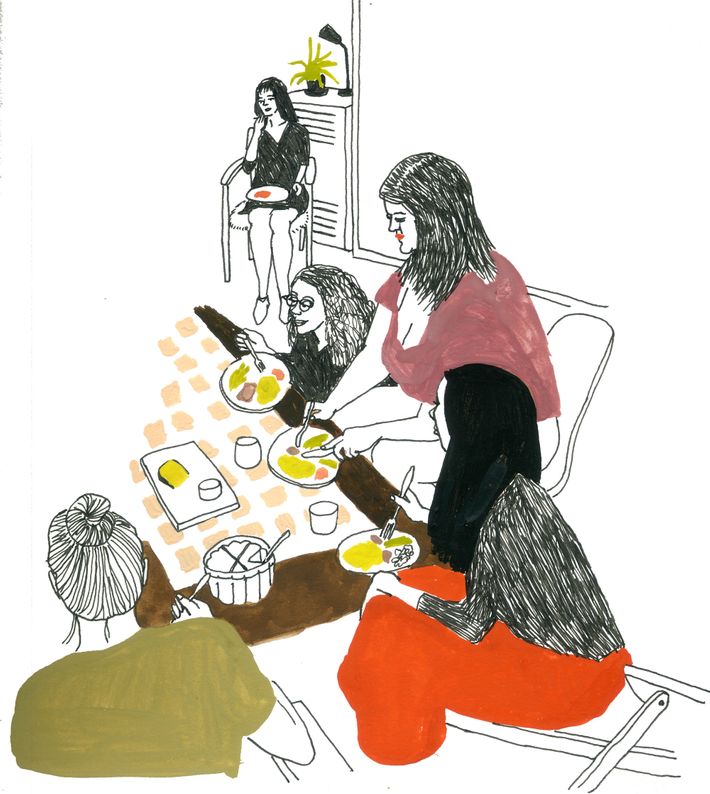 Maryland Crab Cakes
Makes 4–6 patties or 20–24 mini crab cakes
You will need:
1 tbs mayonnaise (Duke's or Hellmann's)
1 tbs Worcestershire sauce
1 tbs Dijon mustard
1 tbs fresh chopped parsley
1 tsp Old Bay Seasoning (I always use 3, but I like it bold)  
¼ tsp salt to taste
1 egg beaten
Crushed Ritz crackers or Saltines
1 pound lump crab meat (must be lump!)
To make:
1. Whisk the first 7 ingredients together. Fold in crab, mixing it lightly (hands work best) in order to keep the crab from breaking up too much. Shape into loose patties, again being careful not to work the crab too much.
2. Refrigerate patties for at least 10 minutes (but 30 minutes is best) to help them hold together when you cook them.
3. Broil for 20 minutes or fry until golden-brown on both sides.
4. Shake a little more Old Bay on top of each crabcake. Serve with cocktail sauce or tartar sauce.
—Allison P. Davis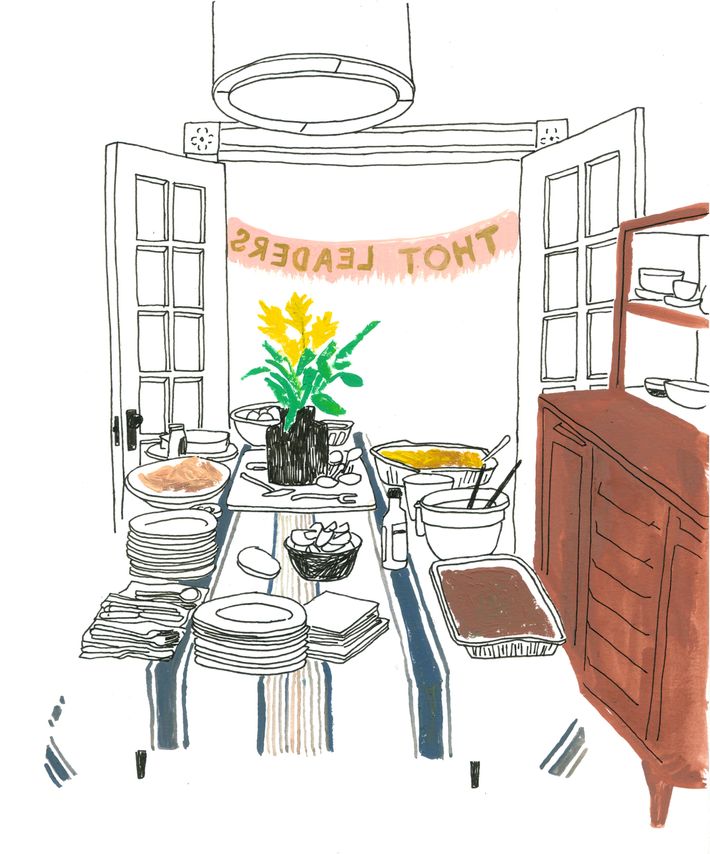 Green Beans Almondine for a Crowd
You will need:
2 lbs green beans, ends trimmed, cut in half if they're huge
¼ C slivered almonds
Butter as needed
To make:
1. Heat a spoonful of butter in a large frying pan over medium heat.
2. Add a single layer of green beans and sauté until tender.
3. Add one tablespoon of almonds and cook until they just start to toast, then set aside the mixture in a covered dish. Continue to work in batches, adding more butter as needed so the beans don't burn!
—Susan Rinkunas
Southern macaroni and cheese
You will need:
2 packs of elbow macaroni
1 block of Velveeta
1 block of mozzarella cheese
1 block of Parmesan cheese
½ stick of salted butter
Pepper
Salt
To make:
1. In a large pot, bring to a boil the macaroni with a couple slices of salted butter and a few pinches of salt and pepper in the water. Drain the noodles but keep a cup of the water.
2. Make small square slices of all three cheese and put aside.
3. In a large pan, put the first layer of macaroni at the bottom, alternating cheeses and two small slices of butter on each layer. Before you put the last layer on, pour the cup of salt-and-pepper water in the pan to keep the noodles moist, and then lay out the final layer of macaroni and top with cheese. Place in the oven for 45 minutes or until golden brown. Top with parsley and serve.
—Lindsay Peoples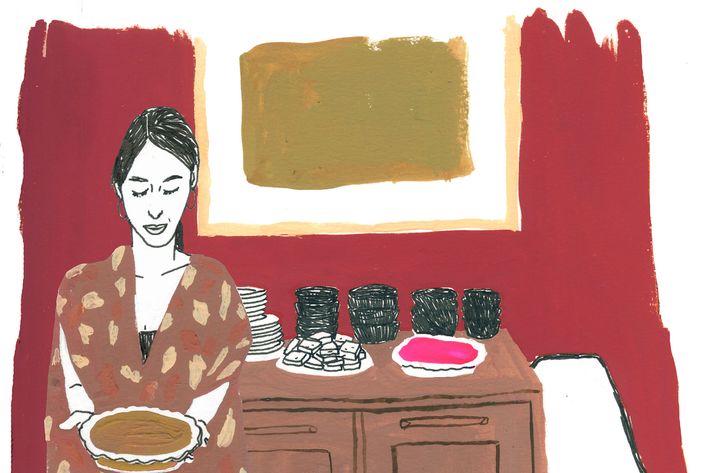 Kentucky Derby Pie
For pie crust, you will need:
1 1/2 C plus 2 tbs bleached all-purpose flour
1 tbs sugar
1/2 tsp salt
6 tbs (1 stick) unsalted butter, cut into 1/4-inch pieces and chilled
2 tbs vegetable shortening
5 tbs ice water, or as needed
To make:
1. Mix the flour, sugar, and salt into a large bowl. Add the butter and shortening. Rub the mixture between your fingertips and thumbs, or use a blender, until the mixture looks like coarse crumbs. One tablespoon at a time, work in enough ice water until the dough comes together, being careful not to overmix.
2. Shape into a smooth ball of dough, flatten into a round shape, and wrap in plastic wrap. Refrigerate for at least 30 minutes, and up to 2 days.

Inspired by Food Network's Basic Sweet Pie Crust.
For the filling, you will need:
½ C butter, melted
1 C sugar
2 eggs
1 tsp vanilla
½ tsp salt
½ C flour
1 C chopped pecans
1 C Guittard chocolate chips
To make:
1. Lightly toast the pecans in the oven for 5 minutes at 350 degrees.
2. Mix butter and sugar. Add eggs and vanilla and mix well.
3. Add salt and flour, and mix well.
4. Fold in pecans and chips.
5. Pour mixture into pie crust and bake at 325 degrees for 1 hour.
6. Let cool for 1 to 2 hours before slicing.
Inspired by Kentucky Derbie Pie Cupcakes and Kale Chips Recipe.
—Recipes adapted by Jessica Roy