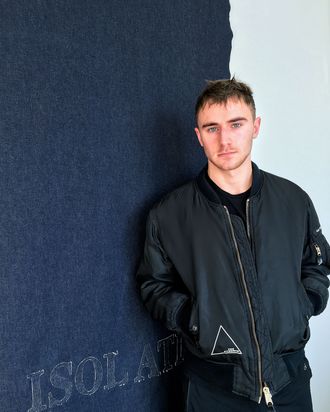 Casavant with his Raf Simons flag.
Photo: Lixx Diaz
David Casavant doesn't know exactly how many vintage designer pieces he has in his apartment, but between his 12 clothing racks and 5 packed closets, he's guessing it's at least 1,000. "People always ask me that [question]," he says — among them Kanye West, who dropped by earlier this year, and who has been borrowing from Casavant's extensive archive of designers like Raf Simons and Helmut Lang ever since. It started with a camo Simons bomber from fall 2001, patched with images of Richey Edwards, the Manic Street Preachers singer who went missing in the '90s. Casavant has versions from all different years, too: "They're like the Chanel quilted bag," he says, pointing to another one that both Rihanna (another repeat customer) and Travis Scott have borrowed. 
Those are just some of the cult items by Simons in his collection: Casavant also has a lunch-bag purse from his time at Jil Sander, a military-style sleeping bag, and, in his bedroom, a flag that was carried out on the runway in the fall '99 show. And then there's the rest of his trove: Prada and Miu Miu, Dior Homme and Calvin Klein, newer designers like Craig Green, and plenty from Tom Ford's days at Gucci — including the kimono and silky jackets from his notorious G-shaving ads in 2004.  
Casavant didn't always intend to lend his clothes out to the stars — he started collecting vintage menswear when he was 14 to add more to his wardrobe than school uniforms. Growing up in Tennessee, he "sort of made it a full-time job to look on eBay and go to consignment stores every week," he says. Once he decided to be a stylist, he started looking at it as more of an investment: "I wasn't sure if it was going to pay off, but now it's obviously started to." Buyers and collectors usually approach him directly, and "it's gotten to the point where I don't own all this for me to wear — I like to see other people wear it or use it and make something interesting out of it."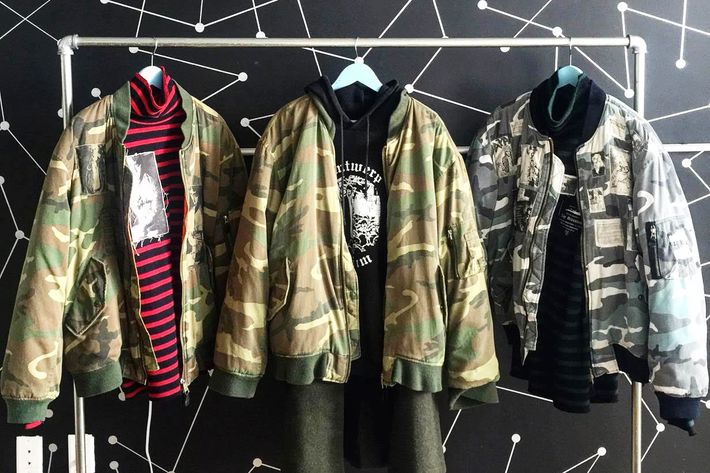 After dropping out of Central Saint Martins in London to pursue styling, he assisted backstage at fashion shows, including Simons's, and interned at AnOther Man, British Vogue, British GQ, and CR Fashion Book. When he opened up his archive a couple of years ago, his erstwhile employers — like Carine Roitfeld, LOVE Magazine's Katie Grand, and Mel Ottenberg, Rihanna's stylist — were suddenly his clients. (He got his own interns, too.) Magazines and stylists began styling shoots exclusively with his pieces, and they started appearing on celebrities, too: Lorde wore his vintage Yohji Yamamoto in her Billboard cover story, and one of his Helmut Lang jackets showed up on Paul McCartney in the "FourFiveSeconds" video.
"I loan mainly to musicians because I sort of view them as performance artists in a way," he says. Respecting the clothes is a must, but "if you're a rapper and you wear it in a performance and it rips or something like that, I'm sort of okay with it because, for me, the idea of the clothes is for them to be worn and used." To him, that's much better than having them displayed in a museum: "It would be depressing if some jacket was hung up behind a glass wall forever. Clothes are like sculptures, and they need context to make sense. You have to put the piece of clothing on in order to fully understand it, because clothes can change the way you feel, the way you act, the way you move."

Casavant is primarily a stylist, and while he's still getting his name out there — doing portraits for magazines like Interview, and assisting on shoots, including Marc Jacobs campaigns — the archive fits in with that, too. "Even though stylists pull from me for their own work, in a way, I'm curating their pull, since it evolved from being my closet and my wardrobe," he says. "I like the idea of it being open to interpretation, since there's so much constraint in fashion right now because it's kind of commercial – like if you style for a magazine, you have to do it for their advertisers. I love being able to provide the opportunity for people to add a bit more expression to their styling." Not to mention that the right vintage selection can sometimes change the entire tenor of a shoot: "People [will] come in to pull and see certain things I have, and say, Oh actually, we can take this shoot to this angle. I like the idea of being able to inspire people."
Casavant answered our Taste Test to gauge some of his fashion and pop-culture preferences.
What's your daily uniform?
I wear Nike and Calvin Klein every day, and throw on some Raf or Helmut with it. I'm usually in track pants.
Thoughts on Yeezy?
I love Yeezy. I saw the second collection and I wanted to wear all of it. People like to use the fact that he's a rapper in fashion against him, but if anything, that's more interesting. When have you ever seen any kind of rapper or celebrity in that field take their fashion line as seriously as he has? He's not just trying to put his name on clothes. He really does his research — example enough that he came over himself to look at my clothes in person. What I find interesting for him is he'll wear his own stuff onstage, so in a way it's like an extension of his music, because it's like him making his own costume for his performances. You don't have to make some Comme des Garçons concoction to do something new in fashion. Fashion's a commercial business, so you can also do things on a commercial end that are new and interesting. People can take things too seriously sometimes. Vote Kanye! [Laughs]
Best new music?
Rihanna — Anti. I haven't heard it yet but, come on, you know it will be the best album of the year.
Fashion pet peeve?
Maybe sneakers that aren't worn in yet. I have a dirt kit to dirty new ones up if I'm using them in a shoot or something.
Favorite artist in New York right now?
My best friend Jacolby Satterwhite makes these videos using green screens and CGI — one was in the Whitney Biennial. I've started working with him, too, so his next one coming out in January has things like this Saint Laurent leopard coat, a Gucci jacket, and some Craig Green. Adding the fashion element isn't forced in his work, and for me, it's been a new way to think about doing fashion film that isn't like a pretty girl moving around in a dress. I'd love to work with more artists.
Favorite neighborhood in London?
Bloomsbury. It's in the middle of everything and chill.
Raf or Helmut?
I'm not choosing between them.