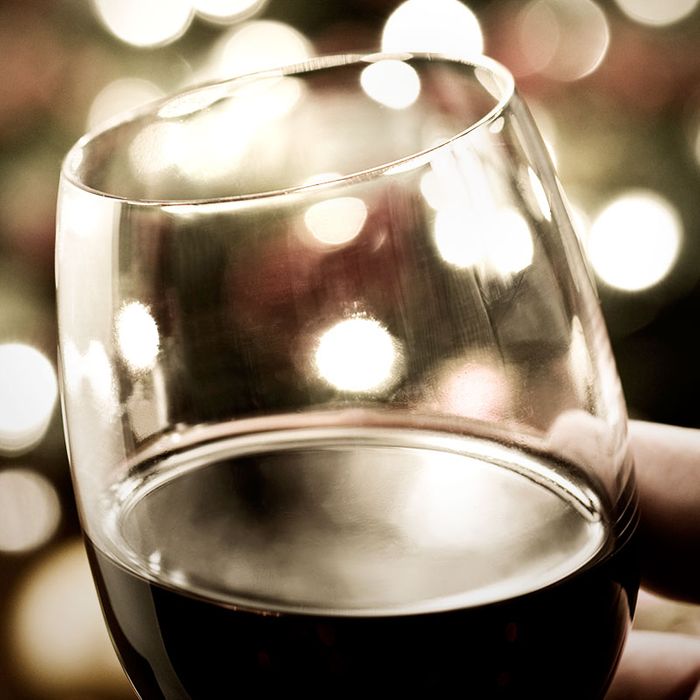 New York's Sex Diaries series asks anonymous city dwellers to record a week in their sex lives — with comic, tragic, often sexy, and always revealing results. This week, a photojournalist flirting with a taken hot nerd: female, 31, Nolita, single, straight.
DAY ONE
9 a.m. I am up and getting dressed for a holiday brunch. I've been a little lonely since getting divorced last year, so I'm forcing myself to say yes to all invitations.
11 a.m. First to arrive at brunch. Host seems bummed I only brought flowers. What did she expect?
11:30 a.m. A dozen Black Seed bagels — that's what she expected. Because that's what the professional brunchgoin' biatch who showed up right after me brought. A second after her, a tall hot nerd arrives. I immediately like his face. We start to talk about Arrested Development, which I'm only watching/bingeing now for the first time. (I know.) When he says, "There's always money in the banana stand," I almost choke on my frittata.
2 p.m. I'm ready to leave, as is Hot Nerd. We walk out together and share small talk. He says he lives with his girlfriend. Small stab in the gut. We walk by a bar we both happen to love.
2:05 p.m. Will they or won't they?
4 p.m. They will. HN and I are wasted.
5 p.m. We are makin' out all over the sidewalk. He kisses with an abundance of tongue … beer-flavored tongue. I am okay with it.
5:30 p.m. I am heading home … alone. Lovely day!
DAY TWO
9 a.m. I go to work for a few hours, which means I sit in my office with La Colombe coffee Googling the bejesus out of HN. There are photos with him and the girlfriend. She is very pretty. I'm not sure what is better: a guy with a beautiful girlfriend (he is as desirable as you thought he was) or a guy who dates a dog-face (he isn't all that … although you could probably get him to leave her). I'm just gonna pack up and go to hell now.
3 p.m. HN texts. I knew he would. He's leaving for Chicago; I assume with the girlfriend. From my online investigation, I can see they've been together for two years. She works in HR. Need I go on? We start texting feverishly.
9 p.m. Text text text text text with nerdboy.
DAY THREE
9 a.m. I'm not going to work today. I decide to see an early afternoon movie by myself. During my (very brutal) divorce, I would see movies alone all the time.
11 a.m. Early screening of Brooklyn with Kahlúa in my coffee. I take inventory of the fact that I am seeing a movie alone while in a happy, healthy place. My heart is beating calmly. My eyes don't burn from tears. Life is good.
4 p.m. Textathon with HN continues. I have no guilt about the girlfriend situation. Don't ask me why not because I do not know. Maybe it's because, so far, our texts aren't sexual. Lots of banter about film, TV binges, thoughts on life in general. It is really nice to communicate with a smart guy who has a lot to share with the world. My ex had a big dick and small brain — which bought him an extra year in our toxic marriage.
4:30 p.m. I sit at a nice wine bar alone and order an expensive glass of red. It's the holidays. I do a little online swiping as the wine enters my bloodstream. Again … I check in with myself and appreciate the inner peace.
DAY FOUR
9 a.m. New York is slowly shutting down. Tomorrow is Christmas Eve. I'm Jewish, but I love Christmas.
9:30 a.m. I can't help but wonder if HN would be a good fit for me. It's time for me to start a new relationship. Since my divorce I've hooked up and had sex once, but I am only now feeling ready to look for something more serious again. I don't even mean falling in love, necessarily. In the spirit of giving, I decide today I will up the flirtation level in the HN texts. But first, let me close my eyes and imagine fucking him …
10 a.m. My mind swayed in its own direction and, instead, I imagined HN fingering me into oblivion. I came so loudly I worried my neighbors would think I hurt myself.
1 p.m. Lunch with an old friend at Westville. We do a deep creep on HN, and she figures out they have two mutual Facebook friends. I insist she texts a mutual to find out more scoop on him.
1:20 p.m. Meanwhile HN texts me that there's a pie-tasting event we should go to together when he is back. We are both pie whores. Where is his pretty but evidently clueless girlfriend during all this??
4 p.m. Friend has dug up some scoop. HN is a great guy with a great reputation. This validates my hunch that he was a special person.
7 p.m. Another meal with another friend. By my second glass of wine, I'm flirting with the table of guys next to us. They are all married. What the hell!?
8 p.m. Heart-to-heart with the cutest of the Marrieds. He says his marriage is falling apart. I tell him I understand. But he has kids … so it's much harder than in my situation. We continue to drink. And by "drink" I mean go home together.
Midnight It is a Christmas miracle. I got laid.
DAY FIVE
9 a.m. Okay, this is grounds for therapy: two unavailable men in one week. I rationalize this by saying that because I don't really want or need anything from these guys, it's nothing that will hurt their current situations. Even when I was married, I subscribed to the "sometimes sex is just sex" theory.
Noon It is a sleepy, hung-over Arrested Development day. Michael Bluth is 100 percent my type. I check the internet to see if Jason Bateman is single (nope), and I text my producer friend in L.A. if he's known to be a nice guy (totally).
4 p.m. I tease HN by saying I had a late night last night. He wants details. I dangle it all in front of him for a few hours and say I'll tell him in person.
8 p.m. HN texts a picture of his Christmas evening dinner. I see a woman's hand reaching over the turkey. There is a huge rock on this woman's hand. Is he fucking engaged? I don't say anything and drift away in the warm embrace of the Bluths.
DAY SIX
9 a.m. Merry Christmas!!!
Noon I meet a bunch of single Jewish friends in Chinatown. It takes exactly one sip of beer before I ask if anyone knows the Hot Nerd. One girl does. She said a lot of girls like him. This makes me delight in his daily texts even more. I keep the married-man shenanigans to myself.
4 p.m. Cold sesame noodles and Michael Bluth, baby.
7 p.m. HN says he's flying home tomorrow. "What are you doing tomorrow evening?" he asks. I am not sure which card to play here. Because I'm not sure what I want. To bone the Hot Nerd? Not necessarily. To continue crushing on each other? Very much so. To break up him and his girlfriend? No. Ugh. I mean. I don't know.
10 p.m. I am aware that I sound morally bankrupt. But at least I can admit it.
DAY SEVEN
9 a.m. I'm going to shop for my date. It has been a long time since I wanted to look really great for someone.
3 p.m. I shop all day and get a pedicure and a massage. I relish in feeling bright-eyed and lighthearted. Last holiday season was so dark.
7 p.m. I arrive at the restaurant HN chose a little early. I wanted to get a few sips of wine in me before the night begins. I see him enter the room. He doesn't look as cute as I remember. I never noticed how big his ears were! I'm just freaking out, I think. Too much buildup.
8 p.m. We have an epic conversation about relationships current and past. Without getting into too many details, he's in a loveless situation, but it's not like they're in the middle of breaking up. That was not her engagement ring in the photo, by the way.
9:30 p.m. I have no idea where it comes from, but I tell him I'm not going to sleep with a taken man. He says he can respect that. We share a ridiculously hot kiss good night, and I walk to the subway.
Midnight All night long we text about what we would have, could have, and possibly should have done to each other …
Want to submit a sex diary? Email sexdiaries@nymag.com and tell us a little about yourself.