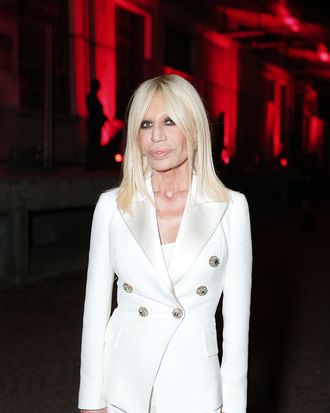 Donatella Versace.
Photo: Matteo Prandoni/BFA.com
In her role at Instagram, Eva Chen has been tirelessly onboarding Instagram holdouts like Alber Elbaz, and today she announced that Donatella Versace has joined the platform. The designer was pictured wearing an Instagram hoodie — much like the one Anna Wintour gingerly touched — accessorized with a Versace lion-logo belt, green leopard-print pants, and green aviators. Wrote Chen, "If her accessorizing of #TheInstagramSweatshirt is any indication, her Instagrams are going to be epic!"
Versace's Instagram bio is a koan: "Me, Donatella. I believe in individuality and the freedom to be whoever you want to be. And by the way… I am the Designer." (As if there were any doubt.) And she's already posted a slope-side photo with Gigi Hadid, though in true Donatella fashion, she's not really dressed for skiing weather. "Hey guys, here I am! x," she signed off.