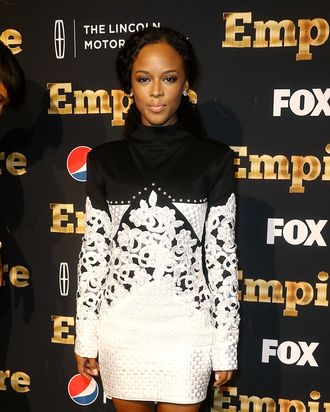 Serayah McNeill.
Photo: AR Photo/Splash News
You could say 2015 has been very good to Serayah McNeill. Springing from obscurity to celebrity in a matter of months, the Empire star's first acting role on television has placed her side by side with Naomi Campbell and Taraji P. Henson. At only 20, she's so grounded that not even a BFF-status friendship with Taylor Swift seems to be going to her head. The Cut caught up with McNeill at the grand opening of a Sephora in San Francisco to talk about the necessity of a clear state of mind, the importance of French fries, and worshipping at the altar of DevaCurl.
How I start my day: I love to get up early. I naturally wake up around eight. I'm a morning-bird type of girl. I love to go to yoga. I've been doing hot yoga and go to this place called CorePower Yoga; they have a lot of different locations, and I'm actually loving it more than the gym. I'm usually a gym freak, but yoga gives me a good workout, along with clearing my mind. I try to go a few times a week at least. For breakfast I have bananas, oatmeal, usually something boring, and coffee, of course.
How I like to sweat: For a while I was going to the gym and doing squats, body-weight workouts, treadmills, stuff like that. But now I just do yoga. I'm obsessed. Even when I'm shopping, I'm buying yoga clothes and yoga mats.
What wellness means to me: I think it's having a clear state of mind. Not only staying healthy, but working out, eating healthy, and having a sense of spirituality.
My wellness struggle is: It's harder for me to stick to a diet because I love food. I usually have a hard time saying no. I'm like, Oh, this piece of bread won't hurt. Burger and fries are my favorite.
How I eat alone: I'm a chocolate fiend. I can go in on Rocky Road ice cream. I also have a weird obsession with fries. I'll order a meal and ask for fries with it, even if it doesn't go with my meal. I love In-N-Out fries. I love Chick-fil-A waffle fries. And Chick fil-A has all of these sauces you can get into, it's like, dear lord. And then the chicken is amazing. I want Chick fil-A now, oh my God.
How I maintain my curls: With my hair, I like to start with it soaking wet. I feel like it's how I get the products to penetrate in my hair. Usually my process is this: I detangle in the shower. I switch up my products a lot. I'll use a Pantene conditioner, or I'll go for DevaCurl conditioner. DevaCurl is amazing, and I swear by their products. I wash my hair with DevaCurl's No-Poo. I'll put that in my hair and let it sit for a few minutes in the shower. I then detangle with DevaCurl's conditioner. After that I'll go for my styling products, usually Miss Jessie's Pillow-Soft Curls — I love how it keeps my curls really soft and tames them. Usually you can't get both [for hair]; like there will either be too much gel and my curls are crunchy, or not enough and my curls are really frizzy, which is why I love Miss Jessie's so much. I also use DevaCurl's styling gel.
How my beauty perspective is changing: I noticed Taraji loves to keep a more matte finish, and it looks great on her. I'm trying to get into heavier looks. I don't usually like the way that a heavier foundation looks on me, so I'll go more toward a bold eye. I also really love nude lips. M.A.C has this nude that I really, really like. I love Myth, and I'll use that for dinner and put a warm nude lip gloss over that. And then I also love M.A.C's Velvet Teddy. But more importantly, I think people shouldn't be afraid to try new things. If it doesn't work out, then just move along.
This interview has been edited and condensed.