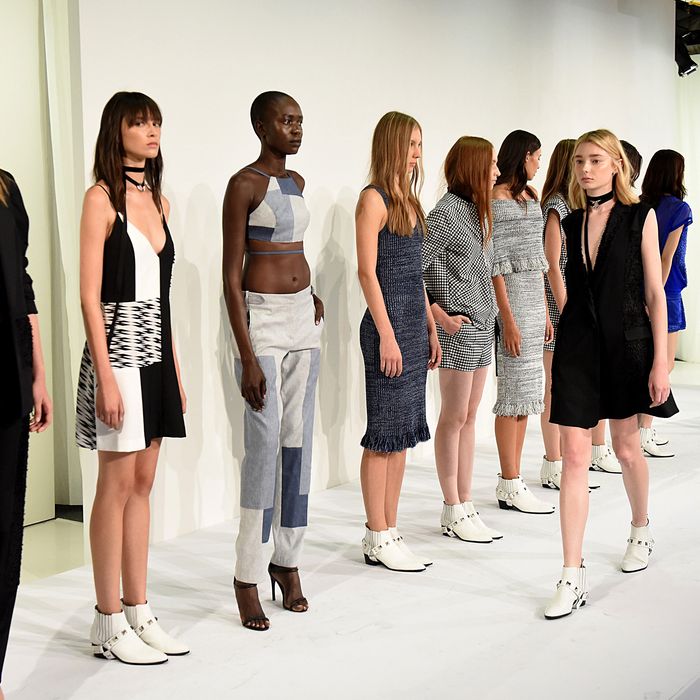 Photo: Vivien Killilea/Getty Images for NYFW
It sounds like something along the lines of The Big Short, but right at this very moment, a team of highly paid consultants is currently puzzling over how to revolutionize Fashion Week. WWD reports that the CFDA has enlisted the Boston Consulting Group to help them fix Fashion Week. "Something's not right anymore because of social media. People are confused," CFDA chairman Diane von Furstenberg told the paper, noting the six-month lag between the moment clothes appear in our Instagram feeds and when they hit store shelves. The way things are right now, "The only people who benefit are the people who copy" runway trends.
One possibility being mulled over: turning Fashion Week into a consumer-driven event that will show in-season merchandise to the public, while showing next-season collections to the industry via presentations or appointments. Designers could still feed on the celebrity buzz, pageantry, and social-media impact of fashion shows, but in a way that might encourage more people to "buy now, wear now." (Rebecca Minkoff announced yesterday that she's experimenting with just that approach.) And editors and buyers wouldn't have to worry about being manhandled by bodyguards, tripping over Pretty Little Liars stars, or being the ham in a street-style-star sandwich. (Oh, I've been there.) Instead, they could focus on what we're all allegedly here to see: the clothes.
Still, don't look for Fashion Week to open up the gates to the eager hordes just yet. Noted the CFDA's CEO Steven Kolb, the solution might end up being a hybrid of consumer and industry events. Or, "they might come back and say, 'There's nothing to fix. Keep it the same.'" Feel free to enjoy the image of a bunch of finance-industry whizzes sitting in a conference room right now, grappling with the term "pre-fall."