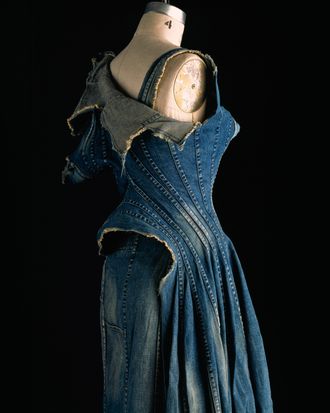 A Junya Watanabe design.
Photo: William Palmer
Long before Calvin Klein Jeans ads featured models saying they'd rather spend money on a new pair of "Calvins" than rent, denim was a humble workwear fabric — the stuff of railroad workers and even prison inmates. But in the 1930s, that started to change. So-called "play clothes" — think the Depression-era version of athleisure, but in chambray instead of skintight Spandex — became their own fashion category, and Westernwear was a parallel trend. Soon, denim would be seen on the runways of designers like Elsa Schiaparelli and Claire McCardell, and it wasn't long, relatively speaking, before Brooke Shields was cooing that nothing came between her and her Calvins and Tom Ford was showing $3,800 feather- and bead-embellished blues at Gucci. "Denim: Fashion's Frontier," a new exhibit at the Museum at FIT, explores the narrative arc of denim, from workingman's staple to its current omnipresent state.
The fabric caught on for casualwear because, the show's curator Emma McClendon points out, it's both breathable and durable: "It's the perfect thing to be really active in." Pointing to a '30s Claire McCardell two-piece playsuit on display, she notes, "This is denim entering the fashionable vocabulary, but not in that five-pocket, riveted style that we know it today." At the time, believe it or not, denim was "culturally coded to be beachwear."
By the '50s, denim had shed those seaside associations. It now connoted a lawless rebel — think of Marlon Brando in The Wild One or the juvenile delinquents of West Side Story — and through the decades, it came to symbolize the counterculture in all different forms. Hippies embraced it in the '60s, attracted to its ecofriendly qualities. "When the hippie aesthetic itself became a fashion trend, then all of a sudden denim went with it," says McClendon. Yves Saint Laurent was among the designers to tap into denim's flamboyant side — think leisure suits, jumpsuits, and safariwear. Later, hair metal, hip-hop, and grunge aficionados would all adopt their own takes on the motif — favoring acid-washed, saggy, and ripped styles, respectively. Ironically, as these new youth movements strove to distinguish themselves from the previous generations', they all reached for the same fabric to do it in. 
Luxury jeans started to bubble up in the '70s in Europe, pioneered by brands like Fiorucci, whose signature Safety jeans are featured in the exhibit. "Supposedly Calvin Klein was very heavily inspired by the cut of the Fiorucci jeans, which he had seen at Studio 54," according to McClendon, "but that was really a tipping point when Calvin Klein did it. [Elio] Fiorucci was a big name, but he was known for denim. Klein was already this big fashion name, and then he created this diffusion jeans line." In the '80s, luxury houses like Moschino and Versace would release their own jeans lines, and soon, three-figure denim was pouring down the pike: Guess, Diesel, Seven for All Mankind.
Of course, even the premium-denim bubble eventually popped. "I think this stretch blend, boot-cut, bedazzled pocket [aesthetic] kind of reached a saturation point," says McClendon, gesturing to a pair of circa-2004 Sevens modeled by a mannequin. (Yes, the fact that they are displayed in a museum should make you feel as old as some of the turn-of-the-century Levi's also on display.) Lines purporting to channel denim's simpler days sprang up: Rag & Bone began as a way for its founders to find the perfect dark-wash jeans, while Acne founder Jonny Johansson called five-pocket denim "the Coca-Cola of fashion" — a classic standby. More recently, perhaps as a reaction to that simplicity fetish, young labels like Marques' Almeida and Faustine Steinmetz have been experimenting with turning shredded, frayed denim into something resembling 3-D sculptures. (It would have been nice to see some of their handiwork represented in the show.)
To contemporary eyes, pieces like an embroidered frock coat by Roberto Cavalli and even a credible evening gown by Edun (both included in the show) don't seem out of place when rendered in denim. But of late, there has been a much-reported-on backlash to denim, with leggings, yoga pants, and other athleisure staples replacing jeans as America's casualwear of choice. McClendon thinks denim makers should stand their ground. "They're trying to compete and put all this Lycra [in their designs] and create jeggings, but I don't necessarily think that that's what people want," she says. "I would like to see more denim companies stick to what they know and not try to make denim into yoga pants. I don't think denim's going anywhere." You might even call it true blue.
"Denim: Fashion's Frontier" opens today and runs through May 7, 2016.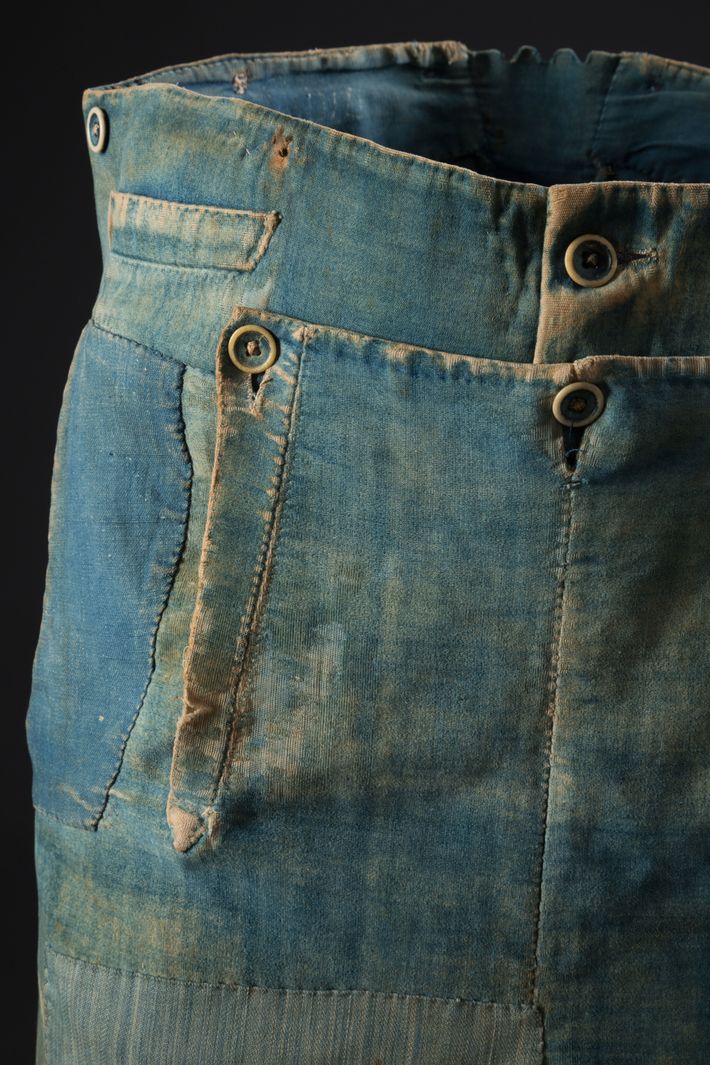 Men's work pants, denim and brushed cotton, circa 1840, USA, museum purchase.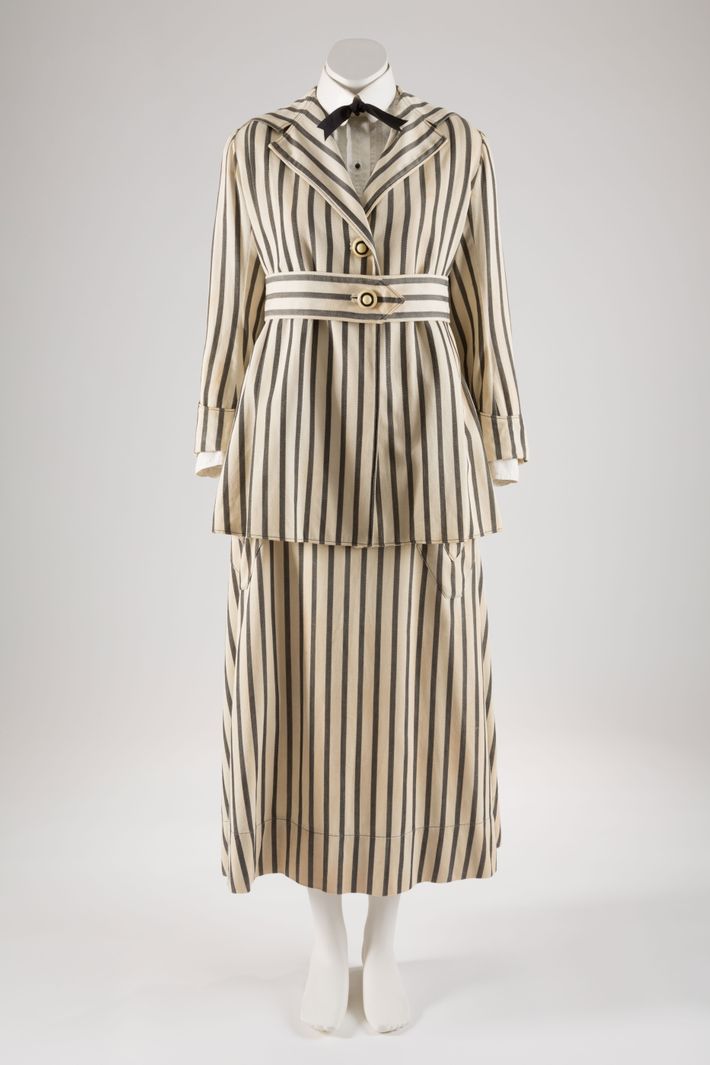 Walking suit, striped denim, circa 1915, USA, museum purchase.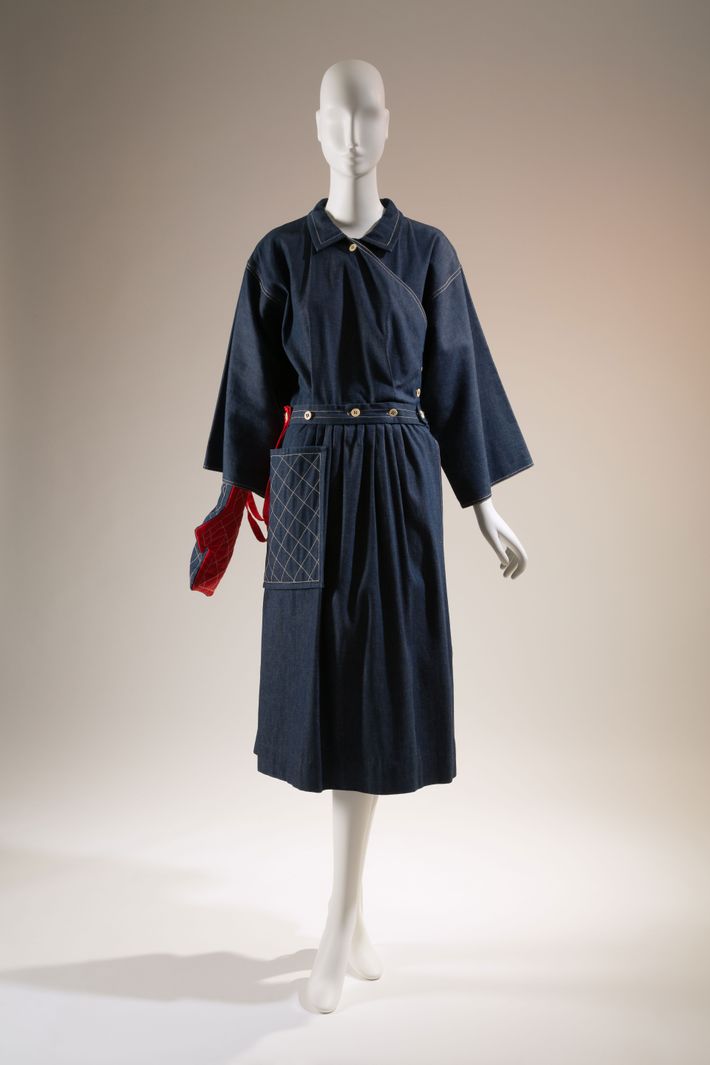 Claire McCardell, "Popover" dress, denim, 1942, USA, gift of Bessie Susteric for the McCardell Show.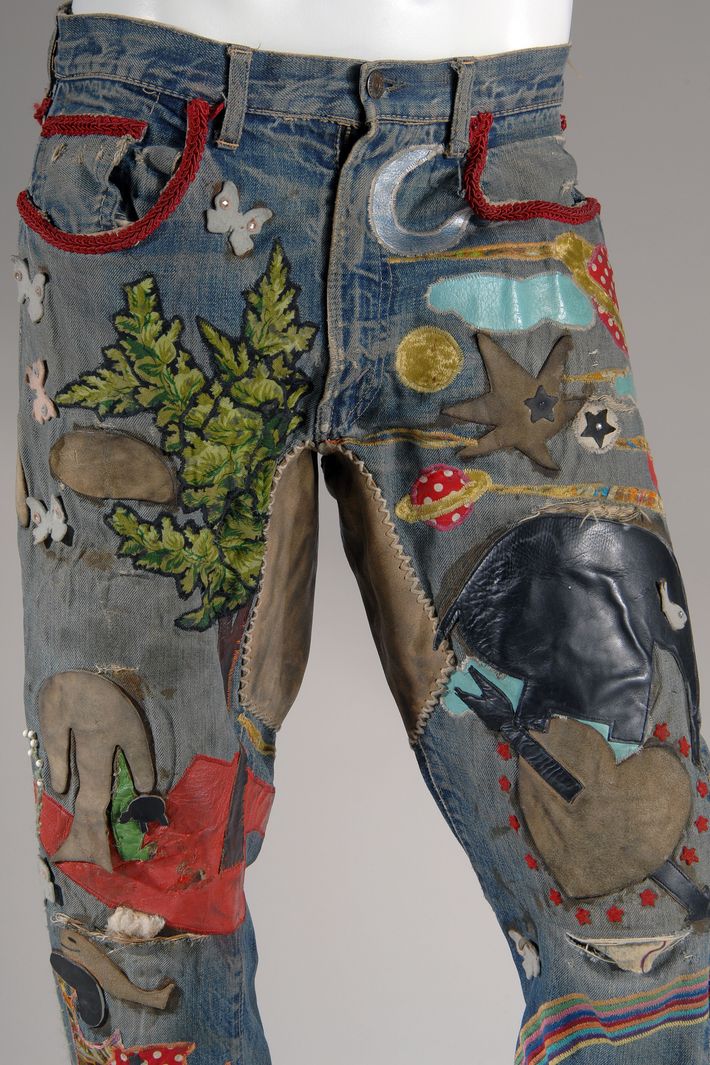 Levi Strauss & Co., jeans, embroidered denim, circa 1969, USA, gift of Jay Good.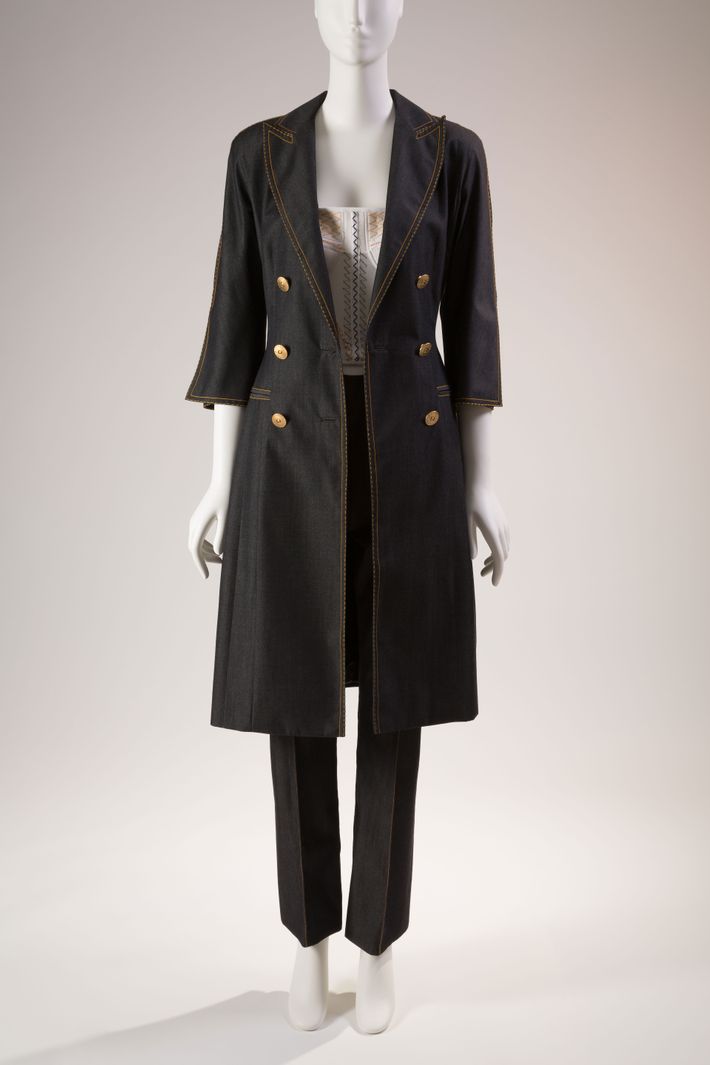 Raphael, leisure suit, denim, circa 1973, Italy, gift of Chip Tolbert.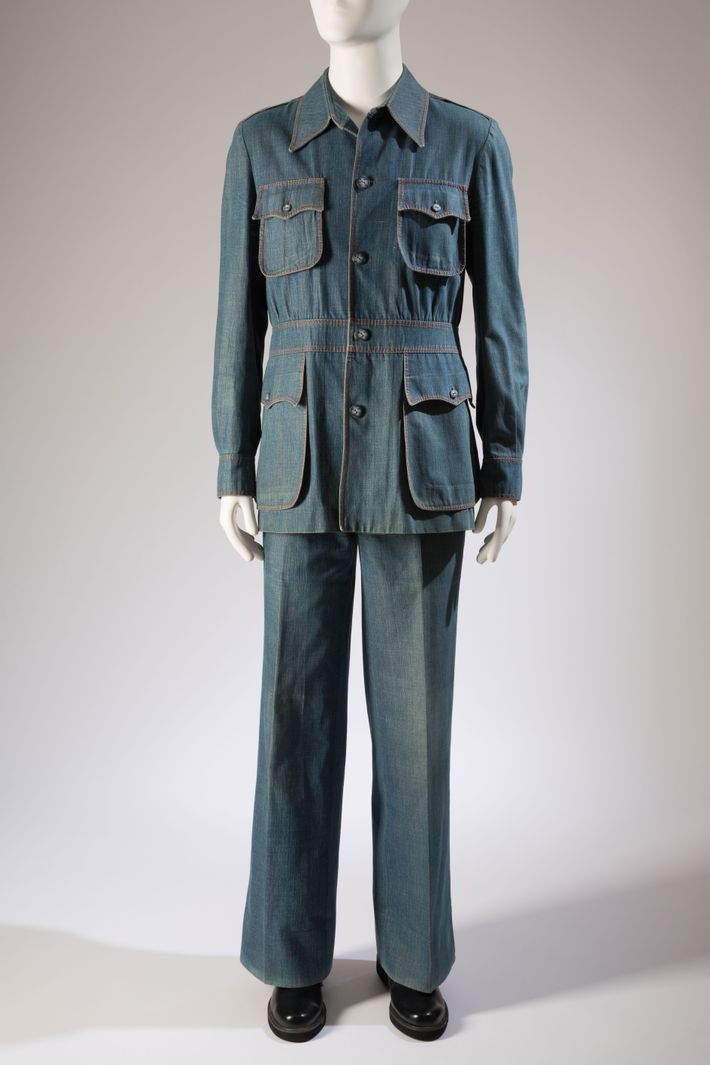 Gianfranco Ferré, suit, denim-look silk, spring 1999, Italy, gift of Gianfranco Ferré S.p.A.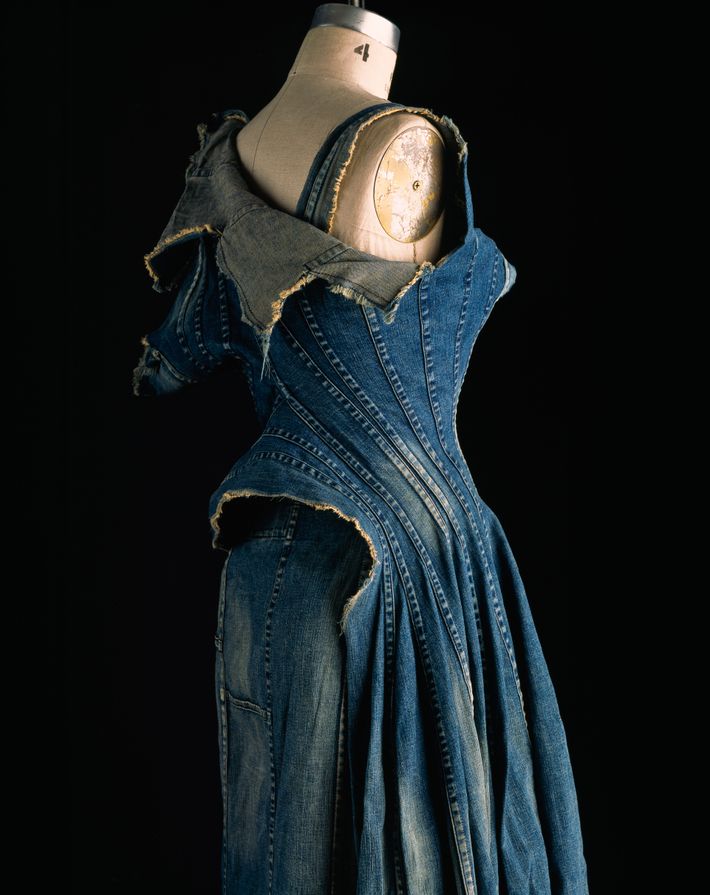 Comme des Garçons (Junya Watanabe), dress, repurposed denim, spring 2002, Japan, museum purchase.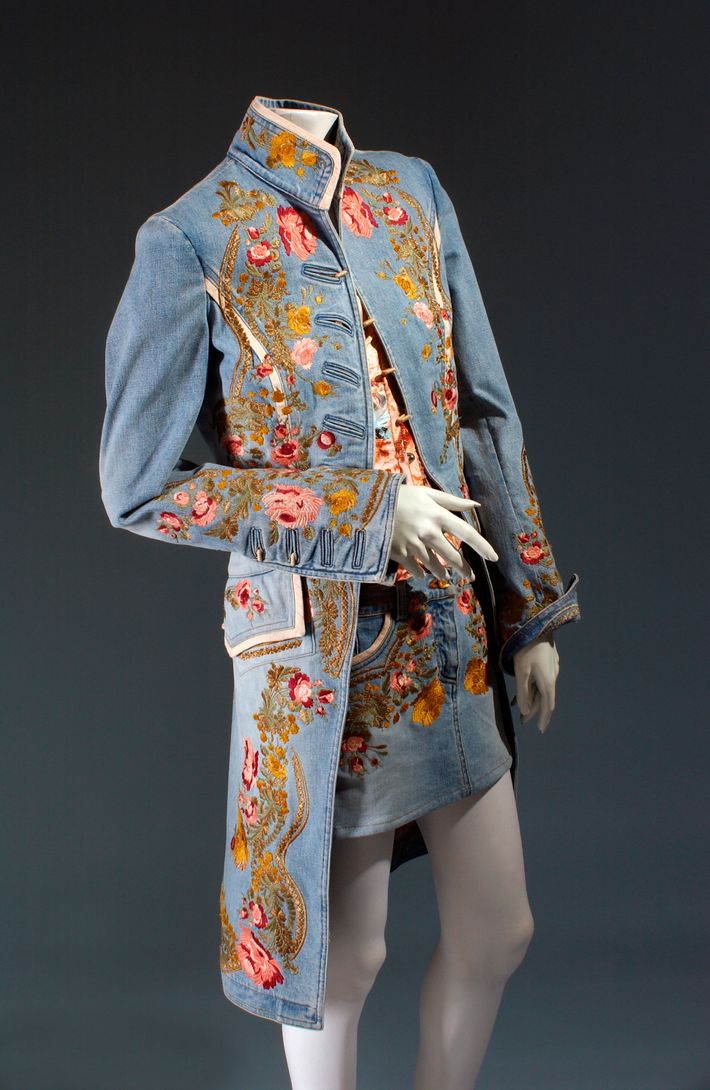 Roberto Cavalli, ensemble, embroidered denim, spring 2003, Italy, gift of Roberto Cavalli.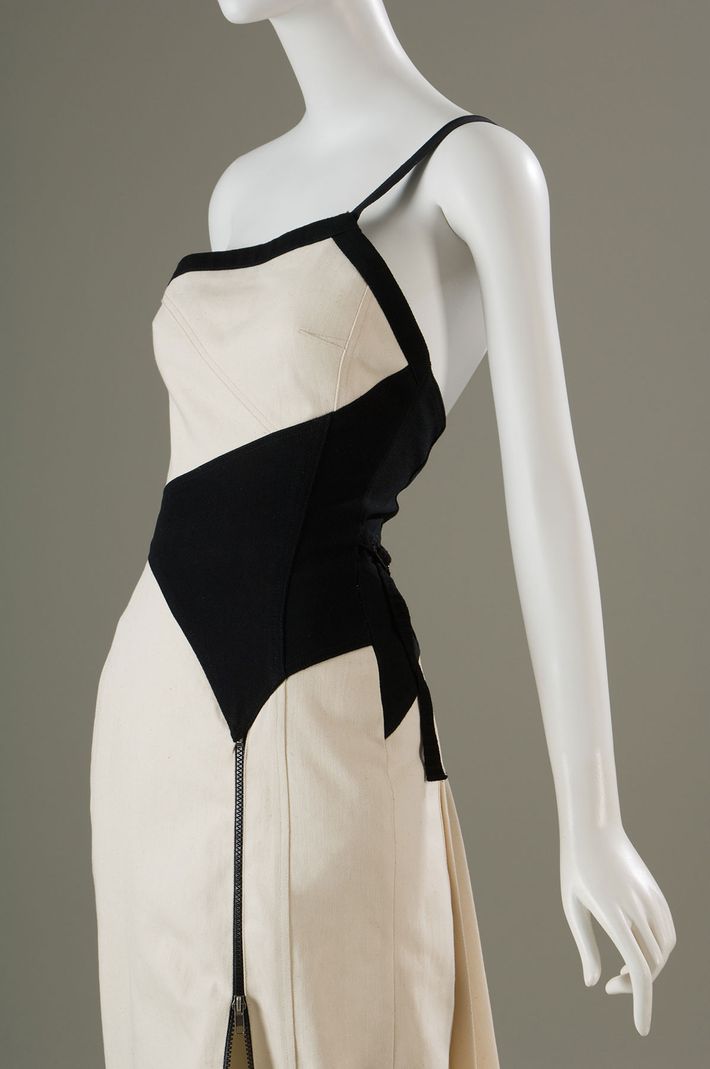 Edun, dress, white and black denim, 2007, USA, gift of Edun.