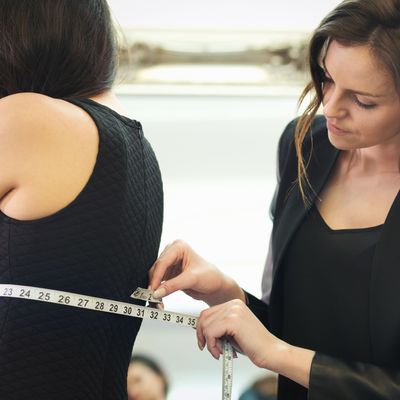 Photo: Anthony Rakusen/Corbis
A French health-reform bill that has been colloquially termed a "skinny-model ban" was introduced at the National Assembly in March and was passed into law on Friday. The new law calls for models who want to work in France to present a doctor's note attesting to their overall health and proving a BMI of 18 or over. (In the BMI system, 18.5 is the cutoff between underweight and a healthy weight.) Agencies and brands who break this law could be looking at a six-month prison sentence of 75,000 euro fine. Another proviso notes that advertising images that have been digitally altered — whether that means making the models appear smaller or larger — must contain the words "retouched photograph," or risk a fine of at least 37,500 euros.
There is some precedent for this kind of government action, at least abroad. Italy, Israel, and Spain have all passed similar "skinny model" legislation, Denmark is considering doing so, and the U.K.'s Advertising Standards Authority has cracked down on images of what it deems to be too-thin models, notably in a recent Saint Laurent ad.
Women's Wear Daily spoke to members of the French fashion industry about their thoughts on the bill, and it sounds like complaints abound. The head of France's model agency union, Isabelle Saint-Félix, told the paper that she felt the law unjustly penalized French modeling agencies, and could even result in fashion shows or shoots being relocated outside the country. "Modeling agencies respond to the demand of advertisers, designers and photographers," she told the paper. "One asks models to fit in a dress — not the opposite." She added that members of the industry had not been consulted when the law was being drafted. Stylist Simon Gensowski seemed to concur, saying, "Rather than body-shaming women with eating disorders, it would have been wise to reconsider current sample sizes." Whether or not you take issue with the law, this coming Paris Fashion Week is shaping up to be an interesting one.