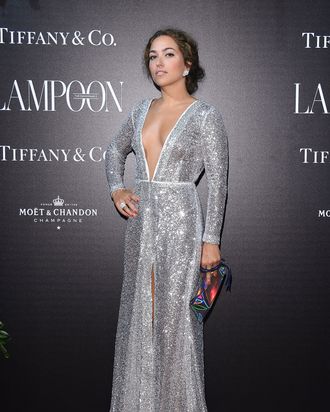 Geraldina Bassani Antivari.
Photo: Venturelli/Getty Images
Geraldina Bassani Antivari might be the best advertisement for her brand, Mr and Mrs Italy — she can be seen riding her scooter around chilly Milan wearing one of her own signature parkas. In fact, she's something of an evangelist for the military-style staple: "You're very warm and look very cool," she says.
But her designs aren't the dowdy catalogue staples of yore — they come with fur collars in hot pink and electric blue, sequined lapels, intricate embroideries, and lush fur linings — think Nanook of the North if she relocated to Milan's Via Monte Napoleone. She wants them to feel, she says, like a "cocoon." Though it's best known for those jackets, the brand is expanding the choice of styles with sweaters, capes, and distressed T-shirts for what the designer calls "in between a street and a casual look." And for the "Mr." half of its name, the brand offers similarly outré styles for men, who Bassani Antivari maintains are harder to please than her female customers these days: "The game has upped so much. Men are more precise with their wardrobes than women."
Bassani Antivari has a pan-European résumé: She was born in Switzerland and studied at Paris's Studio Berceau and at Central Saint Martins under the late, legendary Louise Wilson. ("She was funny and strict at the same time," she recalls, "but it was a really great experience.") After stints at labels including Aperlai and Alexandre Birman, she joined Mr & Mrs Italy, the brand founded by Alessia Giacobino, as creative director almost two years ago. Her parka designs have been seen on Rihanna, Cara Delevingne, Garance Doré, and Soo Joo Park. Her latest undertaking involves another familiar street-style name: "Yesterday, I met up with Chiara Ferragni from the Blonde Salad. We're doing a limited-edition parka and bomber with her."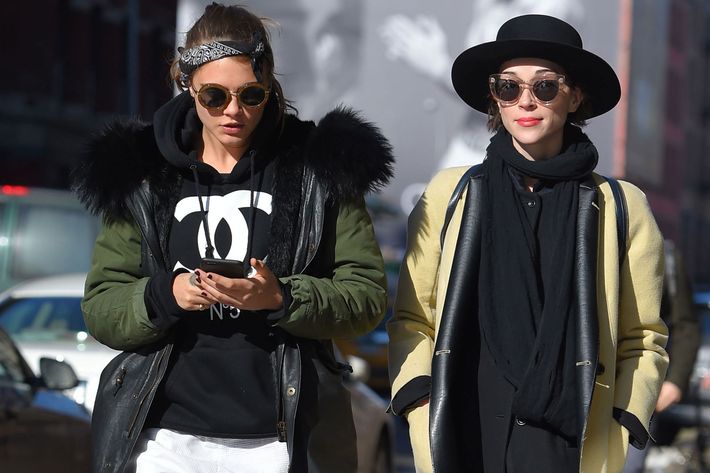 Bassani Antivari answered our Taste Test to gauge some of her fashion and culture preferences.
Favorite things to do in Milan?
The Fondazione Prada is amazing. It's one of the most incredible places. I love going to the bar next door, which is called N'Ombra de Vin. It used to be a wine cave, and it has this old-school look I quite enjoy. I really like classic old trattorias, where you just go and have a nice, easy dinner.
Underrated Italian snacks?
Salty: the arancini, which are Sicilian rice balls, and they're amazing. Sweet: I would say it's cassata, which is a fresh-ricotta-and-chocolate pastry. You can't find it anywhere else. It's the best way to wake up.
Monica Vitti or Sophia Loren?
Vitti.
Dream collaboration?
I just hope we continue to collaborate with new, young, old, famous, and not famous people.
Whom would you like to dress next?
Anna Dello Russo and Franca Sozzani, just because they're so different.
Favorite brands, besides your own?
I love Prada for shoes. Dolce & Gabbana for all those fun prints. When you walk by the window, you're like, "I have to buy this, because I'll smile every time I wear it."
This interview has been edited and condensed.