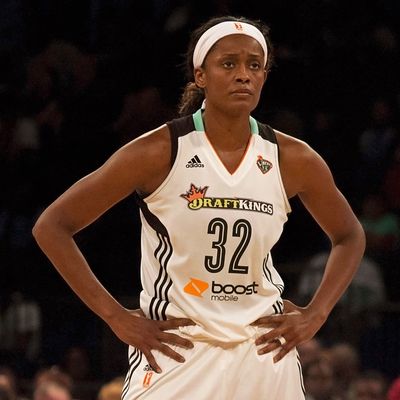 Come on.
Photo: NBA Photos
Gilbert Arenas is a former NBA point guard for the Golden State Warriors. His social-media presence mostly consists of trolling and memes and shit-talking ISIS. Is Arenas a women's basketball player? No. Is there any good reason for Arenas to be commenting on the WNBA? No. Has that ever stopped a man from doing such a thing before? No. On Wednesday, Arenas shared an Instagram video of two svelte blonde women playing basketball in thongs, saying "NOW this is what america was hoping for when they announced the WNBA back in 1996." He continued:
There is only so much that a female athlete can tolerate. New York Liberty player Swin Cash and 2015 WNBA league MVP Elena Delle Donne decided to acknowledge Arenas's remarks.
TMZ Sports asked Arenas if he'd like to apologize for his sexist comments, to which he responded, "I'm trying to figure out what I would be sorry about," Arenas said. "So basically, all the ugly girls are mad. All the ugly ones want an apology for being ugly." Bye, Gilbert.