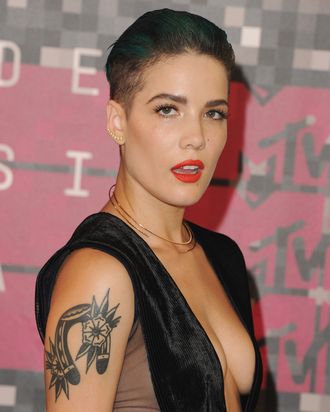 Halsey.
Photo: Jon Kopaloff/Getty Images
We've all had a beloved item of clothing that we've kept and cherished through the years, but what would you do if that staple was borrowed by a pop star before she got famous then never returned? Would you capitalize on her fame to try to get it back? How much do you really love that raggedy old sweatshirt?
Never as much as Allison Coopersmith, who is behind the most important hashtag of our time: #ReturnTheSweatshirtHalsey. Friends with the Justin Bieber–approved singer long before she blew up among the Teen Set, Coopersmith says that Halsey borrowed a periwinkle sweatshirt of hers on a chilly night five years ago but never gave it back. She'd like it back now, Halsey. When are you going to give it back?
The very funny ploy to get back a sweatshirt from a newly famous pop star has caused many of her teen fans distress, demanding to know why she's "so pressed over a cheap sweatshirt?" Some have even offered to buy her a new sweatshirt themselves. But that just won't do. The real sweatshirt or nothing: #ReturnTheSweatshirtHalsey and bring balance back to the universe.