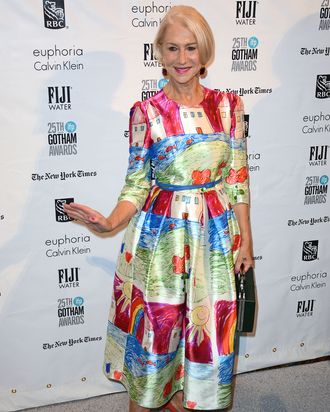 Helen Mirren at the Gotham Independent Film Awards.
Photo: Derek Storm/Splash News
Indie films are often the domain of the beautiful ingenue, but Monday night at the 25th annual Gotham Independent Film Awards, the conversation was dominated by a pair of film's grande dames. Noted actors (and stone-cold foxes) Helen Mirren and Glenn Close dazzled the crowd with cheeky stories and sharp comments on Hollywood's gender issues when it comes to age. In his presentation of Mirren's career tribute award, Robert De Niro remarked on the 70-year-old's appeal, noting that her performance in The Queen made him want to "fuck the queen," and not in an anti-monarchical fashion.
This prompted Mirren in her acceptance speech to relate an anecdote about the first time her husband, director Taylor Hackford, saw her performance as Elizabeth II in 2006. "The first shot is of me, completely in all of the full regalia, with the wig and everything, and I turn and look at the camera," she said. "There was silence in the cinema, and my husband lets out this huge laugh, because he's never seen me dressed as the queen before. So I lean over to him and I say, 'Darling, do you think you'll ever fuck me again?' Between you and me, he has."
When Glenn Close presented the award for Best Actor, her speech skipped sexy stories in favor of a straight shot at the industry's ageism. "Not only have I played opposite many a fine leading man, I have been a leading man, or should I say, a woman surviving disguised as a leading man," Close began, referencing her turn as the titular character in 2011's Albert Nobbs, where she played a woman living as a man in order to survive and maintain her independence. "And I'm thinking that maybe that's a way women can keep getting better roles in Hollywood. We can just play men! Then we'd be seen as sexy éminences grises as we get older rather than just older." Paul Dano, who won the award Close presented, was in full agreement, voicing his own disbelief that older actresses don't get the same reverence. "I actually don't understand that because I think faces only get more beautiful," he said when the Cut asked him about it later. "The experience, the life that they bring, when you see a close-up of someone like that, I think it's so beautiful. I don't know why there wouldn't be [more roles]."