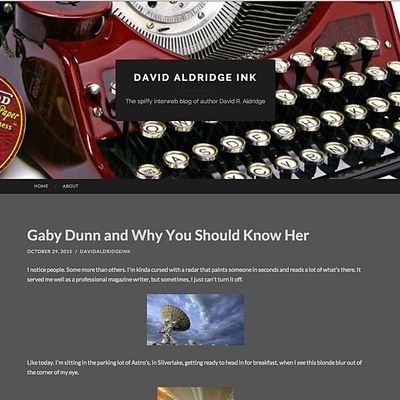 Are you a woman who leaves the house and has conversations with friends and colleagues? Big mistake. HUGE. You could find yourself the victim of a creepy blog post, just by virtue of existing in public with two-X chromosomes.
That's what happened to writer and comedian Gaby Dunn, who was interviewing a friend in a restaurant in Los Angeles when a complete stranger decided to take note of her every move and document it on his blog. But you know, in a totally not-creepy way!
David Aldridge first notices Dunn when she's in the parking lot, and instantly deems her "attractive, shapely, not athletic, and not self-obsessed with body image." Then the waitress seats him at a booth near her, and by eavesdropping on her conversation, he pieces together who she is and immediately Googles her. Though lamenting her love of the word like ("What the hell is it with 20-something girls and this fucking word?"), he soon comes to respect Dunn for all the impressive work she's done in the journalism and comedy worlds. Now, he will show this respect by writing a creepy-as-hell blog post about her, outlining everything he learned about her from Google while she was sitting ten feet away from him.
This move is so un-creepy, in fact, Aldridge decides to differentiate himself from another creep Dunn spotted during the same encounter:
As they left, she remarked to her friend, "There was some creepy guy over there looking at me …" pointing [toward] the other end of the room where they'd entered from. Thankfully, I wasn't looking like that, but my sincere curiosity and a minimal amount of Google sleuthing yielded a very interesting and inspiring morning. The guy sitting behind these two however, in the corner, tripped my radar too, but he was just another fuckin' L.A. weirdo. Gaby was … not.
Dunn, who tweeted out the blog post earlier, told me that the post made her feel like "an object, a shiny toaster."
"I mean I've been concerned about watching what I say in public for a while now but I thought it was a very self-involved thing to worry about. I'm not famous. But then I'm like, well, now I have no idea who is around. There's so much info that's very easy to find," Dunn said. "For instance, he could have released information about upcoming projects, which would have sucked, but he didn't. But who knows? Did I say what area I live in? Did I say anything about my family? I was interviewing a friend, so I was working but also chatting with someone I trust."
Another great day for women on the internet.