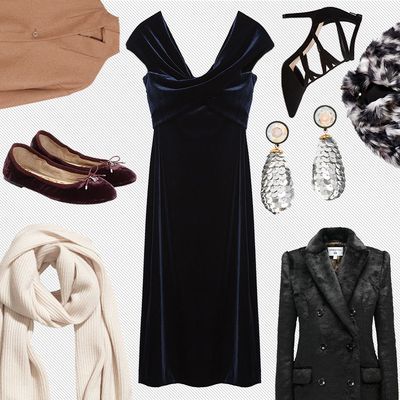 This month kicks off party season: a time for merrymaking, egg nog, and gift giving. When you're swept up in the spirit of good tidings and you know you'll be spending money on gifts and flights home, the last thing you want is to worry about your wardrobe.
What you need is a reliable party dress you can wear on multiple occasions this season — a chic, flattering silhouette like this velvet Zara option. It's under $70, and we've styled it with all the necessary festive accoutrements for four very different types of occasions. Looking for accessories for a sophisticated night out? Try Vince Camuto's sleek metallic minaudière, then add a pair of strappy black heels. Need to stay warm on New Year's Eve?Marciano's cozy faux-fur cape is perfect for the occasion.
Click ahead to find styling inspiration for four seasonal parties, from Christmas dinner at your mom's to New Year's with your friends.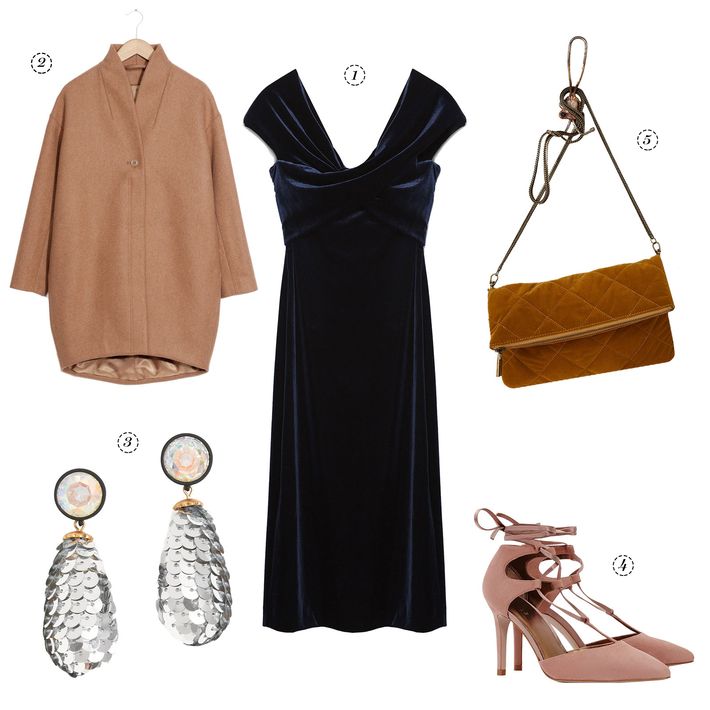 Celebrating With Your Co-Workers
Nothing says teambuilding quite like getting drunk with your co-workers and bosses at the annual holiday party. This year, go for a dressy ensemble that highlights your taste outside the office. Shimmery party pants are a popular choice this season, but if you want a more traditional look, accessorize a subtle dress with festive accents like these sequin earrings and a rich velvet clutch.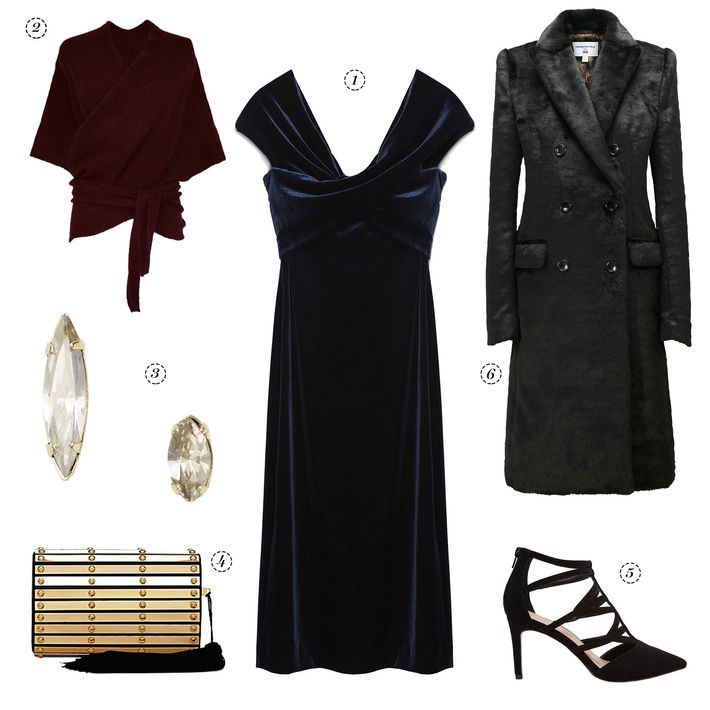 A Fancier-Than-Usual Night Out
If you're on your way to the ballet, the opera, or a black-tie soirée this winter, keep it simple by layering a chic black overcoat (like this faux-fur military version from Uniqlo) with a soft knit shawl to keep you covered indoors. For accessories, opt for a sleek metallic minaudière and a pair of strappy, non-basic statement heels.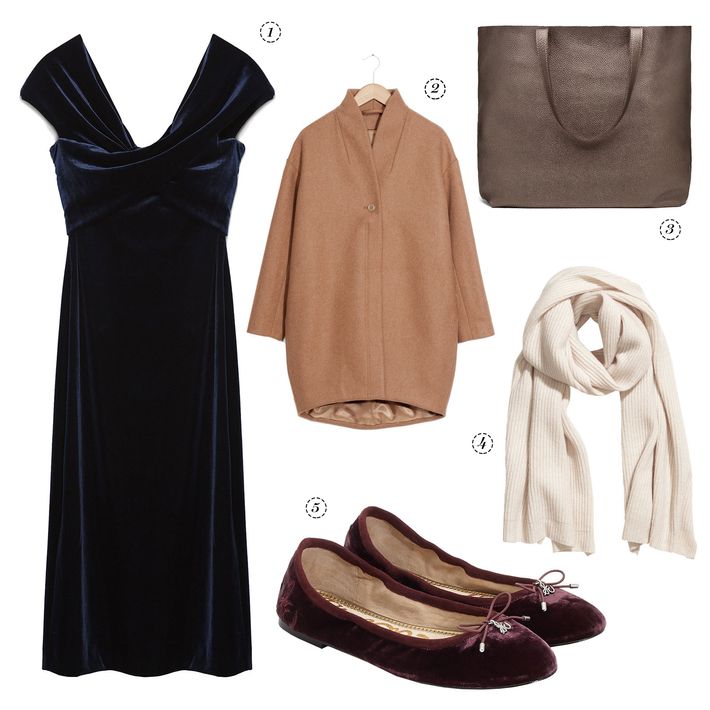 Christmas with the Family
On Christmas Day, the goal is to feel comfortable yet still look good enough to distract your relatives from openly questioning your life choices. To that end, pack a practical tote to transport gifts and knickknacks, a warm cashmere scarf if your parents keep the house cold, and an easy but not sloppy pair of flats.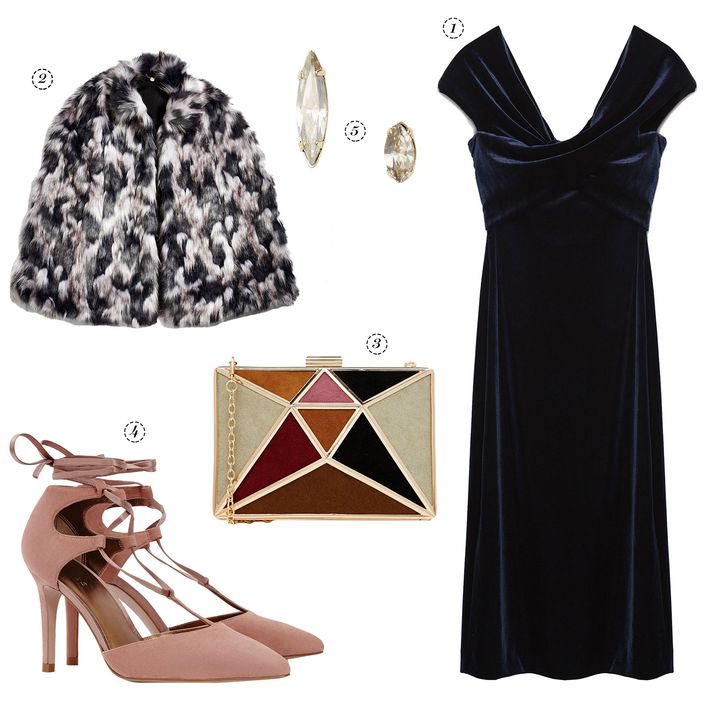 New Years with the Girls
For a night of light debauchery with your closest friends, celebrate the year past with a look that'll meet all of your dancing and merrymaking needs. Repurpose your holiday-party heels (now that you've broken them in) with a geometric clutch and a pair of edgy asymmetrical studs. On top, wrap up in a faux-fur capelet to help you ring in the New Year like a cozy winter princess.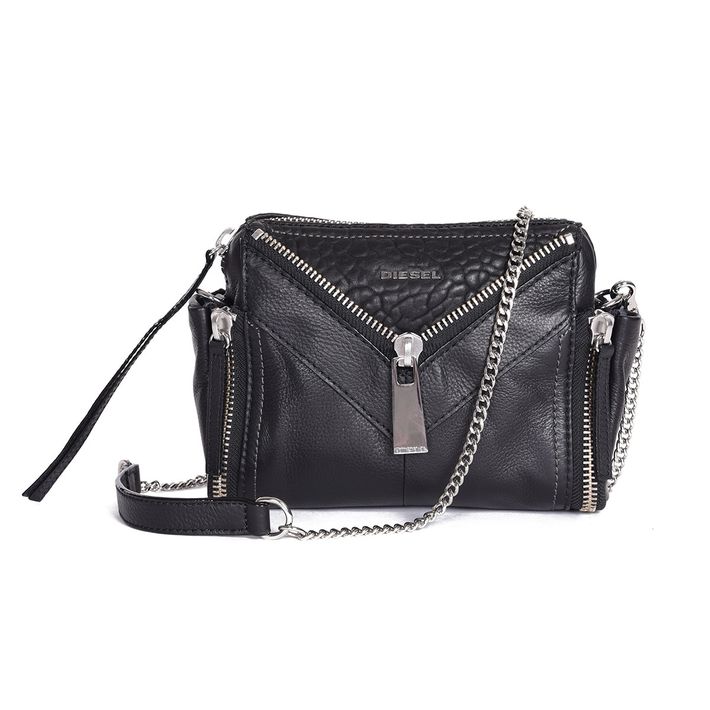 Sponsored Slide
It's not a holiday party without a drink in hand, so why not try a cool crossbody? Order Diesel's Le-Bhonny online now and pick it up any time December 1 through December 13.