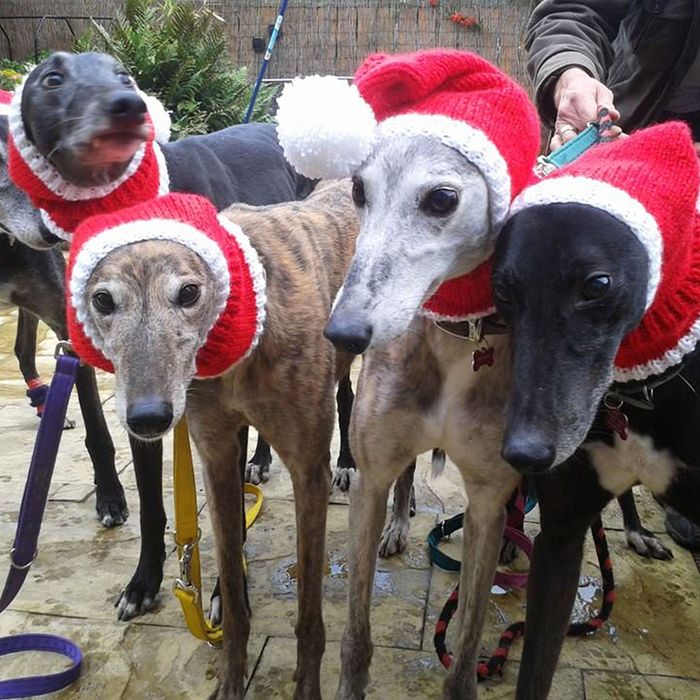 Greyhounds clothed by Jan Brown's KnittedWithLove.co.uk.
Photo: Caters
'Tis the season of giving, and one woman has outshone all of us in that department — by knitting more than 300 Christmas sweaters for homeless greyhounds. Fifty-two-year-old Jan Brown has spent over 4,000 hours knitting festive jumpers for animal shelters across the United Kingdom and around the world. Greyhounds' thin fur means the winter months are especially chilly.
"Making coats and jumpers for these dogs saves the rescue homes a lot of money that can be better spent saving more dogs off the streets and feeding them," she told The Mirror. "I stitch a small heart on the back of my blanket coats in honour of the dogs who don't make it to rescue. The dogs who aren't adopted can still share the love at Christmas."
Based in Sunderland, England, Brown left her job two years ago to focus on her company, Knitted With Love, full-time. All profits fund materials and mailing costs of sending the sweaters to shelters. And while she's fully booked for Christmas sweaters this holiday season, she makes woolly designs throughout the year, too: pumpkin hats, devil costumes, tuxedos, even the itty-bittiest getups for teacup Chihuahuas.