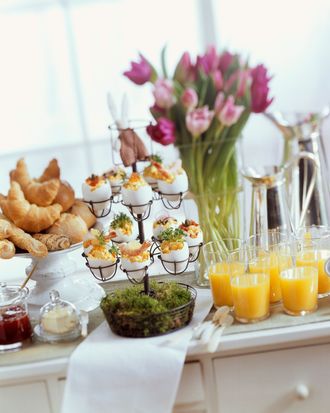 Photo: FoodPhotogr. Eising/Corbis
A weeklong series on the art of entertaining, for women who are too busy for Pinterest.

Go to a quiet place and ask yourself what you truly want out of life. Does it involve your closest friends? Does it involve sunshine? Does it involve carbs? If so, you might enjoy hosting a breakfast party — an event piled high with lox, where you have magically turned into Ina Garten for the morning.
The breakfast party is the most fun, least prissy sibling in the party family — the James Middleton to dinner's Kate and cocktail's Pippa. It's comically easy to schedule (Sunday morning is hardly as hot a ticket as Friday night, especially in holiday season). It makes hosting children a pleasure  (deposit child on the floor with toys and you're 100 times better off than with that squirming, yelping little one baby-jailed into a high chair at brunch). And at a time when it's so socially acceptable to stay in at night that you can brag about it with any number of memes, you're giving people what they really want: the gift of not having to pretend to be psyched. In other words: People actually want to be at your party. It'll show in the conversation.
Even bonafide entertaining experts love the breakfast party. Event designer David Stark, a man so skilled at delighting his guests that he once served dessert out of a balloon, notes the true appeal of early-morning hosting: "After breakfast, you all still have the entire afternoon and evening to do anything else you've planned for that day: Your guests will love you for this." He also advocates for making prep extra-easy by setting the table the night before.
Lela Rose, the fashion designer and author of Pret-a-Party, suggests skipping flowers. "Your food can be table décor — serve soft-boiled eggs in egg cartons, arrange salt cellars of assorted gourmet salts, and put out tiers of fresh fruit and toasted bread 'soldiers.'" And Danny Seo, cookbook author and editor-in-chief of Naturally, Danny Seo, serves his breakfast-party guests a Jekyll-and-Hyde Bloody Mary mix: He runs tomatoes, cucumbers, celery, and horseradish through the juicer to make a fresh base, and guests who are stopping by on their way to yoga or a hike drink it as is. The other half? "They doctor it up with vodka, salt, pepper, and whatever else they can find in the fridge — like pickle juice." Genius.
Here's what else you need:
• Bagels from the best place in your neighborhood — twice as many as guests you expect. Slice these in half and pile luxuriously on a tray.
• Four to six varieties of cream cheese from said bagel place (one pound per every eight people), including a quarter pound of one dairy equivalent of a conversation-starter, like bacon-jalapeño cream cheese. It might be gross, it might be delicious, but either way, it'll be a source of inside jokes. Spoon these into small, adorable bowls or ramekins with serving spoons next to them.
• Cucumbers, tomatoes, red onions (two of each per every six guests). Slice them all and arrange fan-style around a second tray. This will take approximately 20 minutes but the admiration will last for years. Fill the middle of the tray with a pile of sliced avocado. Sprinkle it all with sea salt and a squeeze of lemon.
• A pound of lox for every four people. Put it on its own small tray or bowl alongside cornichons and capers.
• So much more coffee than you think you'll need. (Just assume everyone will have three cups.) Serve it right out of a Chemex or French press, those beautiful workhorses of the appliance world. Don't offer artificial sweeteners — this party is not about deprivation.
• Non-paper plates/non-plastic flatware/non-paper tablecloth. This is what shows people you care. Use what you have or use this as an excuse to get new pieces — Jung Lee has a can't-go-wrong selection across all price points, Furbish's house collection is what Diana Vreeland would use, or if color and pattern make you queasy, go with Snowe's all-white, all-classic collection.
Congratulations, you are now host of the year! And everyone will be out of your house in time for you to prep for that more fussily prepared, far less enjoyable holiday party you have to attend. Or, you know what? Maybe you'll just stay home.