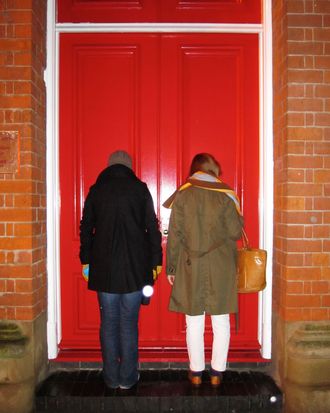 Photo: thenakedsnail/Getty Images
A weeklong series on the art of entertaining, for women who are too busy for Pinterest.
I am, or so I fear, some perfect combination of attributes that makes me the world's worst host. I come from a family of shy, quiet people. We're warm, we're funny, we can be charming at odd, manic moments, but certainly, no one ever taught me how to ask people if they'd like something to drink when they come through the door. Who was ever coming through our door?
"Oh, should I take my shoes off?"
What is the right thing to say to this, especially when the answer is yes, when you cringe as someone walks over your West Elm rug with muddy loafers? The baby is crawling, routinely picking up pieces of dirt and putting them in his mouth. Still, all I can manage is a shrug, a shrill "Whatever you want!" and then I turn my back to the guests and leave the room. Eventually someone asks another question, something like "How are you doing?" and I turn red, look at my fiancé with my mouth open, unable to answer. Either he takes over for me or I say, "Oh, fine! Ha! Fine!" and then skitter into the kitchen to grab myself a beer, leaving my guests standing aimless in the middle of the living room.
I've been grappling with this aspiration — the perfect dinner party! a loving home! our happiness, on display for all to enjoy! — since the year I turned 26 or 27. Since I was whatever age it is when your lifestyle slowly shifts toward appearing to be not only functional but charmingly warm, when you start wandering around a Crate and Barrel with the near-intention of buying something. When, say, a coffee-bean grinder enters your life. When you finally give in and Google "401k," mostly because you'd feel stupid if someone asked you point blank and you didn't know. This new caring about rugs (so expensive, why) and daydreaming about a nice couch likely varies with relationship and economic status. A promotion and a LTR will coincide — throw in some creative frustrations, and soon you are straight-up making latticed pie crust with only the tiniest touch of irony.
Or this is how it happened to me, how I ended up group-emailing my friends and letting them know that I was going to start hosting dinner at my apartment every Sunday night. Standing invitation, they could come or not come. I was learning how to cook, one random, difficult recipe at a time, and since this was the year that — instead of really trying to pursue writing — I decided to take a fancy tech job and enjoy being with my boyfriend and also join a CSA, it was a perfect storm. I went to Target and bought a single $10 knife, a Pyrex pan, and a pot. For each meal I made, I bought every single ingredient, my pantry slowly amounting to a combination of nothing and every spice there is. I spent all of Sunday tackling my elaborate menu, one I'd emailed to everyone in advance and spent days overthinking. If Dustin was there helping me, we'd be snapping at each other as one or the other of us meticulously cleaned the house, turning off burners ("my" burners) that he was not in charge of (it was going to burn; it was not). Inevitably Dustin would make a remark (or maybe it would just be in the air, maybe I'd project it onto him) — something to the effect of, this wasn't his idea. He'd ask why I did this. He'd say, "Let's never do this again."
But then, by the end of the night, after everyone had left — do I have people over just for the feeling of relief when the first brave person stands up and declares they have to "head home"? — we'd pass each other in the kitchen putting away beer bottles and fondly remarking about how nice that was, how we needed to have people over more.
These days, after my guests have arrived and I have somehow welcomed and then abandoned them, I retreat to catch my breath in the kitchen, open my beer, try to tend to dinner somehow but just end up nervously walking from the fridge to the stove top and back again, debating what to do first, where to put things, how to — and then at this point, inevitably, some generous woman-friend wanders bravely into the kitchen and asks me, really, how I'm doing, and, "What can I do to help?" I want to say: If you want to be of use, you will spend 30 minutes laughing on the couch with everyone else, forget I exist, forget you're hungry, and grab yourselves drinks without so much as a word while I contain myself.
My days of misplaced ambition and regular Sunday-night dinners are long over, but I keep trying to talk myself back into the game. It doesn't have to be stressful. The house doesn't have to be so clean. It's nice to have a deadline, to obliterate Sunday ennui, to be on my toes trying to put on mascara when a group of people I love could be here at any moment. I know that our friends will forgive me my nervous silence, grab their own beers, and save me from myself. Somewhere along the way I'll learn to be generous, thoughtful, to glide through the kitchen and remember to turn on music. And when someone asks, "What can I do to help?" I'll wipe my hands on my jeans (for effect only) and say, "Why, you could help me set the table?" Or so goes my latest aspiration.