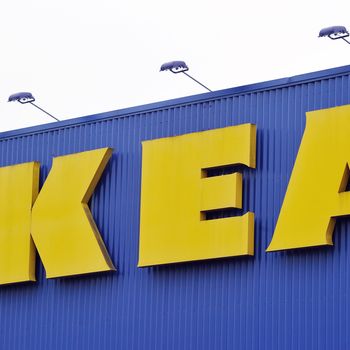 The flat-pack temple.
Photo: PHILIPPE HUGUEN/AFP/Getty Images
Men are thought to have better spatial spidey senses, like being able to rotate objects in their heads or read maps. Studies do tend to back up this stereotype, but there is one left-brain task that I am just as good at, if not better, than most men: following wordless directions for cheap, flat-pack furniture. I take great pride in this skill, and so this new study on Ikea furniture is like a slap in the face.
Back in 2008, a former Ikea exec (female) argued that most women excel in this area, telling a German news agency, "Men never look at the instruction leaflet and have the most problems when assembling our furniture because they think they can do it without help." (Was she spying on my dad trying to put together a Hemnes dresser?) Women, on the other hand, are much more methodical, sorting out all of the hardware and then getting to work.
But recently, researchers at the University of Tromsø in Norway looked into this great quandary of our time, asking 80 college-aged men and women (40 each) to cobble together a kitchen cart. Some people got the instructions and others were only shown a picture of the finished product. Of the former group, men assembled the cart in 22.48 minutes, 10 percent faster than the women's 24.80 minutes. (Unfortunately, the study did not measure thrashing or cursing, but we're certain there were marked gender differences.) In the group without step-by-step diagrams, men finished 20 percent faster than women — 23.65 minutes versus 28.4 minutes.
The researchers wrote, "it appears like women need instructions to perform as well as men do without them," but I, for one, am not satisfied by the results. The authors acknowledged that their study only tested one kind of furniture among one age group. In order to settle this debate once and for all, we clearly need a multi-generational, multi-product face-off that includes adult women who live by themselves and have been assembling their own damn furniture for years. I'll be standing by with my toolkit.