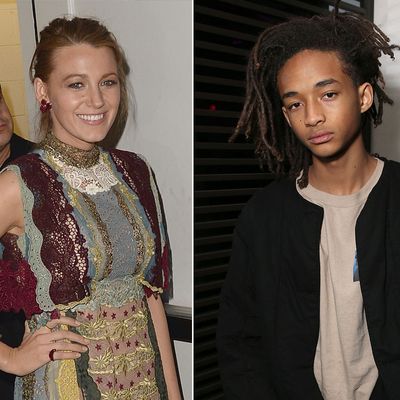 Two ageless wonders.
Photo: Getty Images
Jaden Smith — a prophet sent to Earth to heal us from ills and upset our understanding of capitalization in the written English language — is a noted superfan of the movie Twilight. In 2012, he tweeted that he watched the film every night. Imagine how much one must love Twilight to watch it more than once, let alone every night.
Today we learned that Smith also loves the mostly panned Blake Lively film The Age of Adaline. Why? Why such bad taste in movies when your dad has had a prosperous 30-year-plus Hollywood career? What of Men in Black? Independence Day?
What Jaden isn't telling us is that Twilight and Age of Adaline are two films about characters who are able to live forever. Jaden Smith could be anywhere between 7 and 1 million years old. Art imitating life … am I right …