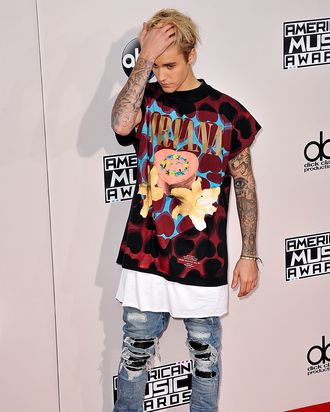 Not again!
Photo: Allen Berezovsky/Getty Images
Justin Bieber has spent the majority of his young-adult life in the spotlight, which certainly can't be good for his ability to discern right from wrong — though, to be honest, we wish he'd try a little harder to figure it out. In just one week, Bieber has stepped in it twice by acting out-and-out creepy.
On Tuesday, Bieber posted a photo of a young woman (whom he did not know) on Instagram, with the caption, "Omg who is this!!" — which resulted in a predictable frenzy to identify her. When the woman was finally outed, she wrote on her Instagram, "So do not know how to deal with this but I only have instagram (I did use to have a twitter account but I deactivated)," and later added that that she'd deleted her Tumblr, too — all because Bieber didn't realize the power of his creepy thirst-o-grams.
Only a day later, People reported that, at an acoustic concert in Toronto on Tuesday, Bieber continued the creep streak. "Who's 13 in here? We got any 13-year-olds?" he said as the crowd cheered. "We got any 14-year-olds?" Oh, no, I don't like where this is going. "So, uh, 14. Four more years until you're 18," he added, counting years on his fingers. 
Biebeeeeeeeeeeeeeeerrrrrrrrrrrr. Can you not? Just no more of this.