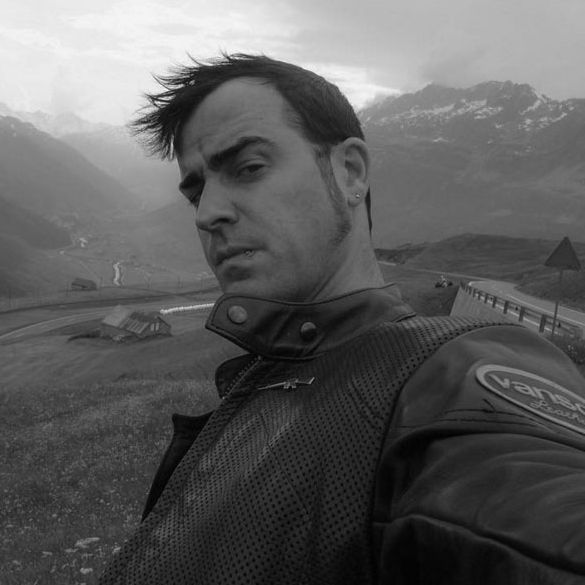 My brain grew a new wrinkle
Photo: Justin Theroux/Instagram
Jennifer Aniston's chiseled boytoy Justin Theroux made the huge mistake of joining us all on Instagram yesterday, presenting the world with his first curated selfie. "#on," Theroux wrote in a caption beneath a black-and-white photo of himself camping or hiking or something. He's since gained 23,000 followers in under 24 hours, which begs the question: Who out there stans this hard for Justin Theroux?
One fan, photographer, makeup artist, and Instagram user Carlos Masquida (a.k.a. masquida_fashion_lab), gives us some insight on what it means to be a Therouxligan with a since-deleted comment on Justin's first 'gram:
OMGGGGG ITS JUSTIN IM HAVING A SPASMMMMM OMGGGG ITS HIM HOW COOL HE POSTED GURL OMG HE POSTED A PIX AS I READ ABOUT IT JUST NOW IN MY FACEBOOK NEWS FEEEED OMGGGG WAKE EVERYONE ONE UPPP JUSTIN JUST POSTED ALL STREET TRAFFIC STOP NOW PLEASE GO TO HIS PAGE ON THAT INSTAGRAM HE POSTED HE THE COOOL ACTOR HE POSTED MOMMA THE FIRST PICTURE MR POPE HE IS HEEEEEEEERE OMG IMMA CRY TO THE CAROLINES HE POSTED OMGGGG MY BRAIN GREW A NEW WRINKLE HE POSTED OMGGGG GURL HE IS ON A MOUNTAIN TOO HE POSSSTED OMGGGG MOMMMAH MIA SOPA PIA HE IS HERE FINALLLLLY HOLD THE ONIONS HOLD THE PEPPERS JUSTINS FINALLY HERE SAY WAAAAAA WELCOME JUSTIN
The sooner we have this cross-stitched and hung in the Louvre, the better.