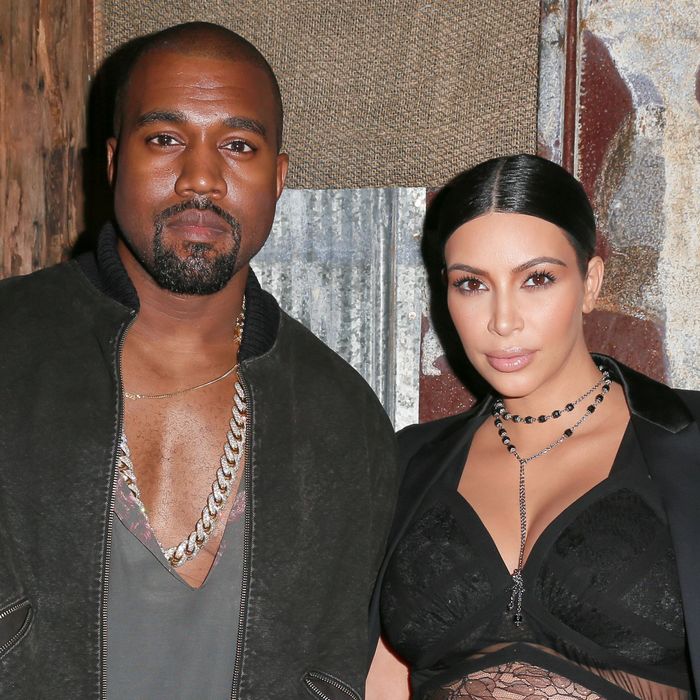 Merry Christmas.
Photo: Matteo Prandoni/BFA.com
What did you get for Christmas? (Rhetorical question.) If you celebrate Christmas, I hope you got something nice. If you don't celebrate Christmas, I hope you got something nice by accident. If you are Kim Kardashian, your husband, Kanye West, gave you a minimum of 150 boxes.
A little box with a surprise in it is a lovely thing, especially around the holidays. You open the little box and, look at that — a surprise for you, [your name], from a loved one. A sweet treat. One hundred and fifty little surprises, however, seems like maybe something like at least 140 too many little surprises. Kim Kardashian live-streamed Kanye's wall of Christmas boxes on her website, according to Us Weekly:
Kardashian, 35, shared the rapper's ostentatious display of affection via her website, showing off the multitude of brown-ribboned boxes spanning the entire wall of one room in Kourtney Kardashian's home. 

"We've got 'To Kim from Kanye,'" Kris Jenner's boyfriend Corey Gamble noted in the clip. "150 gifts and counting."
One hundred and fifty little ribbons to unribbon; 150 little packages to unwrap; 150 surprised expressions to force even if you are genuinely surprised; 150 gifts like "a rainbow-hued fur coat" "a Louis Vuitton dress," and "a Prada jumpsuit" that sound all right until you hear, from fan Instagram "teamkimye," that the gifts are allegedly not for Kim's current body, but instead for her "bounce back" post-pregnancy body.
One hundred and fifty little chores and a fitness goal?
Damn. Just donate that shit, Kim!!!!!!!!!!!!!