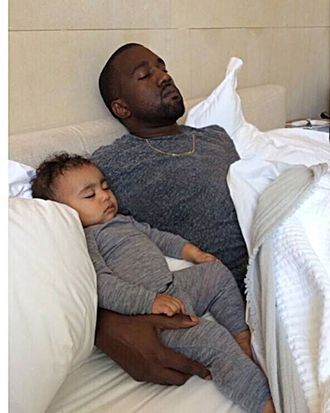 Kanye West, pre-cold sweat.
Photo: Kim Kardashian
Kanye West is suffering from beautiful dark twisted nightmares about … shoes, it seems. During his speech (which he referred to as a "mood board," for some reason) at last night's Footwear News Achievement Awards, the proud Shoe of the Year award recipient told the crowd, "I'm waking up in cold sweats every night being like I want to fucking draw shoes." Um … good thing you can make that happen pretty easily?
Things only got more bonkers from there: In the speech, transcribed in full by Fashionista, West also talked about his love of shabby chic, his "Will Ferrell–level drunk brother at the wedding" approach to design, and an uncomfortable encounter he had with the late Alexander McQueen. We rounded up some of the highlights below.

In which Kanye gives fair warning:

"If you don't like ten-minute profanity-riddled speeches that end with a presidential bid, you can go to the bathroom."
In which Kanye clarifies his suit-jacket policy:

"I bet you're thinking, where's my suit jacket? But if my wife's not here, no suit jacket."
In which Kanye has an Curb Your Enthusiasm–esque awkward encounter with Alexander McQueen:
"I snuck in [to the spring 2008 show], they didn't let me in because I was a celebrity and he was kind of disappointed when he saw me, like, I thought I said no celebrities. And I remember Jay Z texted me, he said, Get off the runway, it's kind of rude and stuff."
In which Kanye understands the drawbacks of tropical locales:
"It's hard to really get fresh in Hawaii because you can't like layer up and everything."
In which Kanye talks about working with Virgil Abloh and makes a dad joke:
"And we sat there and just sat on the computer every day with this idea of design and we designed on the computer so much we started to joke like, 'Hey, did you watch my JPEG?' Because it never got past the computer screen."
In which Kanye did not have a stellar intern experience at Fendi:
"We were putting together ideas and I didn't realize right then, right before that, they had taken Silvia [Venturini Fendi] off of [designing] men's and then they went and hired out one of those licensing companies or something that just sews the F's on the back of the jeans. And I'm over there trying to give these guys what I considered to be real ideas and forward ideas and the creative director — you cannot believe. This guy really thought he was like Raf [Simons]. He had this one like little room with some vintage samples and had some people on the computer making the most shit ideas you've ever seen. And it was just to fill up the stores because Silvia was no longer the men's [designer] and, you know, we played loud music in the office and ended up getting kicked out and stuff."
In which Kanye definitely reads Hypebeast comments:
"Do you guys remember when I got into it with Jimmy Kimmel? Because he was mocking on my things when I was talking about how much I like product? I was really serious about that, I am not turning into a nice guy about that. I care about product. I don't care if I got a kid, a wife, you know, the hills with the picket fence, I'm serious about product. I'm dead serious [about] what I create as an artist in this lifetime while I'm here. It's not a fucking joke, it's not a question for the paparazzi, it's not some random hate comment on the eighth Hypebeast comment."
In which Kanye loses the plot altogether:
"That shoe might be a shoe that a 7-year-old manages to get his hands on that's going to cure cancer or cure AIDS in the future because he was so inspired by what Kubrick made or what Jodo [Alejandro Jodorowsky] made or what Steve Jobs made or what David Stern put together or something." 
In which Kanye has décor #goals:

"I want a house equal or better than Calvin Klein's house in the Hamptons. I saw it, he bleached the [inaudible] chairs, he's got the plain windows and stuff, the shabby chic. I want that thing."
In which Kanye told you so:

"'This guy, trying with fashion again.' And then look up and it's like, oh yeah, sold out at Barneys! And I'm not trying to rub it in, but yes I fucking am! But yeah, they treat me like shit pretty much. I'm trying to take a full Will Ferrell–level drunk brother at the wedding [approach]. Have I reached that level yet?"