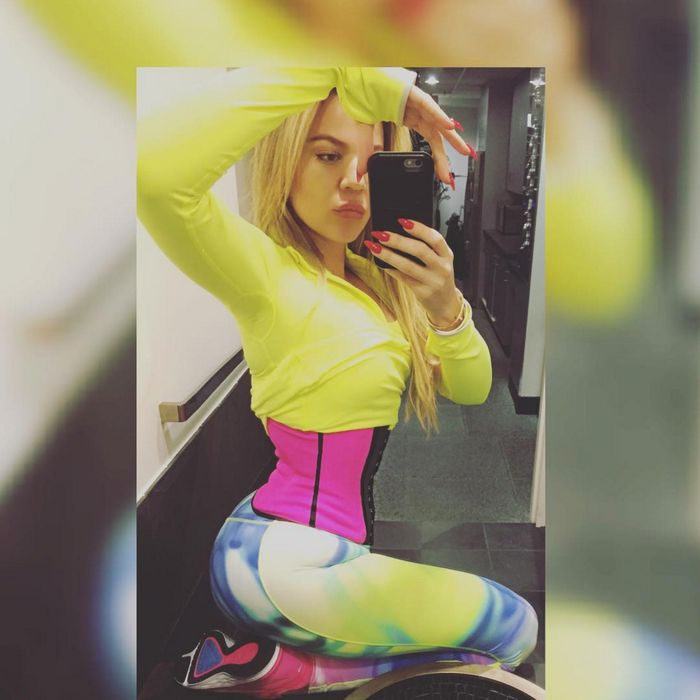 Khloé Kardashian.
Photo: khloekardashian/Instagram
Khloé Kardashian has announced she'll star in a new E! reality series, Revenge Body With Khloé Kardashian, in which she'll mentor recently rejected mortals through full-body makeovers with her team of trainers, stylists, and "glamour specialists."
"Looking great is always the best revenge," Kardashian said following the announcement. "It's so exciting to be able to mentor these people through their full-body makeovers and I can't wait to see the incredible results at their final reveals!" A "revenge body" is a missive written in abs and aimed squarely at your ex, but what are the politics behind one? Read on for the Cut's take in our chat room this morning.
Jessica Roy, Senior Writer: I liked this Khloé quote: "It's a revenge body," she said. "But it's just as much for all my critics who called me 'the fat one' for my entire existence."
Stella Bugbee, Editorial Director: Have any of you ever felt like you had a revenge body?
Allison P. Davis, Senior Writer: 100 percent, and it felt great.
Ashley Weatherford, Associate Beauty Editor: I aim for a revenge body literally after every breakup. It involves lots of squats. After my last breakup, I joined ClassPass and took daily barre classes.
Allison: I think a revenge bod is a happy combination of "too sad to eat" and exercising to help beat the sads.
Stella: But also thinking of your ex the whole time?
Allison: The whole time.
Stella: And taking lots of selfies? Does getting a revenge body also involve elaborate revenge fantasies?
Allison: It's like running, pretending there is a serial killer behind you.
Kathleen Hou, Senior Beauty Editor: Mindy Kaling has a chapter about this in her book. Revenge workout fantasies that inspire you to work out harder. But are those ex-boyfriend related?
Allison: The best revenge is a firm ass. I don't need to plot murder or anything. But I do imagine bumping into him, or more realistically, him getting on my Insta every night and weeping silently.  
Kathleen: The dream revenge-body fantasy is for his friends to see you and report back, being like, "Whoa … Ashley looked soooo good."
Allison: Also, "I hear she's dating Justin Theroux now."
Ashley: A revenge bod appears out of nowhere, suddenly, while you're yachting with Justin Theroux on Instagram.
Jessica: Yeah, I feel like you're not supposed to document GETTING the revenge bod, you're just supposed to appear with one.
Kathleen: Or document yourself pretending to enjoy the gym.
Stella: Yes, while taking pictures of your new trainer who is so much hotter than your ex.
Jessica: "Oh that's so weird I didn't even realize I have abs now."
Stella: But don't you think that at this point all those tactics are so obvious? FWIW, I think you can also have a revenge body within a relationship.
Allison: Yes! So when you feel your relationship headed to hell, just like preemptively get that revenge bod. The same way you start firing up your backburners.
Jessica: You know your relationship is doomed when the person starts actively trying to be hotter than you.
Kathleen: And stops eating pasta.
Jessica: I don't feel like I've ever hated anybody so much that it has motivated me to give up cookies.
Kathleen: If you have to give up carbs to get a revenge bod, then who is really winning?
Allison: Honestly, wouldn't the best revenge bod be the one that demonstrates "I don't give a fuck if you're actively looking at my life"?
Stella: Yeah. Maybe the real power move is to let yourself go, whether you're in a relationship you don't like or after one you didn't want to end.
Allison: In that case, I fucking WON my last breakup. Thanks, Domino's.