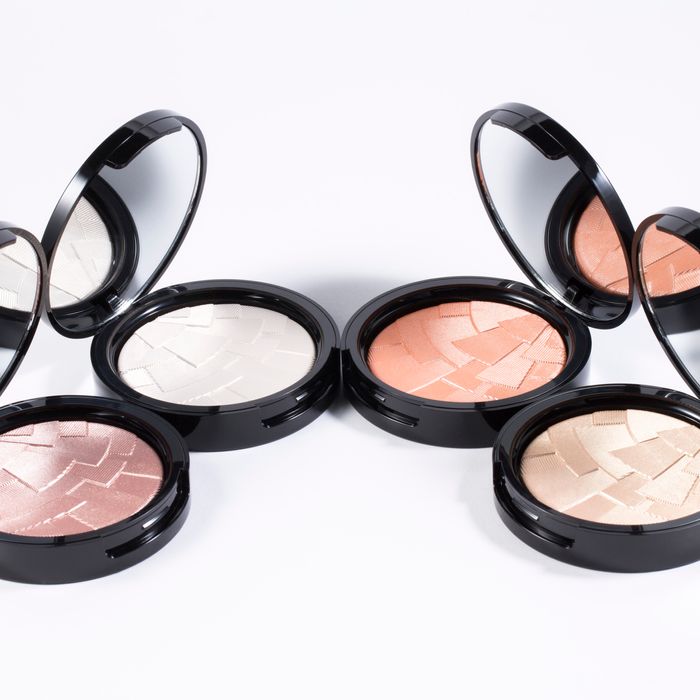 Anastasia's highlighters in Riviera, So Hollywood, Peach Nectar, and Starlight.
Photo: AnastasiaBeverlyHills.com
Type "Anastasia highlighters" into any given search engine and the results are pretty much the same. Bloggers love the stuff. The Kardashians use it. And though the four highlighters were just released a few months ago, one shade already is out of stock. You could say that they are hot commodities, and after testing the whole range, I, too, can't stop bathing my face with the golden illuminators.
If you think about it, highlighters and strobing products typically fall into one of three formula categories. There are creams and liquids that make you look naturally dewy; loose powders with bits of sparkle that, more often than not, appear harsh on skin; and pressed powders that you can hardly see at all when applied. Though Anastasia's highlighters sit in the last category, the pigment payoff is extraordinary. One swirl with my Hakuhodo brush delivers a condensed wash of luminescence on my upper cheekbones. This glow comes in four shades: starlight, a white moonlight hue; a yellow-gold called So Hollywood (the shade used by Kim in her 50-step master class); Riviera, a coppery bronzelike shade; and a peachy illuminator aptly named Peach Nectar.
Once on skin, the highlighters stay put and won't migrate to other areas to make your entire face shiny as the day wears on. If your complexion is oily like mine, you will especially appreciate this. Each shade bathes the applied spots — above the cheekbones, down the bridge of the nose, and under the arch of the brow — in light. My favorite is So Hollywood (which I'm wearing in the photo above), whose yellow-gold hue complements my warm undertones. Rivera is pretty, too, though its darker coppery shade may look more like a bronzer on lighter complexions. I surprisingly enjoyed wearing Starlight – its moonlight-white glow delivered the icy sheen of a snow queen, while Peach Nectar is, in my opinion, too warm to wear as a highlighter, but very fitting as a blush. But no matter which shade you choose, you really should act quickly. Anastasia's highlighters are disappearing nearly as fast as that other Kardashian-approved makeup venture.
Anastasia Highlighters, $28 at Macy's.