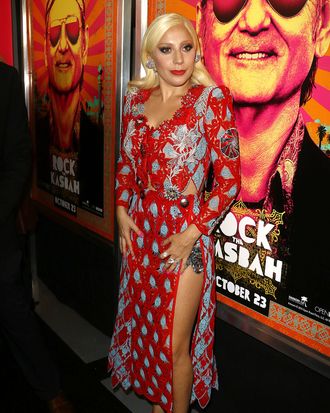 I got a horse.
Photo: Splash News/Corbis
The cliché goes that every 5-year-old girl in America asks for a pony for Christmas. Why not? Horses are strong, lovable animals, and equestrianism is a challenging sport partaken in by Bruce Springsteen's daughter and Michelle Payne, a jockey who told sexists to "get stuffed." Who wouldn't want a horse, is the real question. Not Lady Gaga, who was given the gift of every 5-year-old's dreams this week by her label friends at Interscope. Mom, it's so unfair!!!
The light-gray horse, whose name has yet to be revealed, allegedly arrived on her doorstep on Monday and Gaga can already tell she's a "spiritual girl." She even came with a pink halter, lead rope, and bow, just like we imagined when we wrote our Christmas lists so many years ago.
Merry Christmas, Gaga. You earned it. (And so did we.)