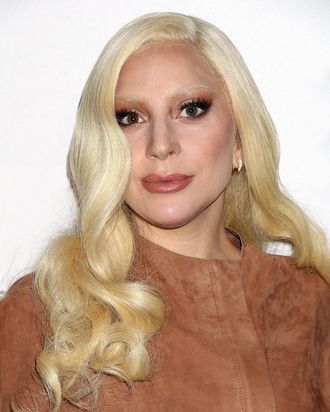 Lady Gaga.
Photo: Laura Cavanaugh/Getty Images
At a TimesTalk session for the campus-rape documentary The Hunting Ground, Lady Gaga opened up about her own experience of sexual assault that occurred when she was a teenager.
"I didn't tell anyone for I think seven years," Gaga said. "I didn't know how to think about it. I didn't know how to accept it. I didn't know how not to blame myself, or think it was my fault. It was something that really changed my life. It changed who I was completely. It changed my body."
Gaga's experience partially inspired the haunting song "Til It Happens to You," which appears in the documentary and for which she released a dark video back in September. She hopes telling her story and channeling it into artistic expression will help other young women who suffered the same fate.
"I'm here because when I look out onto the sea of beautiful young faces that I get to sing and dance for, I see a lot of people who have secrets that are killing them," Gaga told the panel. "We don't want you to keep your pain inside and let it rot like an old apple on your counter, you know? It's like, just get rid of all that trash. Let's get rid of it together."