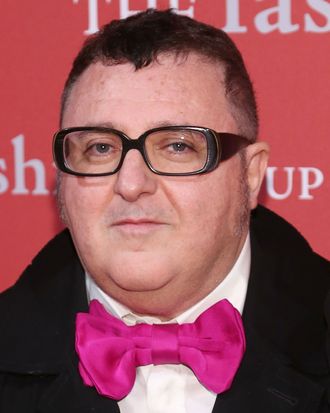 Alber Elbaz.
Photo: Taylor Hill/Getty Images
As expected, the Lanvin contretemps is now being battled out in the courtroom. Per Women's Wear Daily, Tuesday's proceedings at the Tribunal de Grande Instance, Paris's commercial court, got pretty heated. After the brand's employee-works council protested the firing of longtime designer Alber Elbaz, company management took them to court for using the Lanvin email and message boards to discuss said firing and to organize an opposition. Johann Sultan, the lawyer representing Lanvin, called the messages "violent and disparaging … 100 percent reminiscent of a union handout." He ordered that the messages — including two written by Elbaz — be taken down. The works council's lawyer countered that the employees were faced with "an opaque system of obstruction and autocracy."
Elbaz wasn't physically there during the proceedings, but his presence loomed large anyway. Sultan told the court that the designer was fired for cause, claiming he tried to sell his shares of "another company in the Lanvin group." (A spokesperson for the brand confirmed to the paper that Elbaz does own shares in a company owned by Lanvin honcho Shaw-Lan Wang, but did not specify what company that was.) Sultan also said that Elbaz tried to find a backdoor buyer for the brand, without Wang's involvement.
The proceedings also shed light on Lanvin's financial ups and downs. This year, the company will post its first loss since 2007, and things have been sliding for a few years now — public records confirmed that the company's profits were 11.9 million euros in 2012 and declined to 2.9 million euros last year.
The court will rule on the matter on December 16. There is one silver lining, at least for Elbaz — his severance package is said to be anywhere between 20 and 40 million euros ($27.5 million to $55 million). That certainly buys a lot of bow ties.