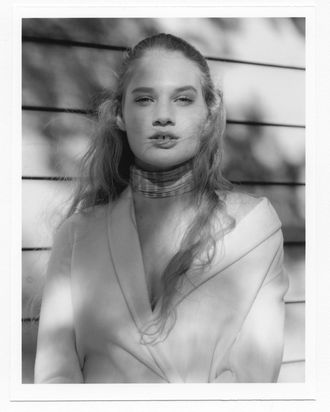 Resort season is all about packing for circumstances unknown — with all the layers that requires. For its latest Out of the Box shoot, the Cut escaped the city by day-tripping with Vancouver-raised, New York–based photographer Jody Rogac. In cozy upstate seclusion, we bundled up in layered looks from resort, ones that marry the hard and soft elements of the season.  

Aiming for youthful elegance, stylist Shibon Kennedy chose a rich palette of patterns and prints (a Derek Lam gingham print here, a Gucci tartan fabric there) and combined them with contemporary silhouettes for a streetwear effect. This meant playing with proportion and draping disheveled, voluminous separates. Each look reflects the androgynous leanings of the season, in which masculine boldness is tempered with a touch of femininity. Click through our slideshow to see all the looks.

Photographer: Jody Rogac; Stylist: Shibon Kennedy; Makeup Artist: Erin Green, Art Department; Hair: Takeo Suzuki; Photo Editor: Emily Shornick; Fashion Assistant: Tatum Pia; Model: Callie Dixon, W360 Management.