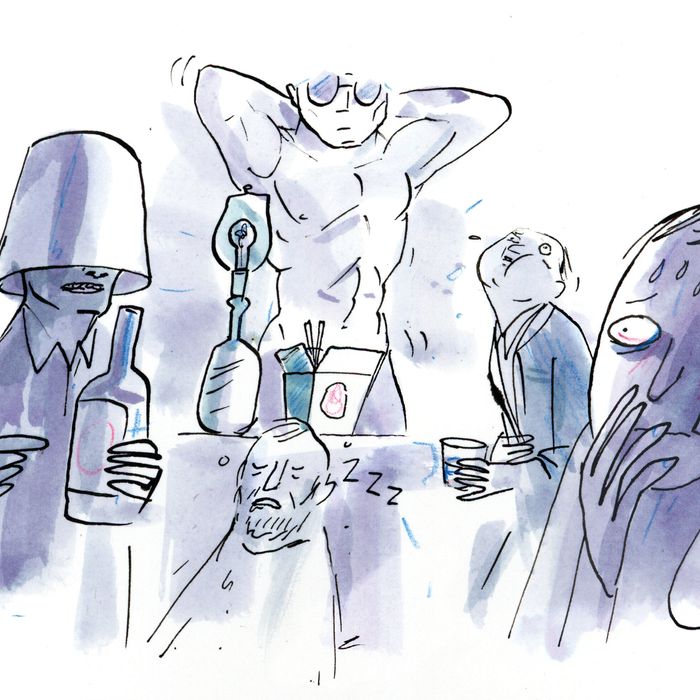 Illustration: Graham Roumieu
The lesson is that bachelor parties aren't best run by committee. It was the summer of 2011, and our dear friend was marrying his longtime boyfriend. We, a conclave of his nearest and dearest — drawn from the various side paths of his life — had assembled to celebrate in infamy. Assignments were parceled out. One friend was to book a hotel suite. One friend was to bring liquor. One was to book strippers. One was to arrange barhopping. And I was to arrange a dinner reservation. The back and forth produced a 65-letter email chain before the thing was through.
The hotel suite was gotten, at a dressy shithole in midtown where — propitiously — giant photographs of nude men lined the halls. Liquor was brought. Strippers were booked, albeit at prime dinner time. ("Sorry but strippers are a hard 8 to 9. Lots going on on sat night for these studs" wrote the stripper booker when I protested.) So I booked a reservation for us at an old favorite, Má Pêche, for 10 p.m. and considered my duty done.
First there were drinks, and then more drinks. Five p.m. turned to six, turned to seven. We repaired to the roof bar for more drinks, sucked through penis straws. Then at eight, we ventured back to the suite and found there two inflated gentlemen who efficiently disrobed and went lap to lap. The drinking continued. The groom looked a bit green in the gills. Maybe the lesson is not to overdo the pre-party.
Eight turned to nine. I sneaked off to phone Má Pêche and slur my way through a rebooking: 10:30 p.m. When I returned to the room, the strippers were submitting to attentions that must certainly have been outside the terms of their contracts. The groom was looking on woozily. The minutes were ticking by quickly.
When the gentlemen were clothed and dispatched, it was nearly 10:30. I made a second call to the restaurant, less intelligible than the first. ("On hour ways!") The stripper booker seemed blithely unconcerned by the reservation. People began suggesting pizza. From the bathroom, the groom could be heard vomiting as discreetly as it is possible to do so. Ten-thirty had come and gone, and a raw bar seemed on no one's priority list. Maybe the lesson is don't book Má Pêche after a lap dance.
The mood, like the room, was turning sour and bilious. From somewhere, takeout Chinese arrived in Styrofoam containers. The barhop planner began to fret we'd never make it out to barhop.
But the groom rallied, the Chinese food was horsed, and we made it a full 45 minutes at some Hell's Kitchen gay bar before, one by one, we dropped, exhausted, somewhere shy of midnight. Among the planners, the night had the hallmark of a good compromise: It pleased no one. On the street outside the hotel, the stripper booker and Chinese-food orderer went silent, pitched forward, and vomited as indiscreetly as it is possible to do so. There in the middle of his pile was a finger-size chicken bone, one that had apparently been lodged within him since the Chinese feast. Maybe the lesson is beware of takeout Chinese food.
Later that night, I vomited. From that, I took no lesson. I have never been back to Má Pêche.
Or Try a Safer Bet
Three options to party and eat in the same place.
The Meat Hook at Brooklyn Kitchen
100 Frost St., at Meeker Ave., Williamsburg; 718-389-2982
Spend an hour observing how a locally raised 200-pound pig gets broken down. The snout-to-tail butchering demonstration is followed by a four-course feast that might include an assortment of housemade charcuterie and fun plays on old favorites, like Boston baked Zürsun's beans with Meat Hook hot dogs, smoked pulled pig's head, a peach pie with lard crust for dessert, and seasonal brews from Brooklyn Brewery. (From $175 per person, minimum 12 people.)
Insa
328 Douglass St., nr. Fourth Ave., Gowanus; insabrooklyn.com
Located in an old Gowanus warehouse, this Korean BBQ restaurant, set to open this winter, serves seasonal-vegetable crudités with saam jang, dry-aged beef for tableside grilling, all-natural wines, and craft cocktails like kimchee michelada with perilla salt. Then dip into one of its private, individually themed karaoke rooms to belt out Mary J. Blige. (From $85 per person.) 
Señor Frog's
11 Times Sq., nr. 42nd St.; 212-221-3833
You don't have to fly your bachelorette or bachelor party to Cancún or even Miami to experience the conga-line-dancing, red-shot-spraying fiesta that is Señor Frog's. The spring-break chain has arrived in Manhattan, which also means Tex-Mex aplenty: burritos, fajitas, chimichangas, and queso dip, plus banana splits for dessert.
Reporting by Katie Kiefner
*This article appears in the Winter 2016 issue of New York Weddings.