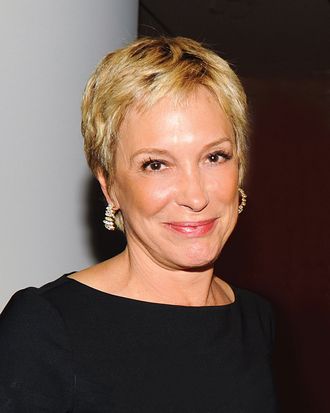 Lisa Hubbard.
Photo: Carly Otnessnyc.com/BFA
Though it's not common knowledge, anyone can walk into Sotheby's New York office and attend an auction or try on jewelry. (Provided, that is, that you can summon the willpower to not blow your life savings on said jewelry.) And as the auction house's executive vice-president chairman of jewelry, Lisa Hubbard spends her days surrounded by these stunning gems. Hubbard, who has been with Sotheby's since the '70s, began as the third assistant in the catalogue department. Eventually she moved to jewelry because it was more of an on-the-spot apprenticeship. "At the beginning I took notes of each piece and learned the descriptions for every type of diamond in the world," she tells the Cut. "Anyone's expertise comes from seeing."
Hubbard spent a few years at the New York location and then moved on to Los Angeles, Qatar, Hong Kong, and South America — sourcing  jewelry, auctioning, and putting together sales. She was notably the first female auctioneer ever in both Asia and the Middle East. "It's a funny thing, all the men kept saying that people wouldn't accept me," she says. "It seemed like a myth that they kept saying to keep me away. And it just wasn't true: I did exceptionally well there, so much so that women would invite me to come in their closets and find pieces personally."
Over time she has accumulated one of the most exclusive client lists around — selling from the estates of Jackie Onassis, Ava Gardner, Andy Warhol, the duchess of Windsor, Mrs. Harry Winston, Madame Claude Arpels, and many more. Her biggest auction was last November's sale of Bunny Mellon's flawless blue diamond, which sold in 20 minutes for a whopping $33 million. As far as her personal collection goes, she sticks to a refreshingly simple design philosophy: "The bigger, the better! You get used to the chunky, large diamonds very easily. Personally, I've only bought a few things at auctions — a strand of pearls that I paid off with $100 from each paycheck, a couple of gold bracelets and brooches."
Wednesday's auction, Holiday Treasures at Sotheby's, features over 500 pieces, with estimates starting at $5,000 and going up into the hundreds of millions: They include an Art Deco diamond necklace made in 1939 by Van Cleef & Arpels for Queen Nazli of Egypt and an avant-garde creation made by designer Suzanne Belperron circa 1935 for the duchess of Windsor. Hubbard walked us through some of the most dazzling options from the auction block.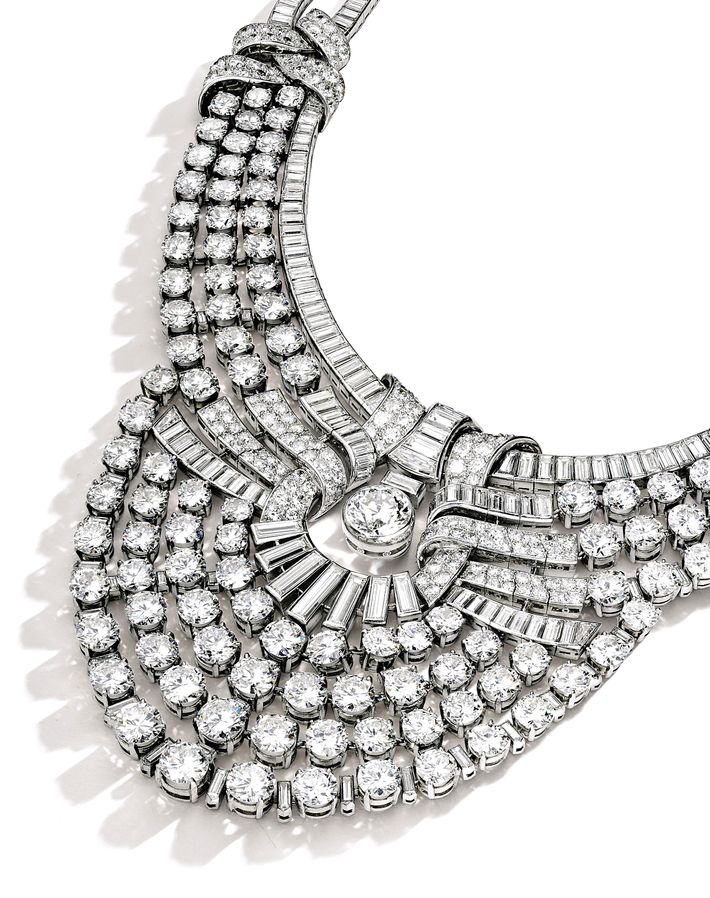 "This is a hidden treasure from the former Queen Nazli, Mother of Egypt, from Van Cleef & Arpels, set with more than 600 round and baguette diamonds weighing a total of approximately 217 carats." Est. $3.6–4.6 million.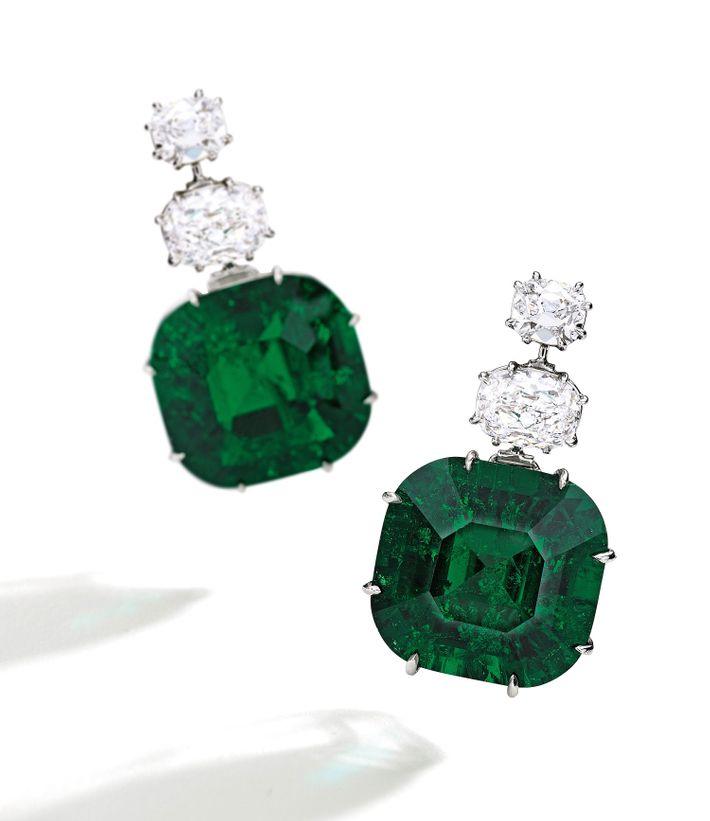 "We get a lot of pieces that we don't know the exact origin of, like these emerald-and-diamond earrings — but we found out they are known as the Stars of Muzo, unenhanced and exceptionally rare." Est. $1.8–2.2 million.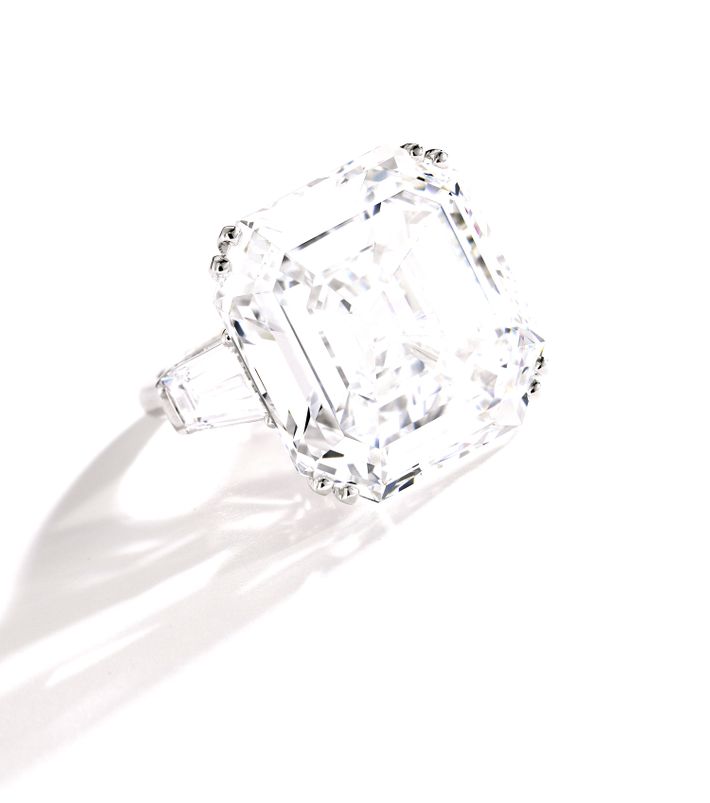 "This was from the estate of an Italian countess sold to benefit her charitable foundation and these pieces are always wanted in an auction. You can't beat an impressive platinum and 38.27-carat diamond ring." Est. $3.5–4.5 million.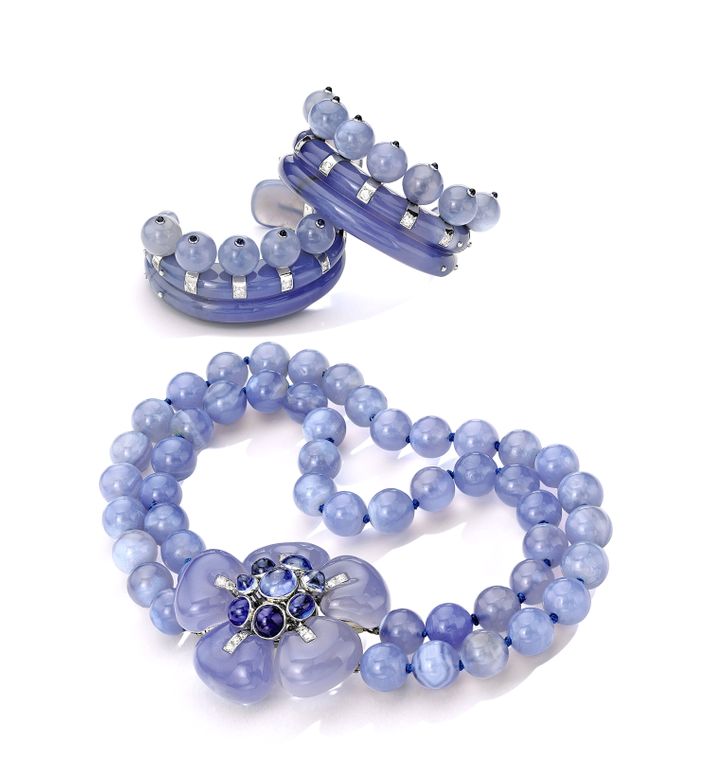 "Part of the duchess of Windsor's collection when she had Suzanne Belperron make special pieces for her. Belperron's pieces were frequently used by Diana Vreeland and Elsa Schiaparelli editorially." Est. $400–600,000; est. $350–550,000.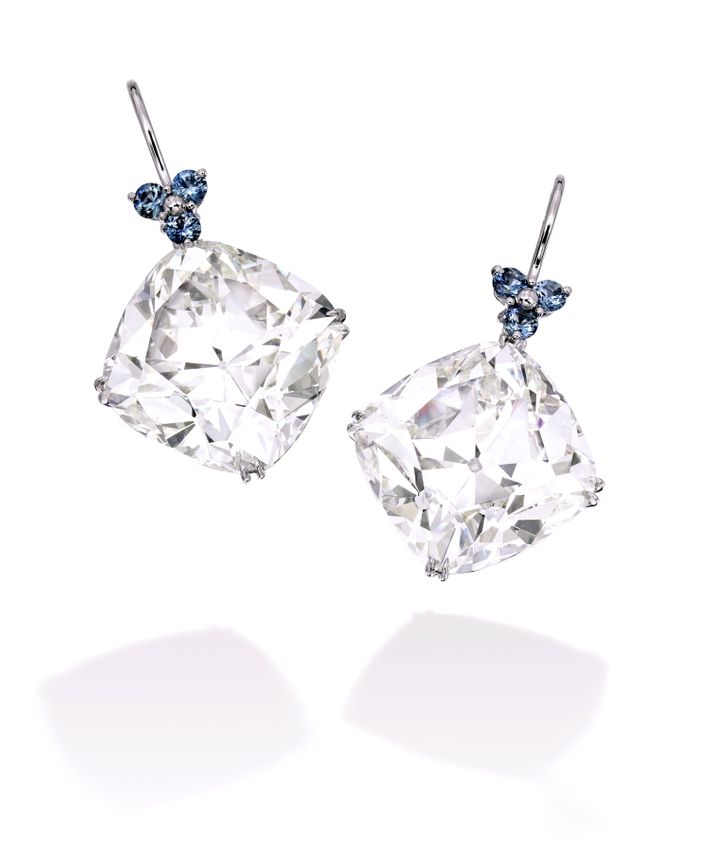 "I love the playfulness of these, suspending two cushion-cut diamonds surmounted by sapphires. Very contemporary and a nice alternative to plain diamond earrings." Est. $1.65–1.85 million.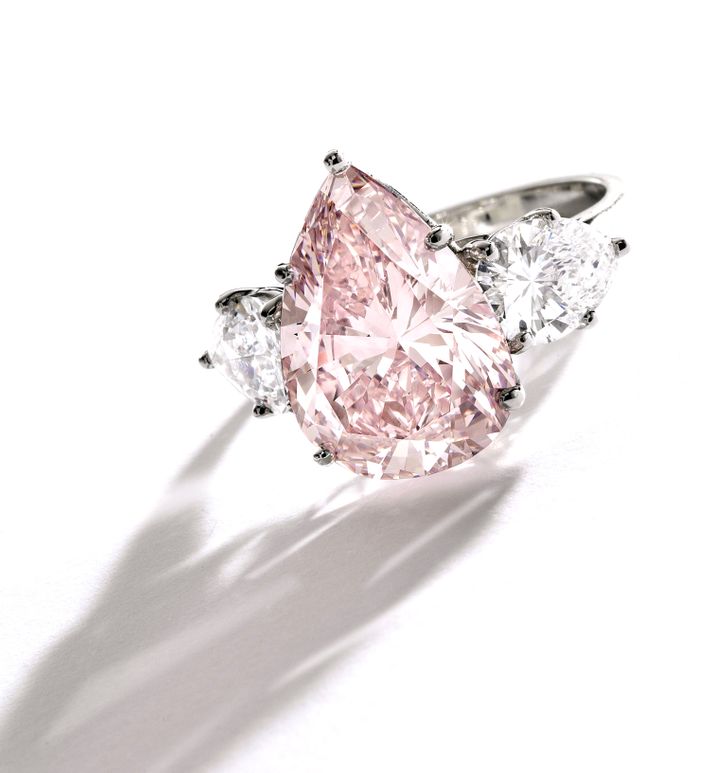 "This ring was property of royalty who wanted to remain anonymous. It's made from the finest platinum with a fancy pink diamond that's almost seven carats, flanked by two colorless diamonds on the sides." Est. $2.5–3.5 million.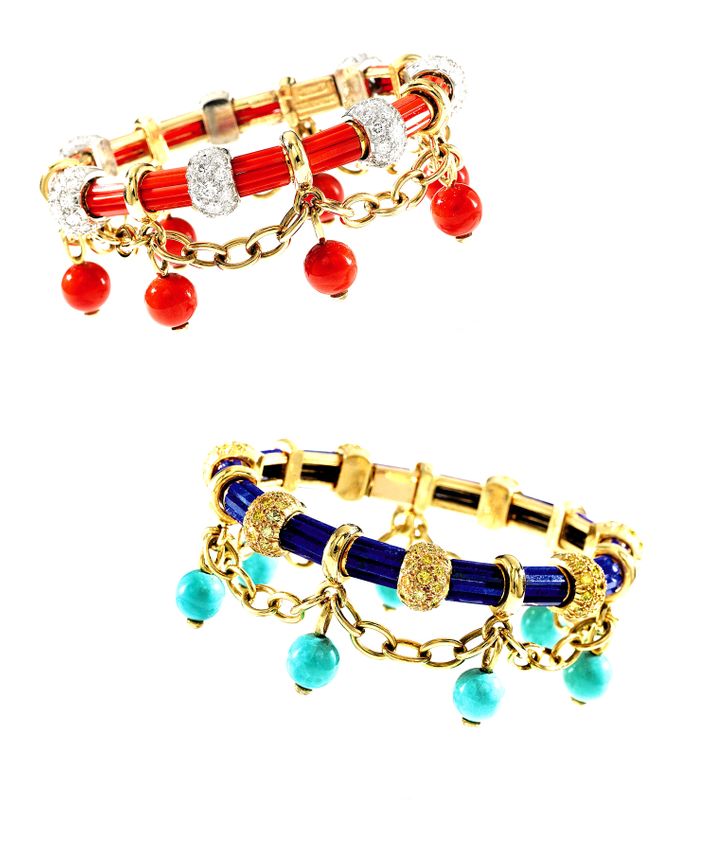 "As soon as I saw this I knew we had to have it. I had never seen any draping like this from Tiffany & Co., and I particularly like the use of color between the coral beads and lapis lazuli segments, and yellow hue diamonds, and it's just joyful the way the colors are mixed and matched." Est. $20,000–30,000; est. $20,000–30,000.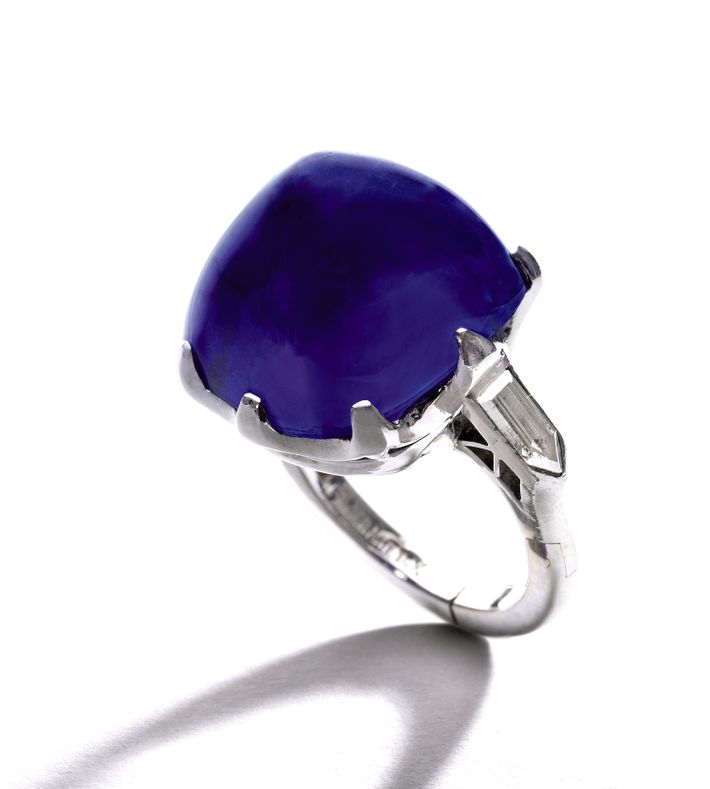 "This Kashmir sapphire hails from three generations of one of America's most prominent families: that of Thomas Fortune Ryan (1851–1928), who stands alongside J.P. Morgan, Andrew Carnegie, and John D. Rockefeller in the annals of American financial history. It's an exceptional sapphire, as the best sapphires stay bright blue in comparison to lesser qualities that go dark without the light." Est. $3.5–4.5 million.
Hubbard answered our Taste Test to gauge some of her fashion and culture preferences.
Champagne or wine?
I like my Champagne — preferably very cold.
Favorite place you've lived?
New Delhi, India. I moved there as a teenager with my father and loved it.
Jewelry pet peeve?
Thinking one piece is enough — two bracelets are better than one.
Van Cleef & Arpels or Tiffany's?
Don't make me choose!
Elizabeth Taylor's jewelry collection or Queen Elizabeth II's?
Elizabeth Taylor's jewels reflect her irresistible persona, but it's Queen Elizabeth's collection that truly has everything — Mughal (Royal Indian) jewels, sensational Golconda diamonds, all the top makers, everything. It's jewelry for (and through) the ages.
Diamond or gemstone?
Gemstone — I love vibrant colors.
Favorite time period of jewelry?
I have a personal passion for the industrial-inspired designs of late-1930s Machine-Age Modernism, by artists like Jean Després.
 Holiday Treasures at Sotheby's is open to the public December 9.