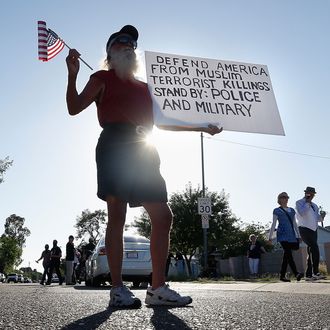 Photo: Christian Petersen/Getty Images
Earlier this week in Philadelphia, someone left a severed, bloody pig's head on the sidewalk outside of the Al-Aqsa Islamic Society. This, as Daily Intelligencer noted yesterday, is just one of several anti-Muslim acts that have occurred around the world since the Paris terror attacks last month. Now, some new research hints at the potential long-term impact of incidents such as these, and how terrorism works to drive a wedge between Muslim immigrants and non-Muslims living in the U.S.
A pair of economists from the Hebrew University of Jerusalem examined census records and state-by-state hate-crime data from the FBI in the years following the terrorist attacks of September 11, 2001, paying careful attention to the states where there were more reported incidents suggesting a backlash against Muslims. Their findings suggest that in those states, the Muslim immigrant community subsequently became more insular, reports NPR's Shankar Vedantam.
"We find that in states that had a bigger backlash against the Muslim community, we find lower rates of assimilation, meaning they become much more likely to marry within their community, a lower likelihood of speaking English well and speaking English at home, and lower rates of female labor-force participation," Eric Gould, a co-author of the study, told Vedantam on "Morning Edition." 

The paper, titled "The Long-run Effect of 9/11: Terrorism, Backlash, and the Assimilation of Muslim Immigrants in the West," was published online this summer in The Economic Journal. Vedantam notes that this research provides empirical evidence of the long-term divisiveness that can result in the years after a terrorist attack. "Terrorism is a form of theater — it always has an audience in mind," he told "Morning Edition" host Steve Inskeep, and the evidence shows that terrorist attacks are "a very effective way to drive people apart."