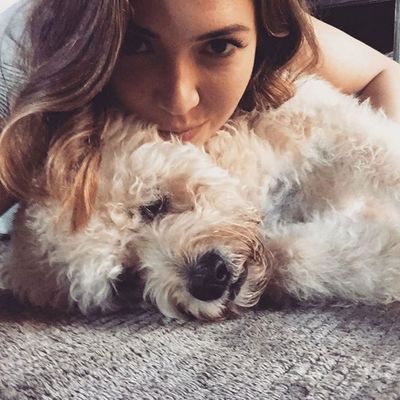 Mandy Moore and one of her beloveds.
Photo: mandymooremm/Instagram
Ryan Adams and Mandy Moore were together for almost five glorious years, a period in which they confused and delighted us with their union and built a life together and were the proud pet-parents to eight cats and dogs.
Since their split in January, though, it seems Adams has been a less-than-involved pet father. Moore, whose current income doesn't cover her living expenses, had to write a  petition requesting Adams pay spousal support — including help in caring for their pet brood, reports People. Adams has offered to take custody of two of the cats (and split up the family?!), but has yet to do so.

"Although I love our pets, it is overwhelming for me to take care of eight of them all of the time," Moore wrote, pointing to an occasion when she had to "cancel a prior work engagement because my housekeeper was ill and unable to stay with our pets while I traveled for work … Without Ryan's help caring for the house and our pets, I have not been able to work as much as I would like."

Per usual, #TeamMandy. Animals are an expense and responsibility that couples take on together — they require care and food and vet appointments just like a human child, even if they are more fun to pet.