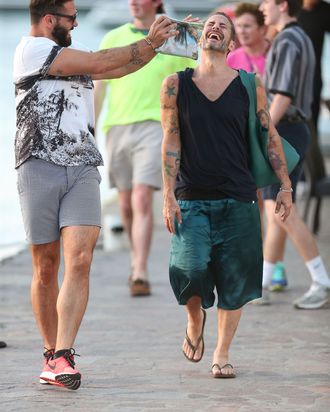 Marc Jacobs.
Photo: Stephane LenhofCRYSTAL/PacificCoastNews
Marc Jacobs has gone from solemnly praying for New York Post reporters to laughing on the beach, an occurrence that, in the slough of content despond immediately before New Year's, qualifies as headline-worthy. The designer posted a screenshot from today's Just Jared masterpiece about his shoreline guffaws, titled "Marc Jacobs Can't Stop Laughing On the Beach," adding, "What am I doing!!!!???? I just can't stop laughing."
He continued, "Vacation is so great and being with the people I love so much fun… Ugh! #slownewsday #lifeisbeautiful." You know what they say: Laughing on the beach is the best revenge.