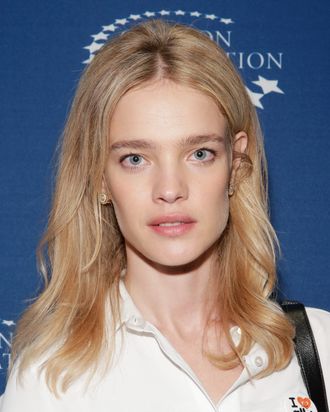 Natalia Vodianova.
Photo: JP Yim/Getty Images
In fashion, model Natalia Vodianova is known as something of a Cinderella. As the lore goes, she was born in Russia and operated a fruit stand with her mother before being discovered and moving to Paris, where she scored so many campaigns that Mario Testino dubbed her the "Supernova." More recently, Vodianova has become known as a philanthropist through her work with her charity, the Naked Heart Foundation. The Pirelli calendar recently celebrated her, and she presented her new charity app at a Clinton Initiative presentation.
Still, she hasn't left fashion entirely: She's returning as the face of Euphoria Calvin Klein for its tenth anniversary. She spoke with the Cut about Euphoria, the fashion industry's approach to doing good, and her frustration with social media.
Tell us about shooting the Euphoria campaign. What did Inez and Vinoodh communicate to you about the story?
Inez actually shows you with her whole body how she wants it to be. Of course, I do it in my own way, but it's wonderful to be directed by a woman you look up to and admire because she's so extraordinary, beautiful, and elegant.
We were actually shooting outside and in a real tropical setting, in Hawaii rather than the studio. It's a very different experience than shooting in the studio with fake wind. There is actually the sea in the back, wind in your hair, real sand, and it feels more natural. A real storm even came and gave it that real darkness. There was a real rope down the side of the cliff with people holding the train from behind.
When you think of the word euphoria, what do you think of?
Today, I'm very euphoric. I'm euphoric when I'm with my children — those precious moments when we are carefree and doing something together, like silly dancing or a big walk together.
Tell me more Elbi, your charity app.
Elbi is an app that means "little actions that make a big difference." It's micro-philanthropy. You can use it to do drawings or take a message to these wonderful children. For example [holds up a photo of a child on the app], this is Osawa, and Smile Train is a charity that is doing cleft surgery in Tanzania. [On the app], you can draw Osawa in Tanzania a smiling family to celebrate his cleft surgery, and then it's a little brief about Smile Train if you want to learn more. You can follow charities on the app, do actions like drawings to cheer people up, and also "Love" other people's drawings. By pressing the "Love" button, you will donate one pound to a charity like Smile Train.
We're launching this [with] 31 charities. They range from big ones like Donors Choose and Save the Children to smaller charities, and I'm launching it with the Clinton Global Initiative.
I know you're very involved in philanthropy work. What have you learned about human nature from doing it?
People are all very good at heart. It's just sometimes their life may be really hard and that creates barriers between the outside world and their heart, because they feel like they have to protect themselves from people.
I love people, especially those who are good to others and great philanthropists. We call Elbi a new model of micro-philanthropy. Philanthropy should be accessible to people so that they can do online, digital volunteering and donate their time and their attention today. We can really effect change if we are connected together, especially with all the time that we spend on our mobile devices. We can be drops of water that together make the ocean.
Some people might think it's surprising, philanthropy and fashion going together. Did you ever feel like there was a conflict with that?
Not at all, fashion is one of the most charitable and giving industries. Who has said that's the case? With Naked Heart Foundation, I utilized this industry and we have raised millions for my charity, thanks to all the support from the photographers, designers, the brands, fashion editors, and whoever, you name it. I have so rarely heard a no in this industry.
When did you first come up with the idea for this app? You said it started two and a half years ago?
Four years ago, I started being much more present on social media and realized its power. I didn't understand when Facebook first came out. I felt that maybe I was too old for it. But then I realized that social media can give us a voice.
But it ended up turning into frustration because a silly picture or something very fashion would raise more likes or attention than my philanthropy work. I came to realize that neither Instagram nor Facebook is a perfect place, as there's too much noise. It's not a perfect place to convey your messages that are maybe a bit deeper, and you cannot engage with the people on a daily basis. It will look like spam. It's not really home for charities.
What was incredible to me about Facebook is that the like button is pressed over 4 billion times a day and that's a lot of action. Because today, in the real world, how do we all gather? We gather on squares. We gather in conferences. But if all the people in the world were able to care about solving cancer and come to the same place at one time, it would be amazing how much change we could effect.
This interview has been condensed and edited.