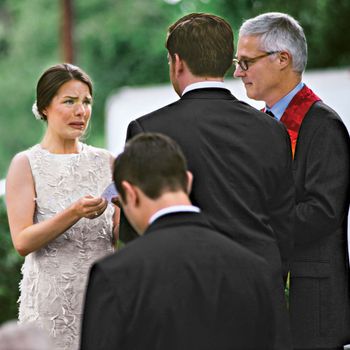 The bride wasn't expecting to be so emotional.
Photo: Bette Walker Photography
Real talk between newlywed (and New York senior fashion editor) Rebecca Ramsey and soon-to-be wed Jordan Bolden chat. 
Jordan Bolden: I figured I was ahead of schedule, since we're not getting married till next September, but I just looked at the Green Building in Gowanus, and most weekends are booked through November 2016! The biggest challenge I have is space. We're at 302 with just family. His mother's side is Irish Catholic, and there are 33 cousins. My mother is Indian and has 32 cousins.
Rebecca Ramsey: My wedding was only 155 people, but there are a lot of massive venues in New York that can accommodate numbers like yours, like Pioneer Works in Red Hook and the Park Hyatt in midtown. Or there's always the option of doing a nice dinner somewhere fancy with your nearest and dearest and then throwing a big party afterward at a bar.
JB: Did you have a wedding planner?
RR: I did. It's expensive — about 12 percent of our total wedding budget — but definitely something to think about if you're overwhelmed right now and at a loss for where to start. The second your mind starts spinning — What happens if it rains? Are we going to need extra fans inside in case it gets too hot when everyone starts dancing? When was that payment due? — you can just transfer all those worries onto her.
JB: Band or DJ?
RR: DJ. Bands can start at $10,000, and we spent only a fraction of that. Although he did make a mistake — he played "I Would Die 4 U" by Prince twice. But whatever, I love that song.
JB: How else did you cut costs? For me, it's all budget first. My fiancé is like, "What do you like?" And I'm like, "How much are we spending? If we run out of money, we're out of money."
RR: We did a family-style dinner, which is less expensive than sit-down. Also, we didn't want people sitting there, waiting to be served — we wanted a party. But definitely don't go with the first caterer you like. We met with a "best ranked" one who charged $7,500 more than the one we ended up using!
JB: I feel like the food at weddings is usually "eh."
RR: Yeah, it's less stressful if you acknowledge early on that it's not going to be the best meal of your life.
JB: What about the cake?
RR: We looked into getting a Momofuku cake. There's one that serves 210 people, which is more than we even had at the wedding — but you're supposed to assume that everyone will want cake — and it costs $1,200. So we didn't do that. We still got a cake, because my mom insisted, and then we ended up with three boxes of leftover cake.
JB: My roommate is selectively helpful, but she definitely wants to know when cake tasting is.
RR: And bring her to the hair and makeup trial. After my makeup trial, I had, like, caked-on stage makeup. I looked 20 years older. So when we were getting ready for the wedding, my friends kept watching the makeup artist and were like, "No shimmer!" If you have a hard time saying no, have your friends do it.
JB: Is there anything you wish you'd done differently?
RR: I might have done a "first look" photo, where you see the groom before the ceremony. When I saw Spencer for the first time while walking down the aisle, I was hit with this wave of emotion. I couldn't stop crying. And now in most of my photos, I'm crying. It would've been good to have a photo of Spencer and me seeing each other without me crying.
JB: Any other traditions you skipped?
RR: I thought I wouldn't throw the bouquet. But I have so many single friends, so I did. It landed on the ground, and no one went after it.
JB: What about a hashtag?
RR: Yes. All you're going to want to do is look at those pictures the next day.
… And Three More Pieces of Wisdom From Recent Brides
"Don't be afraid to make edits on the day. My bouquet didn't have enough flowers in it, so we asked for more."  —Georgina, 30
"Choose a venue you love as is, so you're not forking over thousands of dollars to create the vision you want." —Jordan, 31
"Get the photographer to take a full picture of your dress, front and back. You're going to want to remember what the whole thing looked like."  —Sabrina, 35
*This article appears in the Winter 2016 issue of New York Weddings.