Photo: redheadpictures/Corbis
Jake and Matthew,* recently married at the North Fork's Bedell Cellars, tell how they split up tables among exes, co-workers, and someone who didn't know any of the 179 other guests.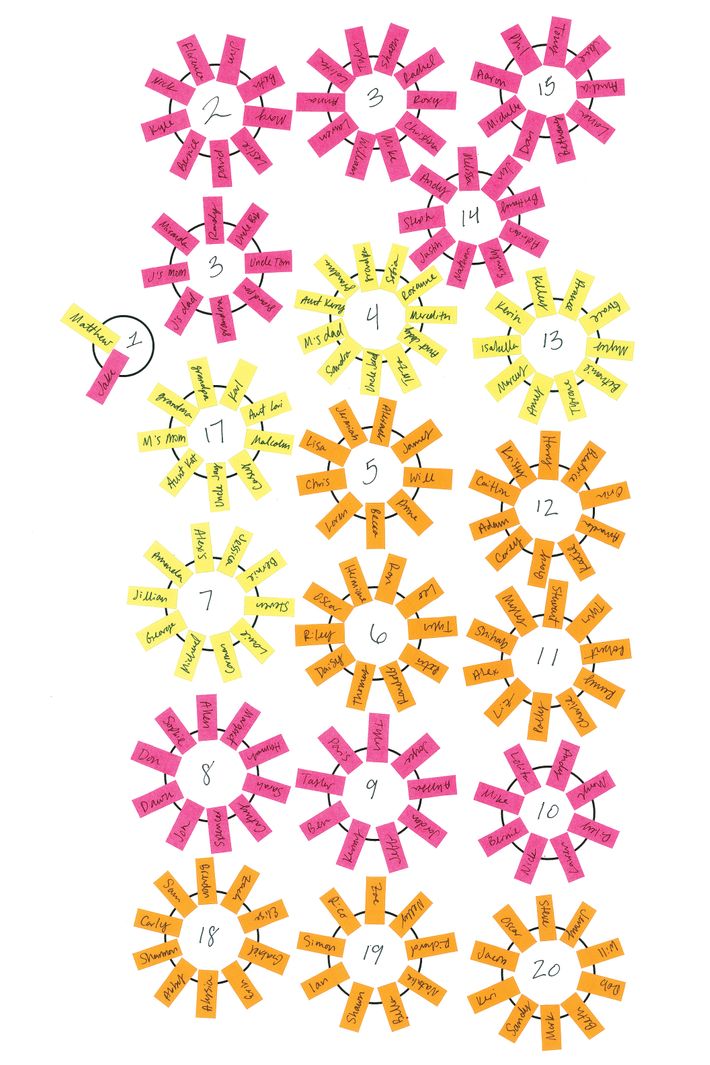 1. Jake and Matthew
"We sat at the sweetheart table. We weren't sure about it, but my [Matthew's] parents are divorced, so it was a little bit too politically challenging to pick where we were going to sit. And it allowed us to bounce around to everyone we wanted to see."
2. Matthew's Mom's Side and Mom's Friends
"Again, it was a big consideration that my parents are divorced. They get along very well and are actually quite close, but we thought it was better to split it up so that my mom's family could be with her and my dad's family could be with him. It can help to talk these decisions out with someone in your family before you make the final decision."

3. Jake's Family and Family Friends
"I definitely didn't want the older people right next to the DJ. I remember that at my bar mitzvah the older people were complaining about how loud the music was."
5. Cousins From Both Sides
"They were all in their 20s to maybe early 30s. The opposite sides had never met before, and it was kind of cool. It seemed like they were getting along."
6. Mutual NYC Friends
"We were lucky to have only one 'ex' situation — a couple that had broken up but both were invited. We sat them at separate tables, with separate groups of friends."

7. Matthew's High-School Friends
"The wedding party didn't sit together. It was pretty big — six girls, six guys — so we couldn't have done that. Even though they were all close, it wasn't like everyone was best friends. There were distinct groups."

8. Jake's High-School Friends
"Jake grew up in New Jersey, but then his parents moved to Florida. It was a special treat for them all to see one another for the first time in so many years."

9. Jake's Co-workers
"With co-workers, particularly the older ones, if we had to fit some extra people at their table, we definitely made sure to have our 'classier' friends there, as opposed to the ones who tend to get sloppy when drunk."
10. Jake's Co-workers
"Jake invited some partners from his law firm and their dates, as well as younger associates that he works with. The partners are very nice, but if you're the associates and you like getting crazy at weddings, you might not want to sit with partners. But we put them together anyway. You worry about people having the most fun possible, but at a certain point you've got to let it go."
11. Mix of Friends
"I [Matthew] invited an ex–business partner I was really close to, but he didn't really know anyone else, so we put him at a hodgepodge table, thinking about whom he might get along the best with. He's more on the serious side, so I put him with people who were interested in finance or more interested in talking about their jobs."
13. Matthew's College Friends
"There are some friends that are just cruder and louder, and I love them, but I wouldn't have put them with my work friends. Not worth the risk."

14. Jake's College Friends
"We put the college and law-school friends closer to the music. It was sort of people who were going to go crazy versus people who weren't."
18. Mutual NYC Friends
"We tried to seat quieter people with friends that are more talkative so that it balanced out. We have this friend who's comfortable talking to anyone, so we put him at the table that included a lot of quiet people. There are people who won't have fun in those situations, but he's not one of them."

19. Mutual NYC Friends
"I didn't sit anyone together to try to set them up, but people found their way toward each other after the wedding. People who knew each other befor — there were a couple of pairings after the wedding. I was hung over at brunch the next day and listening to the stories."
*names have been changed
*This article appears in the Winter 2016 issue of New York Weddings.