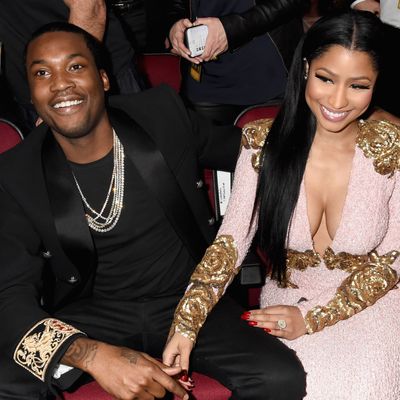 What's going on?
Photo: Jeff Kravitz/AMA2015/Getty Images
The year of 2015 was many things: long, stupid, punctuated with garbage jargon, and full of speculation over whether Philly rapper Meek Mill and consummate goddess Nicki Minaj are going to surprise us with a wedding next year. Being on the edge of our seats is not exactly where we'd like to be, but Nicki is nothing if not a playful prankster, and is not here to put us at ease about whether she's soon to be officially off the market.
In April, Nicki shared an Instagram of a Champagne-gold heart diamond that many speculated was a promise ring to Meek (née Robert Rihmeek Williams). Then, weathering the storm of a tour together, and a backfired plan by Meek to take down Drake (who now has a Grammy nomination for his diss track against the Philly rapper), the couple seemed to come back stronger with Nicki sharing a snap of her rrranngg finger with an updated diamond.
And now, in one simple tweet, it appears that all things are a go with Meek as Nicki asked her fans to RT for a beach wedding or fave for a church wedding. We'll forgive her the mislabeling of Twitter's newly updated "like" button if she could just tell us what the hell is going on. Anyone?