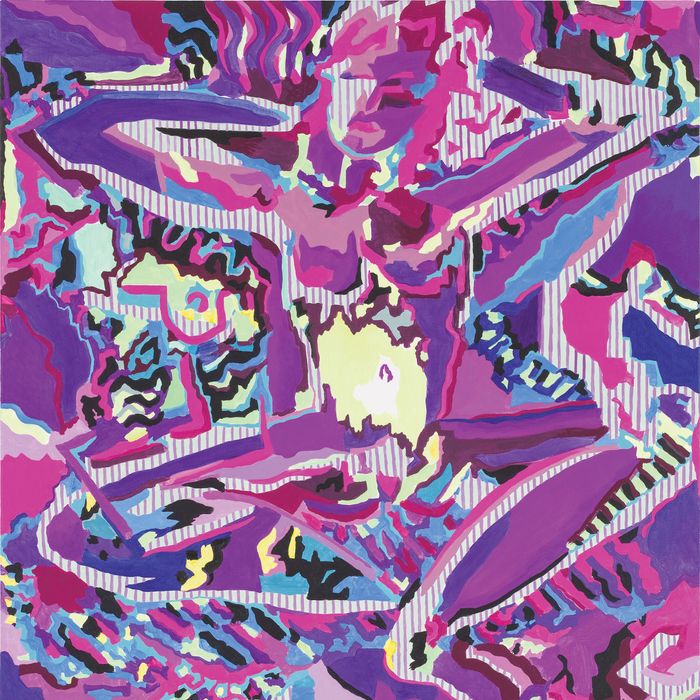 Mira Dancy, Snake Rose OBE, 2014
Photo: Mira Dancy/Courtesy of Rubell Family Collection, Miami
If you're a woman who is an artist, "You definitely don't want to marry a good male artist," observes the artist Jennifer Rubell. "There's a perception that that would mean you suck, whereas actually the chances are their husbands work is as good as it is because of her."
That could be one of the more pernicious lessons imparted by "No Man's Land," an exhibition of over 100 artists, none of them male but in several cases married to men who, for reasons that bug the hell out of Jennifer, are better known. The artists are all drawn from Jennifer's family's great hoard of contemporary art in Miami. Every year during Art Basel Miami Beach, the Rubell Family Collection, which is run by Jennifer's parents, Don and Mera, and her brother, Jason, opens a show at the family museum, a 45,000-square-foot former DEA warehouse located in a previously hardscrabble industrial part of town now known for its shopping and galleries. Because of the family's taste and influence, a show at the Rubells' often helps launch a young artist's career.
"No Man's Land" provides a survey of what recent art history might look like if you filter out the men. A big thing these artists have in common is that they are of interest to the Rubells, who treat the artists they collect with unusual, almost familial, coziness. Mera put it this way at the opening dinner, "Oh my god, I have to tell you I love every single one of you — it's like when you have a child and think, how can I possible love another child, I cannot love another child as much as I love my first? Well, I love every single one of the women in the show; I cannot tell you how much they've changed our lives."
The show is bound together as much as anything by the charismatic enthusiasm of the Rubells themselves, who are without a doubt some of the more discerning collectors in the world, for decades now. There are pieces that are more familiar than others, but many reminders of how well they pick 'em (Anicka Yi's tempura-fried flowers; Mai-Thu Perret's papier mâché girls in tunics dancing with neon Hula-Hoops; Janine Antoni's Eureka, a tub full of lard with an imprint of her body, which is accompanied by a bar of soap made from that displacement.)
Many of the pieces will be switched out in March, to make room for more; curatorially, this could be seen as a bit of an all-you-can-eat move, more than one of rigorous selection. Still, a lot of the insight you can get from the Rubells' collection is this sense of delight, of an insatiable appetite for the sublime: It's part of what makes the Rubells so much fun, and so influential, as they've gone from making expeditions from their Upper East Side townhouse to scour downtown Manhattan (back in the 1980s when it was an exotic kingdom of otherness) to get to know Keith Haring or meet Cindy Sherman when she was the receptionist at Artist's Space, run by Helene Winer, who went on to found Metro Pictures (at the time Sherman was, as it happens, dating Robert Longo). They now own 41 Shermans, and one of them, in which she is dressed up, old-master-painting-style, as a medieval monk, presides over the top of the stairs of this show.
Today they have to travel the world: As "No Man's Land" was coming together, Don and Mera Rubell were traveling in Brazil, which is where they found Solange Pessoa, whose massive human-hair installation, Catedral, dominates the biggest gallery downstairs, like an enormous and mysterious animal skin, unfurled and curing. Pessoa is in her 50s, and might seem a bit old to have been given this spotlight, perhaps — especially by longtime avant guardists like the Rubells — but the age of many of the artists in the show skew a bit older. Some of them, like Sherman, Marlene Dumas, Cecily Brown, or Lisa Yuskavage are well-established. Others, for various reasons, which is in many ways a biographical subtext to the show, just never made it onto center stage before.
Take for example Cristina Iglesias, who's powerful concrete-and-metal architectural constructions the Rubells bought in Madrid 1988, shipped back to the U.S., and had never even unpacked from the crates. "She's the wife of Juan Munoz, who passed away like ten years ago," says Mera Rubell, walking with me through the galleries. "He was a big star. And we also fell in love with her work. She just wasn't the story, he was … It's so embarrassing. We thought it was complicated. We never visualized how powerful it would be." (Both MoMA's Glenn Lowry and Hauser & Wirth's Paul Schimmel kvelled over them, I was told.)
Around the corner, in a large room, are the haunting paintings of Celia Paul, the former lover of Lucien Freud (with whom she had a child). "I think they needed all the space we could get; they makes the loneliness more profound," observes Mera Rubell. "There are so many stories here," she says, looking around. "On the one hand, being connected to a famous artist, maybe you'll have a shot. On the other hand, people dismiss you, if you didn't have this famous husband nobody would take you seriously." (For what it's worth, several other artists in the show happen to have been married to better-known artists: Marianne Vitale is married to Rudolf Stingel; Mai-Thu Perret is married to John Armleder; Jennifer Guidi is married to Mark Grotjahn; Tamuna Sirbiladze is the widow of Franz West; Amy Bessone was formerly married to Thomas Houseago.)
While there are political moments (including Jennifer Rubell's porny nutcracker piece, Lysa III, which was partly inspired by a misogynistic  Hillary Clinton tchotchke she found on the internet) "No Man's Land" (which Jennifer also named) is not a finger-waggling manifesto, or even, at least in a polemical way, an overtly feminist one. But as a sampler of the human condition, as expressed conceptually and aesthetically as filtered through the wide-grazing collecting impulses of a well-connected family, it certainly doesn't make you miss the lack of a male gaze.
And then there is the matter of timing: "30 Americans," the Rubells' survey of African-American artists, went up in 2008, which also happened to be the year of a notable presidential election. So is "No Man's Land" in some vague way Hillary-related in its cultural moment? "I feel like all the shows are a part of a conversation," says Jennifer Rubell. "There is a thread, which is in the back of everyone's mind; there are seeds germinating. We heard last night about a major New York museum is doing only female artists for the next year. So it's not that my family thinks in isolation. There are structural reasons for why we have the ability to take risks unlike other museums." And be lighter on their feet, as a consequence.
"30 Americans" has traveled to eight institutions, and is currently on view at the Detroit Institute of Art through January 18 (complete with an audio guide that features Mera's observations, among others); "No Man's Land" is already scheduled to tour.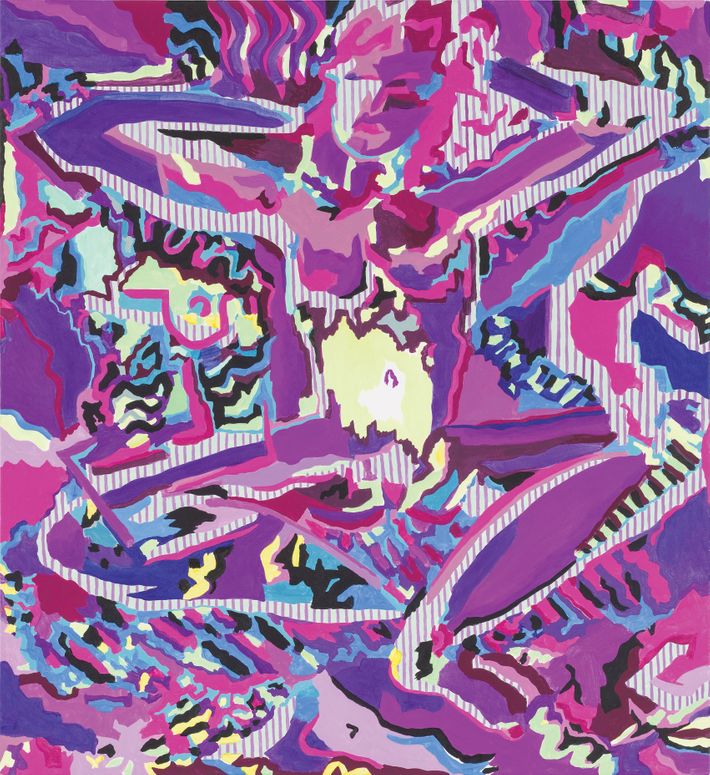 Mira Dancy
Snake Rose OBE, 2014 Acrylic on canvas 44 x 40 in. (111.7 x 101.6 cm) Rubell Family Collection, Miami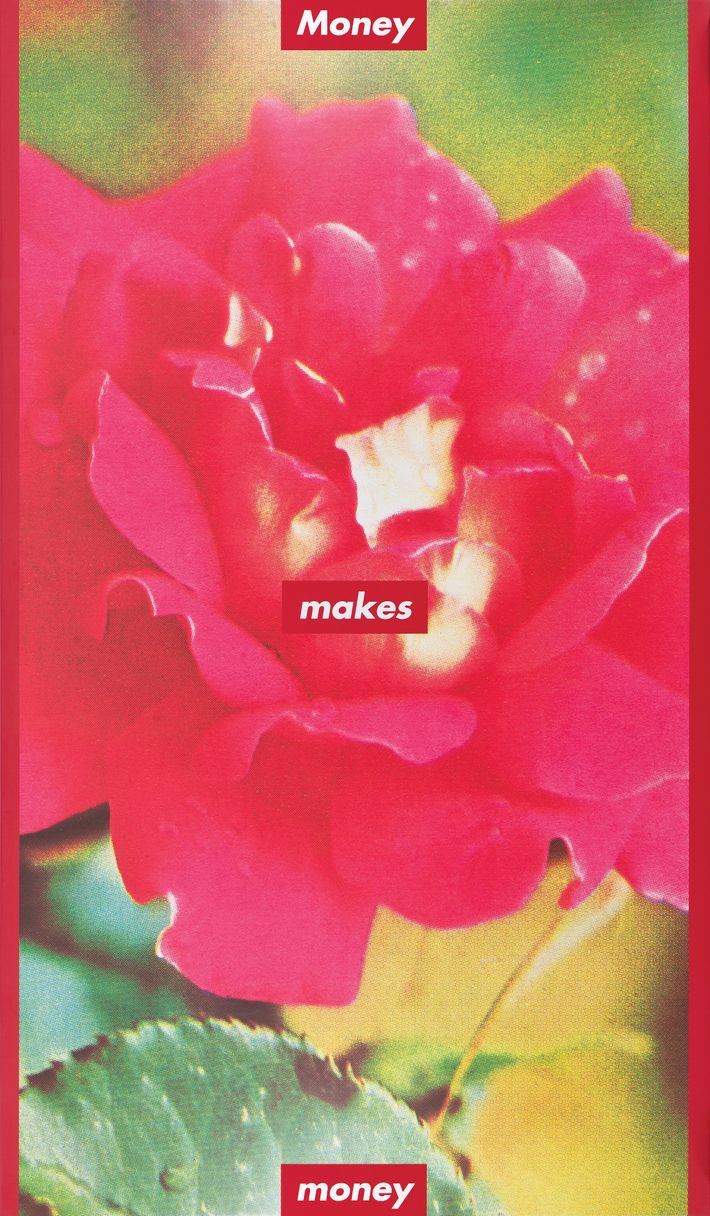 Barbara Kruger
Untitled (Money Makes Money), 2001 Screen print on vinyl 155 x 90 1/2 in. (394 x 230 cm) Rubell Family Collection, Miami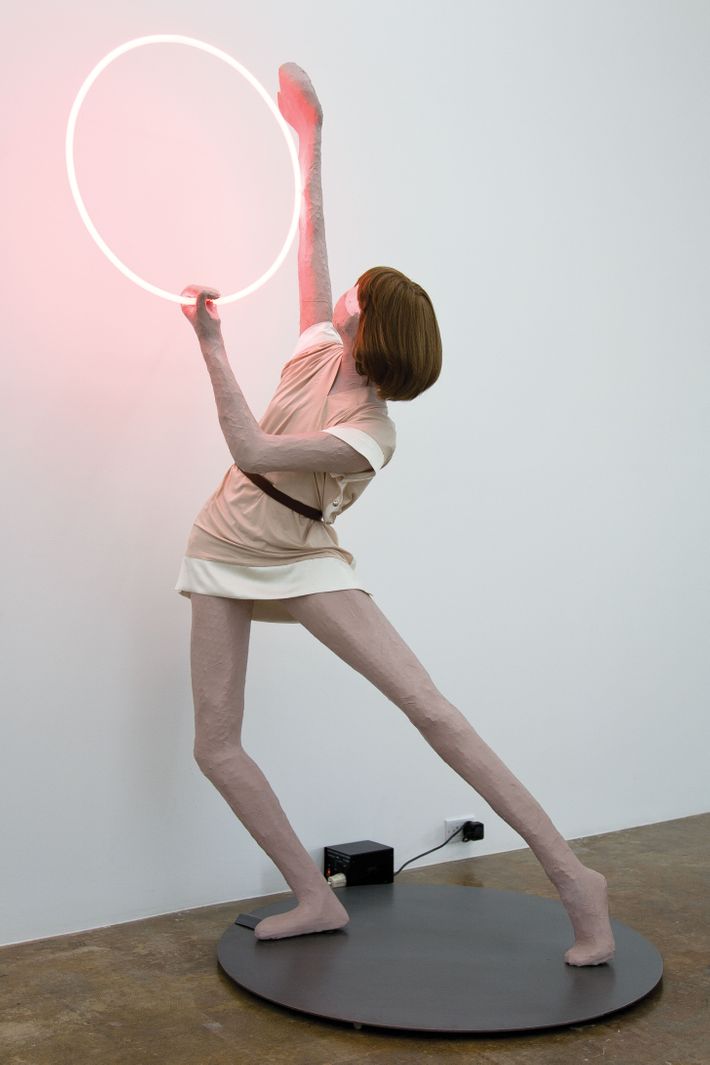 Mai-Thu Perret
Apocalypse Ballet (Pink Ring), 2006 Steel, wire, paper-maché, emulsion paint, varnish, gouache, wig, fluorescent tube and dress 82 x 53 x 39 3/8 in. (208.3 x 134.6 x 100 cm) Rubell Family Collection, Miami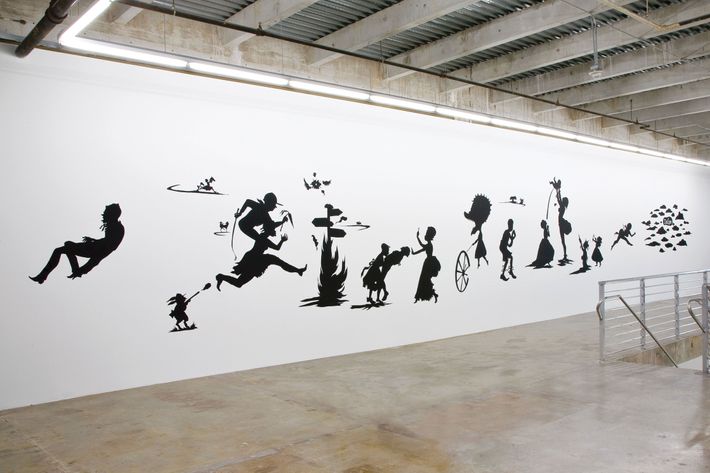 Kara Walker
Camptown Ladies, 1998 Paper and adhesive on wall 97 1/2 x 666 in. (247.7 x 1691.6 cm) Rubell Family Collection, Miami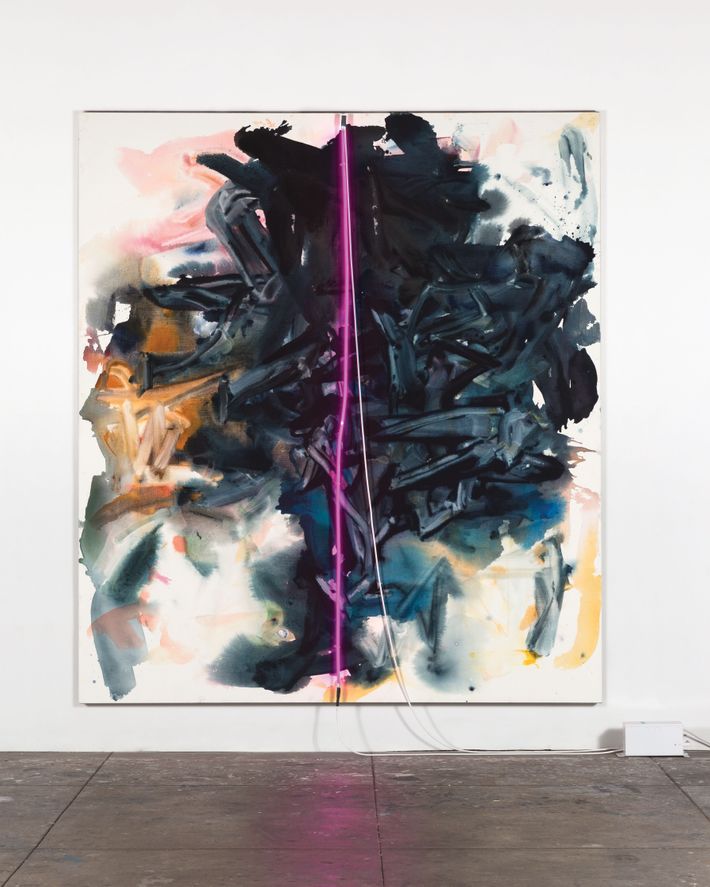 Mary Weatherford
past Sunset, 2015 Flashe and neon on linen 112 x 99 in. (284.4 x 251.46 cm) Rubell Family Collection, Miami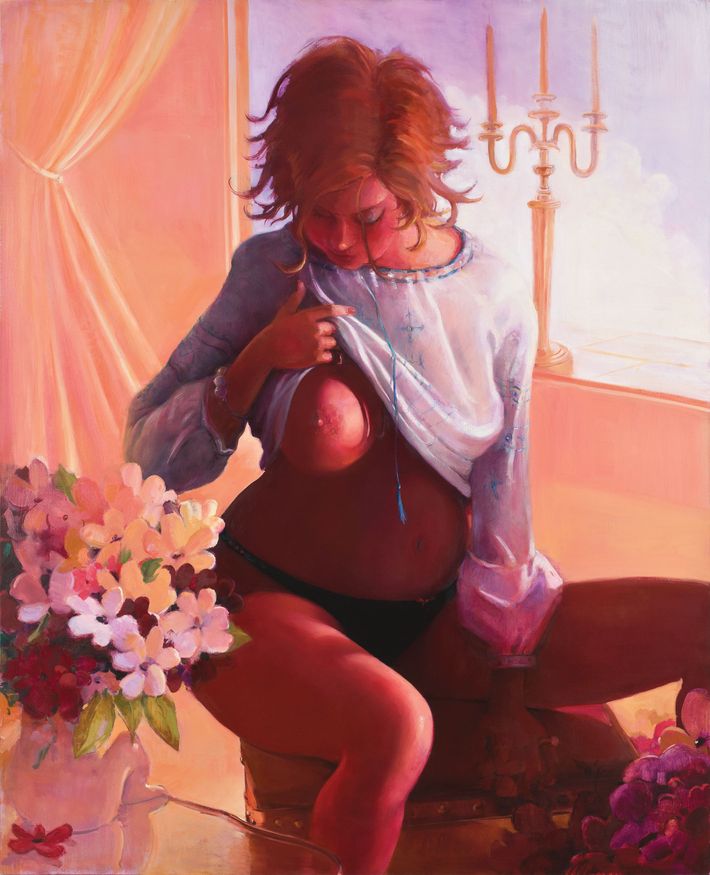 Lisa Yuskavage
Northview, 2000 Oil on linen 77 x 62 in. (195 x 157.5 cm) Rubell Family Collection, Miami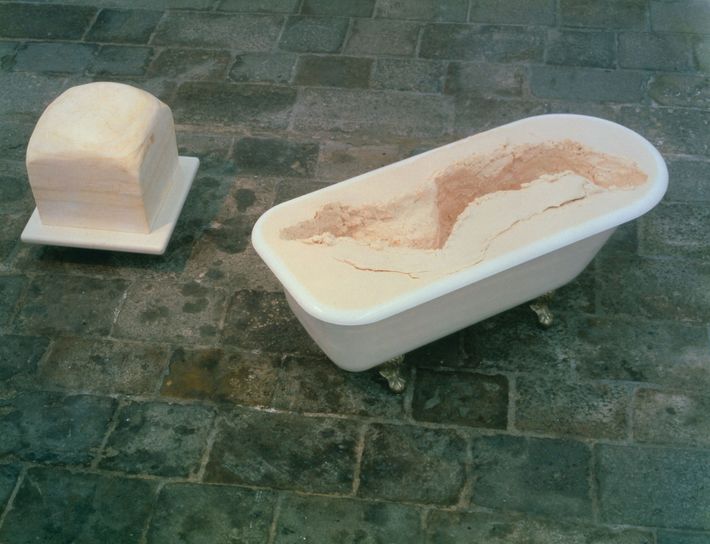 Janine Antoni
Eureka, 1993 Bath tub, lard, soap and Corian soap Soap: 22 x 26 x 26 in. (55.8 x 66 x 66 cm) Tub: 30 x 70 x 25in. (76 x 177x 63.5 cm)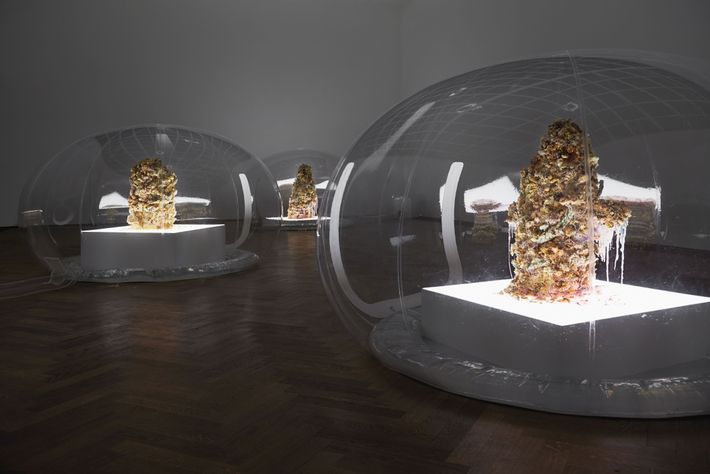 Anicka Yi
ALZ/AZN, 2015 Blower, Mylar, plastic, wood, resin, temper-fried flowers, LED lights and Plexiglas 60 x 120 in. (152.4 x 304.8 cm) Rubell Family Collection, Miami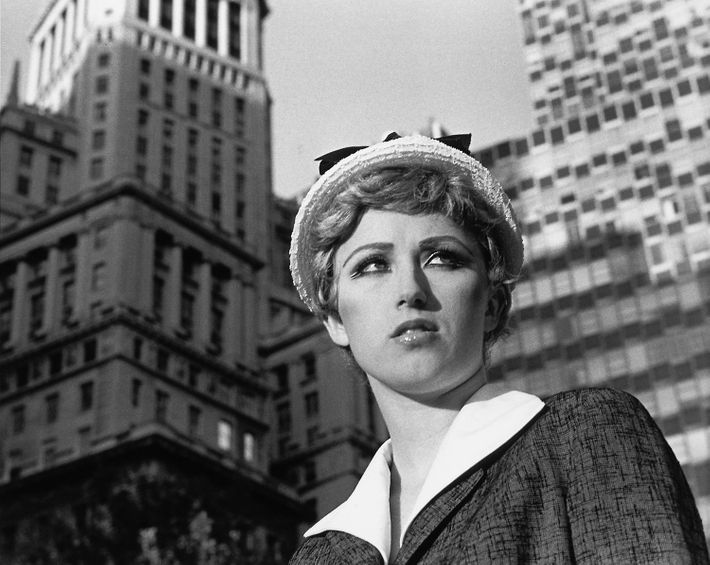 Cindy Sherman
Untitled Film Still #21, 1978 Gelatin silver print, ed. 2/3 30 x 40 in. (76.2 x 101.6 cm) Rubell Family Collection, Miami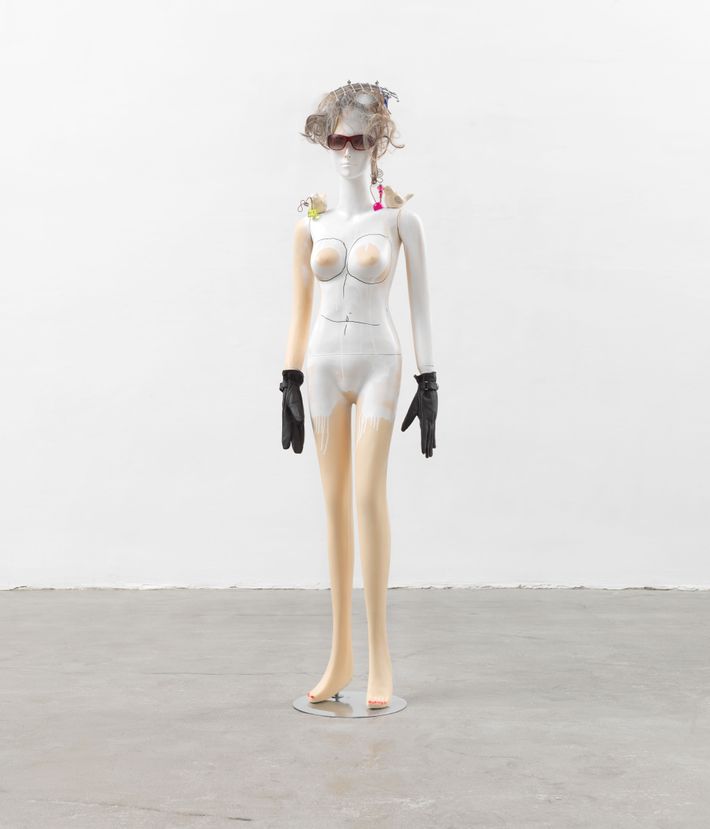 Isa Genzken
Schauspieler, 2013 Mannequin, wig, glasses, lacquer, felt pen, leather gloves, ceramic figurines, metal and plastic glass 72 1/4 x 18 1/2 x 10 1/2 in. (184 x 47 x 27 cm) Courtesy Galerie Buchholz, Berlin/Cologne/New York