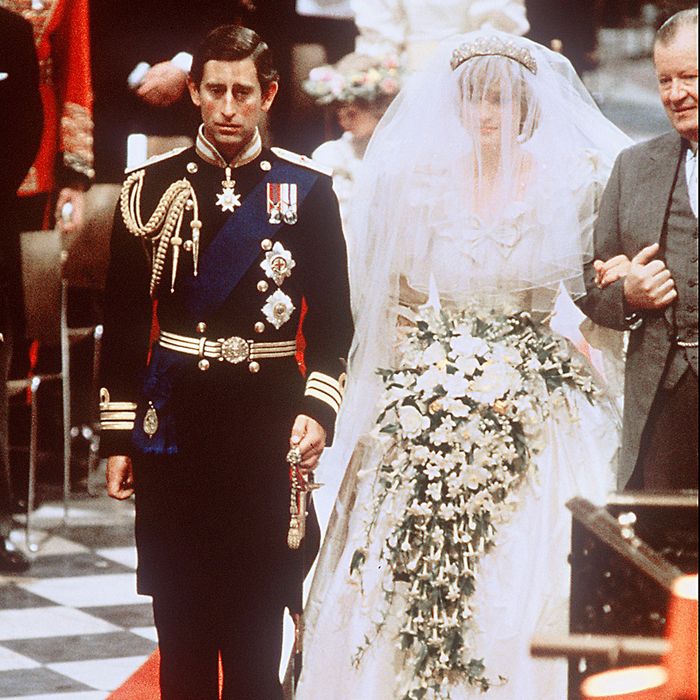 Here's a classic riddle: It is greater than God, but more evil than the devil. The poor have it, the rich need it, and if you eat it you'll die. What is it? The answer is nothing. What else is it, though, in some ways? This slice of 34-year-old wedding cake.
A slice of Prince Charles and Princess Diana's wedding cake, originally intended to be served and consumed 34 years ago, sold on Thursday at a Nate D Sanders auction for $1,375 — less than half of the original $4,000 estimate. Damn. Poor, old, worthless cake. The auction company released a statement about the disgusting old cake that clearly nobody even wanted, the poor thing: 
"It is a classic British fruitcake with cream cheese frosting and was made by the Naval Armed Forces. The wedding reception was held at Buckingham Palace for breakfast after the Church of England ceremony at St. Paul's Cathedral. One hundred and twenty guests attended the reception. The cake slice comes in the original white and silver presentation box dated Buckingham Palace 29 July 1981, with Prince of Wales' feathers and 'CD' monogram. The cake slice came with a card stating: 'With best wishes from / Their Royal Highnesses / The Prince & Princess of Wales.' The whole slice is wrapped in original wax paper and doily."
Ah, a fruitcake. The meager $1,375 selling price is beginning to make sense.
"But what if I want to eat the cake?" you're wondering, saliva dripping from your gaping maw, so hungry for this old cake. Man, relax. According to the Daily Mail, yes, you can eat the cake, as it has been "perfectly preserved thanks to the high level of alcohol in it." All right?

Okay. Eat the old cake, then, if you want it so bad.