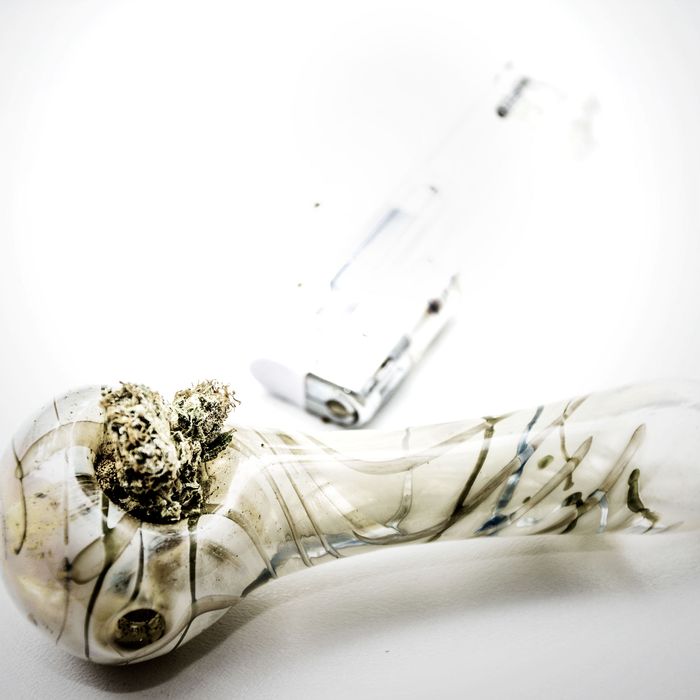 New York's Sex Diaries series asks anonymous city dwellers to record a week in their sex lives — with comic, tragic, often sexy, and always revealing results. This week, a 28-year-old indie film producer who likes BDSM porn and a guy named Bobby: female, 28, Red Hook, single-ish, straight-ish.
DAY ONE
9:30 a.m. I wake up and do some work. I'm a producer; I just wrapped two back-to-back commercials and have a little time off before the next gig to catch up on some of my own projects (and running errands and getting laid).
11 a.m. I meet my best friend Edith for a mani­-pedi. We talk about a couple of guys I've been seeing, mostly this 27-year-old stoner musician who is really hot, lives nearby, and is great at sex.
2:41 p.m. The 27-year-old stoner musician, Bobby, texts me to ask if I want to see his friend's band play music tonight. I tell him I probably can't. I feel like he thinks I'm using him for sex. Because I am.
6 p.m. I take a car to South Brooklyn to gossip and eat take­out with my best friends since fifth grade, Layla and Beth. (Layla is the daughter of a famous filmmaker and becoming a famous filmmaker herself.) We drink a bunch of wine.
8 p.m. I show them the dating app I'm using, Raya. "Oh, all my friends have this," Layla says, and we look at the profiles together to see who she knows. Raya is an exclusive dating app for B-­list celebrities and hot people. It's fun as hell, but I've never been on a date with it. I'm not really into internet dating; I'm more into pheromones than algorithms … though I did meet Bobby on Instagram.
8:15 p.m. Layla urges me to go on a date with a hot director I had been flirting with on the app. He's kinda big-time. He responds immediately, and we make a date for next week.
9 p.m. We're pretty drunk off white wine and decide to do face ­masks. Layla shows me this anti-­aging diamond cream that costs $570 a bottle. Wow, rich people are crazy, but not gonna lie: Her skin looks amazing. I want to be rich.
11 p.m. I hug my friends good-bye and head to my friend's karaoke birthday party in Chinatown.
11:45 p.m. I sign up to sing a Creed song … I'm drunk, but not as drunk as everyone else, and after about 20 minutes realize I'd rather get laid than ironically sing "With Arms Wide Open" (again) in a sweaty crowded room in Chinatown (again).
1 a.m. "U up?" I text Bobby. "I'm still up, Come over."
2 a.m. A cab drops me off outside Bobby's house. I ring the doorbell. No answer. I call him. No answer. I keep trying for another five minutes and then give up. Bobby is asleep. I put on my headphones and walk home, frustrated. Stoner. I wanted to get laid before I got my period.
2:30 a.m. I watch porn. As a feminist, I'm politically confused by my taste in porn, but I watch it anyway — BDSM porn where two women are the sex slaves of some dude. I get off when one girl is forced to eat another girl's ass. God, I'm a monster.
DAY TWO
10 a.m. I passive-aggressively text Bobby in the morning that I'm "not mad."
11 a.m. I go to the gym and work out.
5:30 p.m. Bobby comes over before dinner, and I break the news to him. I have my period, really bad. And I can't have sex. We start making out on my big pink couch, and I straddle him, unbuttoning his pants. I give him head, and it doesn't take long for him to cum in my mouth. I swallow. I don't think I have ever given him head to completion before. It feels like a weird milestone.
6 p.m. I get sushi with Bobby. We laugh about how early we're going out to dinner, but I have a thing afterwards. I'm not that hungry — Bobby takes my sushi to go. I make Bobby let me pay.
7 p.m. We finish dinner, and my friend Edith pulls up in an Uber with her husband to pick me up.
8 p.m. We hit party No. 1. It's a small wine-and-cheese thing in a nice apartment in Downtown Brooklyn. Edith's husband keeps rolling joints. God, what is it with men and weed? A guy I used to date is there; I'm glad Bobby isn't with me.
8:30 p.m. I'm making mini-burritos out of cured meat and goat cheese.
9:15 p.m. Time to go to the next party. As we're leaving a beautiful tall blonde girl stops me in front of everyone and asks for my number. I'm floored and give it to her right away. She's hot as hell, and I feel really cool.
10 p.m. Party No. 2. We arrive at the Soho Grand Hotel for the next party, which is fancy and DJ'd by a hip-hop legend. Everyone is hot and boring. People are taking photos of us as we dance in high heels to Le Tigre and slam Champagne.
11 p.m. I get drunk and tell a beautiful black waitress she should quit her job and start modeling full-time. She blushes; she knows it's true.
11:30 p.m. I'm getting bored and starting to wish Bobby was here. I text him: "U up?" "Come over!" he says. "I'm gonna be so pissed if you're asleep!" I tell him.
1:30 a.m. I get out of the cab and ring the doorbell. He buzzes me in. Thank God.
1:45 a.m. ­­ I'm so turned on, but I can't fuck. I'm not anti­ period sex, but it's so heavy that it would just be uncomfortable. And it's literally painful to not have sex. I feel like my entire body is one big blue ball. We make out a lot, and I give Bobby head.
DAY THREE
11 a.m. We wake up lazily; I give Bobby head. Again. Ugh, I'm so turned on.
11:30 a.m. Bobby takes his daily "medicine": huge hits from an embarrassingly long glass weed pipe. He makes fun of himself for his weed addiction.
12 p.m. We go to his local diner. I'm wearing what I wore last night: black high heels and a big red, puffy skirt paired with one of Bobby's shirts. I look ridiculous, but I don't give a shit.
12:15 p.m. I order an omelette, a coffee, and a Gatorade. He orders a cheeseburger and a huge disgusting vanilla milk shake that looks like a glass of milk served in a huge wine glass. I take a photo. Ugh, Bobby is so cute.
12:20 p.m. I taste the milk shake. Not bad.
12:35 p.m. I show Bobby the text of some guy that asked me out last week that I'm avoiding. He's the CEO of a company I work with sometimes and I want to keep working with, so it's awkward. I tell Bobby I'm going to text him that I'm not "emotionally available."
1:15 p.m. We leave the diner. "Let's have the laziest day ever!" I announce. We get supplies for our laziest day ever: beer, ice­ cream, and, for him, cigarettes.
1:30 p.m. We get back to his apartment. I go into the bathroom. I'm covered in period blood and really need to take a shower, but his bathroom is disgusting. When I come out of the bathroom there's a thick lesbian in her late 20s in the apartment. She's there to buy weed. Bobby is a drug dealer.
2 p.m. We start watching last night's SNL while he smokes mad weed. I take one hit and get too high. Ugh, I hate smoking weed.
5 p.m. We're still cuddling on the couch. We've moved on from SNL to anime. He plays with my nipples. God, he's so good at that.
6 p.m. I ask Bobby what kind of porn he likes. "I like porn with girls with pretty faces, all shapes, ages, and colors." That answers my question. Doesn't seem like he's into the dark shit. "What about you?" he asks. I change the subject.
7 p.m. More TV and cuddling. This day is so lazy we're even too lazy to eat the ice­ cream or drink the beer.
9:30 p.m. We're both embarrassingly ready for bed. I'm still dying to have sex, but I can't. I give him head, and it's hot. I sort of wish he would just leave the room for five minutes so I can jerk off, but that's a weird thing to ask.
DAY FOUR
9 a.m. I spend a good portion of the morning looking up fertility charts so I can start using the rhythm method. I download an app that tells you when you might be ovulating­. The app is geared toward baby-­making, not baby-­preventing, and it makes me laugh. I'm a bad girl, and I don't use condoms with Bobby. He's technically the only person I'm sleeping with right now … so it's fine-­ish.
11 a.m. After some coffee and toast, I hit the gym. I've never said "hit the gym" before because I don't usually work out.
2 p.m. I apply for health insurance; it's a goddamn nightmare. It takes the entire afternoon, literally. WTF. Nightmare.
11 p.m. I take more melatonin than recommended, jerk off to more evil porn, and eventually fall asleep.
DAY FIVE
2 p.m. Get coffee, write some thoughts for the musical I'm writing. The creativity is flowing, and I'm feeling really good about my ideas.
2:30 p.m. I'm on the subway to meet my friend at MTV who is helping me write the musical, but I start to get motion sickness. This weekend Bobby told me that when he gets nauseous on the subway he thinks about sex, and it goes away. I try thinking about sex, but there are so many disgusting people around me it's only making things worse. *barf*
3 p.m. Arrive at MTV. We drink sodas in a café and talk about the arc of the musical.
4:30 p.m. Get a soy mocha at Starbucks "with whip" like a bad girl.
7 p.m. Indian food with Edith. Then … the entire second season of Transparent.
10 p.m. Transparent is the best show of all time.
11 p.m. I go home and watch more Transparent until I finish the season and fall asleep.
DAY SIX
9 a.m. I wake up and go to the gym. I listen to sexy hip-hop and think about having sex with Bobby and world domination.
6:15 p.m. I meet Bobby at a Chinese place near my house.
6:30 p.m. I slide Bobby a present. It's a pin of an airplane that delicately says "high as hell" on it. "I love it," he says, and we kiss.
6:45 p.m. They fuck up my order, and I still over­-tip because I want everyone to like me.
7:15 p.m. We get on the train to see my friend's punk band play and then my friend's comedy show. It's our first time going to Manhattan together. It's a little thing but feels big.
8 p.m. Bobby is scared of big crowds. He hides in the back while I go to the front to make sure my friend sees me.
9 p.m. We leave and walk to a comedy show at UCB. Bobby grew up in New York. We walk past his old middle school, and he tells me about his violent social anxiety and his "fainting" problem. We hold hands. We always hold hands.
9:30 p.m. We watch the show. It's about the current political situation and makes me sad. We're not laughing that much. It's a comedy show, but I'm sensitive, so I start crying.
10 p.m. I'm convinced that I see the CEO that asked me out last week in the crowd, and I'm scared that he's stalking me. I tell Bobby, and he puts his arm around me possessively.
11 p.m. We stop at a bar in Greenpoint. It's my friend from high school's birthday. She gives me a huge hug and is already so drunk that I order her a water instead of another "birthday drink." She's giving me sex eyes, and I'm very turned on.
Midnight Bobby and I walk to his house. We share a cigarette even though "I've quit."
12:30 p.m. We cuddle on his couch while he tells me about his parents' divorce. I tell him my parents are still together but my dad cheated on my mom constantly.
1 a.m. We have sex with a condom on (so he can last longer, and because I still have my period a little bit). He doesn't last that long, but it's okay because I love having sex with him and I know he'll be ready to go in a couple minutes. We turn the lights off (this also helps him last longer), and we keep going for a while, now with no condom, but my period appears to be gone. When I cum I think about fucking the birthday girl with a strap-on. WTF. He cums on my back after bending me over on the bed.
DAY SEVEN
10 a.m. We have sex again. Bobby doesn't last very long, but it's good. It's always good with him because he's so present and always playing with my breasts and my nipples.
3:30 p.m. And again. I cum twice, this time thinking about Bobby cumming inside of me. He doesn't cum, but it's NBD since we've already had sex so many times in the last 24 hours.
4:30 p.m. I go home to shower and change and cook us tuna salad with arugula and goat cheese before we go to Star Wars. It's nice that he lives so close by.
5:30 p.m. We rush to Star Wars (!) after tuna salad.
7 p.m. Bobby tells me he has "some rules about watching movies." I look at him expectantly. "We have to kiss when they kiss." I laugh. "Actually, that's the only rule." We kiss. SPOILER ALERT: There's no kissing in the movie, but we keep kissing each other anyway. I keep hand-feeding him Skittles like he's a horse eating out of a trough. Even with our dumb 3-D glasses I feel like we are the hottest people at the theater.
7:30 p.m. I'm very turned on by Adam Driver, who plays the bad guy.
9:45 p.m. We take the L back to Brooklyn. I have to go to a big industry party, and he's going to some sort of "work party" for some building company he works for sometimes.
10:30 p.m. We kiss at the Bedford L stop as he descends into Bushwick.
10:45 p.m. Open bar, attractive young people, GIFs of pixilated naked dudes twerking projected on the wall, Top 40 hip­-hop, and lasers. I dance the night away.
2 a.m. I microwave a veggie burger and eat it over my sink like a barbarian. I put on my new anti­-aging cream. "You look beautiful and young," I repeat to myself. I re-watch an episode of Transparent. It's beautiful.