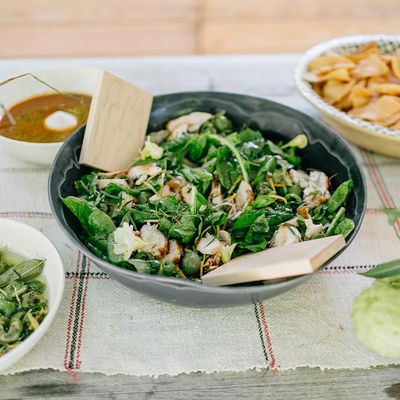 Salad with roast chicken, arugula, and citrus-marinated olives.
Photo: Emily Wren
A weeklong series on the art of entertaining, for women who are too busy for Pinterest.
I had a reputation as a salad hawker long before that niche appeared in my bio; as an artist, salad was my method for elegantly feeding my hungry creative friends whose aesthetic sensibilities would not be curtailed by their modest budgets. I like to bring people together, to host and incite challenging dinner conversation, and my home has always proven a better setting for this than any restaurant I know. Especially when holiday time rolls around, there is nothing more generous than offering your friends a nourishing, home-cooked meal.
Salad for me is less about restraint and good behavior than it is an act of healthy decadence. Salads are colorful and textural, the best expression of seasonal produce. Party salads make your table feel full and festive and send your guests home sated and nourished, knowing that no matter how much they may have imbibed, at least they had their daily dose of vegetables.
Roast Chicken, Arugula, and Citrus-Marinated Olives
This is a hearty salad that is a perfect main course for a family-style party. You can prep the olives up to two weeks ahead and their flavor will only develop and get better with time. Just make sure you take them out of the fridge at least 15 minutes before serving, so the oil can come to room temperature. Mature arugula (as opposed to the bagged baby arugula) is spicy and hearty enough to hold its shape well after it has been dressed, and will still look sharp when your guests go back for seconds.
Serves: 8 to 10 people
Prep time: 45 minutes
1/2 cup (120 ml) olive oil
1 bay leaf
1 tablespoon whole black peppercorns, crushed
4 tablespoons (13 g) chopped fresh tarragon
3 cups (460 g) pitted Castelvetrano olives
4 (7-ounce/200-g) boneless chicken breasts, skin on
Kosher salt and cracked black pepper
3/4 cup (180 ml) grapeseed oil
1/4 cup roughly chopped tarragon
Juice of 1/2 lemon
1/2 pound (225 g) mature arugula, washed and dried
1. Heat the olives, orange zest, olive oil, bay leaf, and peppercorns in a saucepan. When the oil reaches a boil, lower the heat and simmer for 30 minutes. Add 2 tablespoons of the tarragon and remove from the heat.
2. Preheat the oven to 350°F (175°C). Pat the chicken breasts dry with a paper towel and set aside. Don't skip this step, or you won't get a nice crispy skin. Season with salt and light coating of cracked black pepper.
3. Heat a large ovenproof sauté pan or cast-iron skillet over medium heat. After 5 minutes, add the grapeseed oil, swirl it around in the pan, and add the chicken breasts, skin side down. To get a nice sear on the skin, push the breasts down in the pan for a few seconds, and then allow the chicken to cook for 10 minutes without moving or flipping them.
4. After 10 minutes, flip the breasts so the skin side is up and transfer the pan to the oven to cook for another 8 to 10 minutes, or until the internal temperature is 150°F (66°C). Remove from the oven, transfer the breasts to a cutting board, and let cool for at least 5 minutes.
5. Put the arugula on a large, shallow platter or in a serving bowl. Squeeze the lemon over the arugula and drizzle with 1 tablespoon of the oil from the marinated olives. Season with salt and cracked black pepper, and use your hands to gently toss, making sure all the leaves are coated.
6. Slice the chicken breasts into ½-inch (12-mm) slices and arrange on top of the arugula, tucking the slices into the leaves. Using a slotted spoon, top with the marinated olives. If you have extra, just place those in a separate bowl off to the side, so guests can add more if they like. Top with the remaining 2 tablespoons tarragon and serve.
***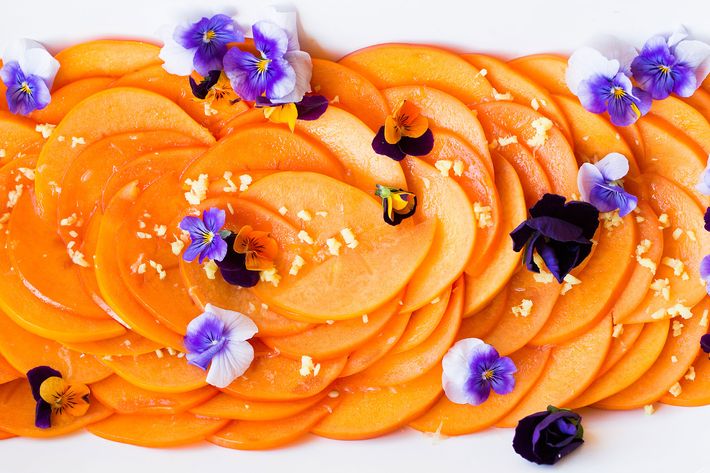 Fuyu Persimmon With Ginger, Honey, and Lime
Like most great salads, this should only be made when its key ingredient, persimmons, are in season. Be sure to use fuyu, not hachiya persimmons — the fuyu are meant to be crunchy, whereas the hachiya are inedible until they are so ripe they turn to mush. Nothing says party like the addition of edible flowers, available at the farmers' market or upscale grocery stores, and the contrast of the bright-orange fruit with the various shades of blue violets is striking enough to eat.
Serves: 8 to 10 people
Prep time: 5 minutes
For the dressing:
1 teaspoon honey
1/4 cup (60 ml) fresh Key lime juice
1 teaspoon grated peeled ginger
For the salad:
5 to 6 fuyu persimmons
Edible flowers, preferably purple pansies
1. In a small bowl, combine the honey and lime juice and stir to dissolve the honey completely. Stir in the ginger.
2. Core and cut the persimmons into 1/8-inch thick half-moon pieces. Arrange the persimmons on a serving platter, overlapping them in a scalloped, fish-scale arrangement. Spoon the dressing over the persimmons, garnish with flowers, and serve.
***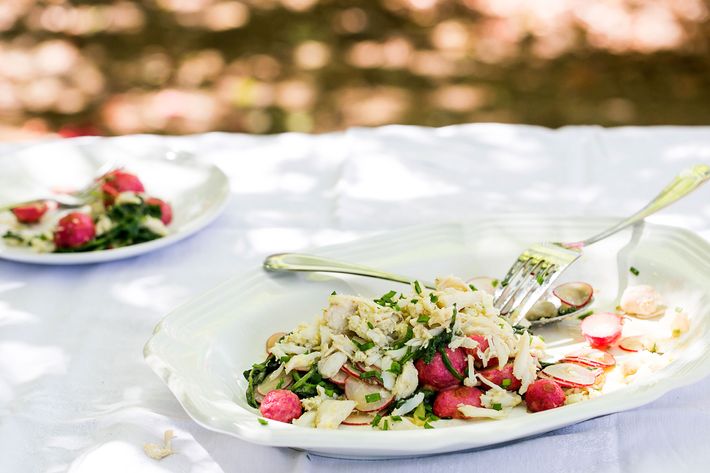 Radish Salad With Brown Butter and Lump Crab
Sometimes, you just want to walk into the fancy fish monger with your head held high and order that $30 tub of lump crab meat. Living in New York, lord knows it's still cheaper than eating out. This is a salad that shows your guests just how much you love them, and proves that salad is not a sacrifice. Who said salad can't be dressed in butter?
*This is a recipe shared on Salad for President by Kaitlyn Goalen of Short Stacks Editions.
Serves: 4 to 6
Prep time: 30 minutes
For the salad:
3 bunches radishes
3 tablespoons olive oil
Sea salt and freshly ground black pepper
3 cups (405 g) lump crab meat
3 tablespoons roughly chopped garlic chives
For the dressing:
9 tablespoons (130 g) unsalted butter
4 tablespoons (60 ml) red wine vinegar
1/3 cup (75 ml) olive oil
4 tablespoons (60 ml) fresh lemon juice
1 1/2 teaspoons Dijon mustard
Sea salt and freshly ground black pepper
1. Preheat the oven to 450°F.
2. Remove and discard the tops from one bunch of radishes. Thinly slice the radishes; set aside.
3. Remove the tops from the remaining 2 bunches of radishes and wash and dry them thoroughly. Halve the radishes and transfer to a bowl. Add the radish tops and drizzle with the oil. Season with salt and pepper, and toss to coat. Spread the halved radishes and greens out on a baking sheet and roast for 15 to 20 minutes, until the radishes are fork tender and blistered.
4. While the radishes are roasting, make the dressing: In a medium saucepan over medium heat, melt the butter and cook until it darkens to a light-caramel brown and smells toasty, about 5 minutes. Be sure to remove from the heat before the butter starts to burn.
5. In a food processor, combine the vinegar, oil, lemon juice, and mustard and process. With the motor running, slowly drizzle in the browned butter until the mixture is emulsified. Season to taste with salt and pepper.
6. Combine the sliced fresh radishes, roasted radishes and their greens, crab meat, and garlic chives in a mixing bowl. Drizzle with the brown-butter vinaigrette and toss the mixture gently to coat. Season to taste with salt and pepper and serve.
These recipes will appear in Sherman's forthcoming cookbook, Salad for President, to be published in spring 2017 by Abrams Books.