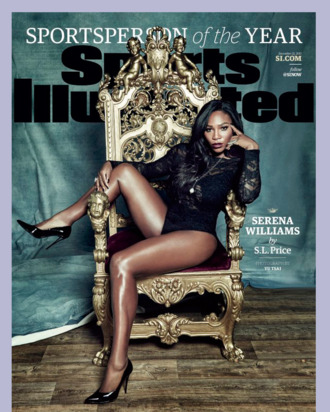 Queen Serena.
Photo: Sports Illustrated
Serena Williams has had a good year. Though we were certain that she'd break records by achieving a calendar-year grand slam, her loss to Italian Roberta Vinci was a minor blip in the scheme of Williams's other pursuits: She hailed a taxi while running a 5K for her own charity, she chased down a man who had stolen her cell phone, she maybe dated Drake, she shamed writers who tried to body-shame her, she guest-edited an issue of Wired, and she even dipped her toe in the fashion industry. Uh, what did you do this year? Eat churros in bed? Same.
That's why this year's recipient of Sports Illustrated's Sportsperson of the Year comes as no surprise. Since 1954, the magazine has awarded either an athlete or a team with the title, and since Williams doesn't seem like she's slowing down anytime soon, I guess they might as well give it to her while she's still busy crushing the competition. The last female tennis player to receive the award was Billie Jean King, in 1972, but she had to share it with John Wooden. Meanwhile, fans voting in the competition this year were eager to give the title to American Pharoah, who is a horse.
Ah, to be a female athlete. Congratulations, Serena. You really earned it.