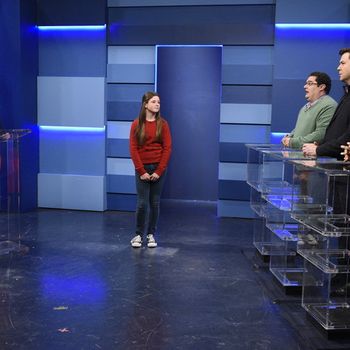 There are couples in this world — i.e., an older man with a younger woman — that force a certain uncomfortable mental arithmetic when you see them. Man, she was like 5 years old when he was in his 30s, you think to yourself and try not to feel weird about it.
Last night on SNL, Tina Fey and Amy Poehler played hosts of Meet Your Second Wife, where they introduced currently happily married, 30-something men to their future second wives. Sure, these girls might be in eighth grade, 5 years old, or even a fetus right now, but by the time your husband has a midlife crisis, finds late-career success, or you die in a tragic accident, they'll have grown up to be total wifey material.

Play close attention to the men in the skit as their faces capture, with hilarious accuracy, the disgust-to-acceptance of their fate. It's so dark it just might make your mid-divorce friend laugh about her soon-to-be-ex-husband's future wife.