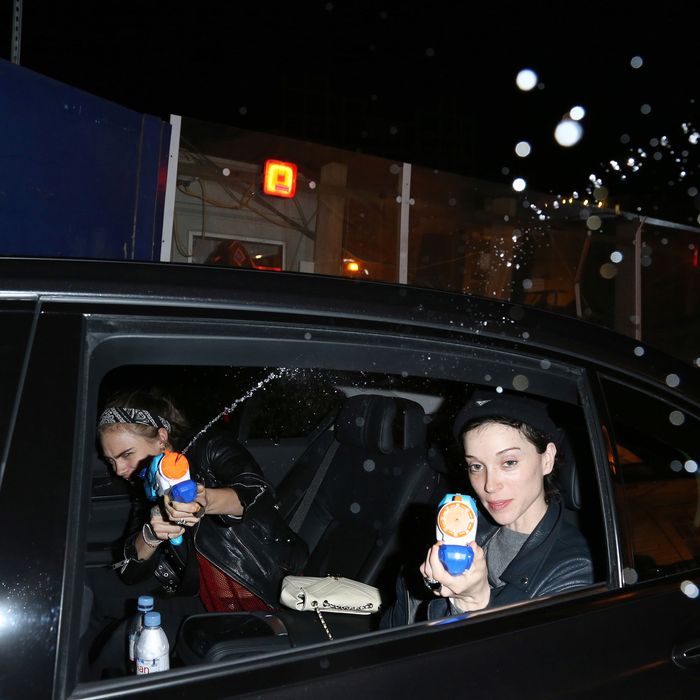 Cara and Annie.
Photo: Marti Pellow/Corbis
On Wednesday of last week, Cara Delevingne asked her Twitter followers how to get revenge on paparazzi who were trying to take a photo up her skirt. "Suggestions? Eggs?" she asked. While responses ranged from "do nothing" to "bacon?", the model and her guitar-virtuoso girlfriend Annie Clark (a.k.a. St. Vincent) decided to go with a more playful tactic when encountering a crowd of paps: water guns.
According to Splash, "The pair spent some time doing a large amount of Christmas shopping, before heading into Mayfair and stopping off at Tape Club. As they left, they bumped into a photographer, who they drenched with their water guns, screaming in delight as the shocked snapper could only laugh." But the fun didn't stop there. "The couple then headed home, and were greeted by two more photographers who were given the same treatment. Cara shouted 'take that' as she unleashed a torrent of water all over the snappers, and St. Vincent even continued squirting the gun as Cara searched for her keys to get in the house!"
Sounds like a fun night out on the town.