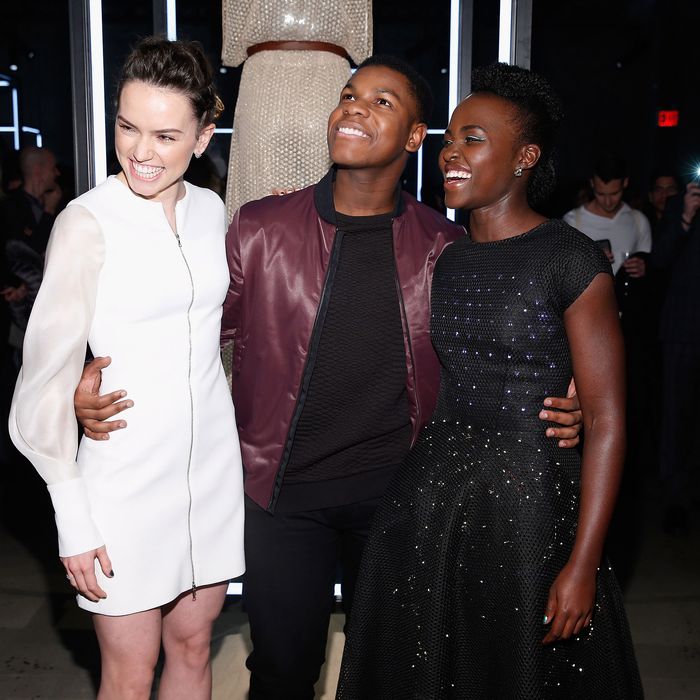 Daisy Ridley, Lupita Nyong'o, and John Boyega at the charity event Star Wars "Force 4 Fashion."
Photo: courtesy of Disney
Star Wars style has always been on Stacy London's mind. The self-proclaimed Star Wars nerd and longtime co-host of TLC's What Not to Wear has said more than once that "Darth Vader is the Karl Lagerfeld of science fiction."
"If you think about it, the melding of science fiction and fashion makes so much sense," she elaborated at the Star Wars: "Force 4 Fashion" charity initiative last night. "I think technologically and aesthetically that's where we're at."
The event showcased 12 looks* inspired by Star Wars characters in anticipation of Star Wars: The Force Awakens opening on December 18. Rag & Bone's Marcus Wainwright and David Neville designed two modern pieces based on characters from a time long ago in a galaxy far, far away. "We just twisted it in our own way," Wainwright said. "You can see from what they did that if we took it out of this context it wouldn't necessarily look like Star Wars — they would still look like Rag & Bone and you would probably want to wear them."
Star Wars was the first movie Todd Snyder saw with his dad, and he based his design around Chewbacca. Really, though, Snyder would like to see Harrison Ford, a.k.a Han Solo, in his clothing. "I wish he would wear my stuff," he said. "Chewbacca — he can't really wear anything but a gun, you know."
How would the Star Wars characters dress in modern-day New York? London envisioned them in Japanese clothing. "I do think they would go toward the Japanese," she said. "A lot of Comme des Garçons, maybe some Yohji in there."
If not Japanese, their influences would at least be avant-garde. "I feel like Demeulemeester … Rick Owens in particular this season I think would be great," London said. "So you never know, a little Margiela — now that Galliano is there. I think there would be a nice wide breadth of designers for the characters to enjoy."
The stars of The Force Awakens agreed with London that the characters would choose Japanese garb. "I would probably go down the either Scandinavian route for Rey or a Japanese-y kind of dropped-hems funky trousers and stuff," said Daisy Ridley on the character she plays in the film.
And John Boyega, who plays Finn, had an outfit already planned for Han Solo. "For Han Solo, I would go with slim-fit black jeans. I have a Japanese effect so I do like two buttons on the left side, which I own personally," he said. "And then we'll put him in a suede waistcoast with a white shirt — no collar — round collar — and one of those buckles. High-top Nike boots — if Nike did boots, like those high-top Nike boots. Suave. No hat. No hat."
There are fashion lessons to be learned even from the older Star Wars films, according to London. "Even though they were wearing oversize clothes, which I never recommend for most body types, they did define their waist with some kind of sash, so you have to give them credit for that off the bat," she said. "Black and white never go out of style, so Princess Leia, Darth Vader, and the Stormtroopers get a free pass. Han Solo always had a great jacket — you've got to give him that."
May the fashion force be with you.
*This post has been corrected to show that there were 12 looks at the event, not 11.